Any parent reading this will fully understand the monotonousness of reading the same bedtime story day in and day out; to a point where you can recite the entire book off by heart.
Reading to your child is of the utmost importance and something that, despite the repetitiveness of reading the favourite book every single day, I do thoroughly enjoy.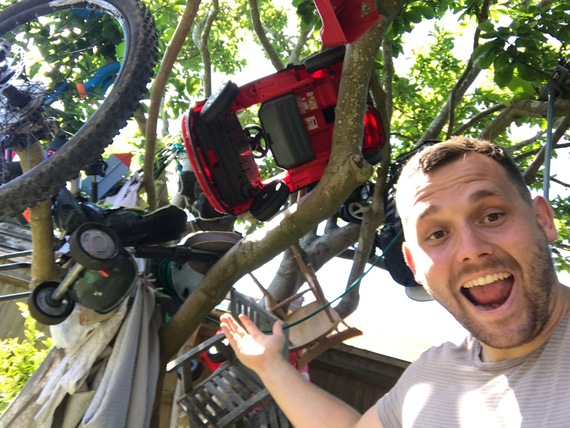 Which is why I decided to take my son's favourite piece of literacy and make it really come alive!
The book in question is called Stuck, by Oliver Jeffers. It tells the story of a young boy called Floyd who gets his kite stuck up a tree. In order to retrieve his kite, Floyd attempts to throw his trainer up the tree to knock the kite out. Only, his shoe gets stuck as well.
He then decides to throw his other shoe up the tree to try and knock out the first shoe. This is followed by the cat, whom he throws up to try and dislodge the 2nd shoe. He then tries a ladder and you think great, he can climb up the ladder and retrieve the items. But instead, he throws the ladder up too and guess what? That gets stuck too!
So following this, he decides to throw a whole host of objects, including a small boat, the front door, the milkman, a big boat, a long distance lorry, the house from across the street, a blue whale a fire engine, the firemen etc, to try and get his kite back.
They all get stuck!
It was after my thousandth time of reading this book that I decided to recreate my son's favourite story using the tree in our back garden. He really loves this book, so surely he'd love me bringing it to life for him!
Obviously, I didn't have access to an ocean liner, a long-distance lorry, and a blue whale, but I did use what I could find from around the garden and the house to get as much as possible 'stuck' in the tree.
Personally, I thought I'd done quite well to get the dog bed, the washing line (with washing still on it), daddy's bike, a ride-on, a guitar and everything else stuck up the tree!
I was proud of myself. "If this doesn't instill a love for reading, nothing will!", I thought.
The unveiling didn't quite go to plan.
Ted wandered out, took one look at the entire contents of the garden stuck up the tree, turned to me and said,
"Get it down"
It turns out he wasn't as impressed with me as I was with myself.
His initial response was one of confusion, "Why?", he said confused. This was shortly followed by, "Take it down."
No smile, no laughter, no joy, no "Thank you, Daddy!"
Just a sad hug.
Lesson learned.
Next time I'll think twice before going to great length to amuse, entertain, teach and inspire!
Sometimes you can go above and beyond, but all they really want from a bedtime story is a funny voice and the same damn book!
You can subscribe to our family YouTube channel, it's the FERGUSONs here