The Bedroom Tax in Scotland is over as the Scottish Government accepts the No2BedroomTax Campaign's petition to fund the full bedroom tax shortfall in Scotland.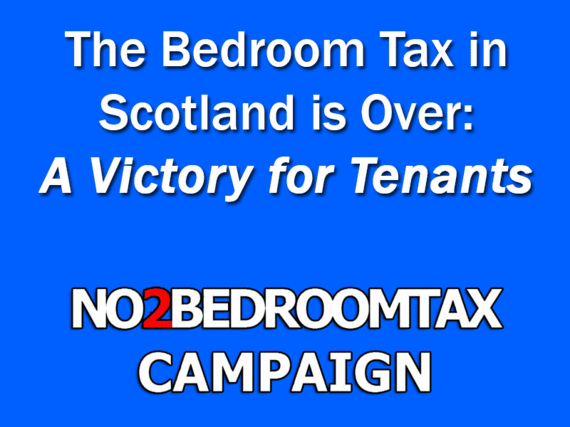 In the summer of last year the No2BedroomTax Campaign contacted tenants in Scotland who were directly affected by the bedroom tax but had been refused support from their local authority. We asked them what they wanted the No2BedroomTax Campaign to do. Their response was clear, we were to ask the Scottish Government for extra funds to protect all tenants in Scotland, while at the same time, support any proposal that would either mitigate or repeal the bedroom tax.
The No2BedroomTax Campaign submitted a petition into the Scottish Parliament calling for the full shortfall to be funded by the Scottish Government and present our evidence to the petition's committee in November last year. The whole process was eye-opening for me. There was I, a nobody from Paisley, asking for £50M from the Government. It was surreal.
We assumed that our petition would be rejected so to say we were surprised that the petition was referred to the Welfare Reform Committee would be an understatement.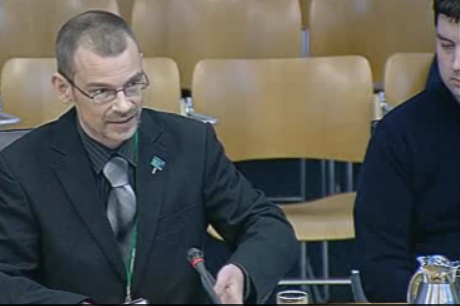 In the first week of 2014 we were informed that we were to present our evidence on the Welfare Reform Committee. The Campaign put everything we had into making sure that we presented a strong case for our proposal. Again, we assumed that our petition would be rejected at this stage so we were ecstatic and a little confused that no vote was taken.
Until later on that night.
I was contacted by a 'friend' within the Scottish Parliament who told me that our petition had been accepted 'in principle' by the Scottish Government. As the days past, more people within political circles confirmed the news my 'friend' told me. The bedroom tax was over but I had to 'keep my barrel dry' and not tell anyone.
For the best part of 10 days, the No2Bedroom Tax Campaign knew that our petition had been accepted but we were not allowed to tell anyone. This period was horrendous as we were still being contacted by tenants who had bedroom tax issues but we couldn't tell them the good news.
The news broke on Monday when the Daily Record told its readers that the bedroom tax was axed. But at this stage, there was no confirmation from the Scottish Government.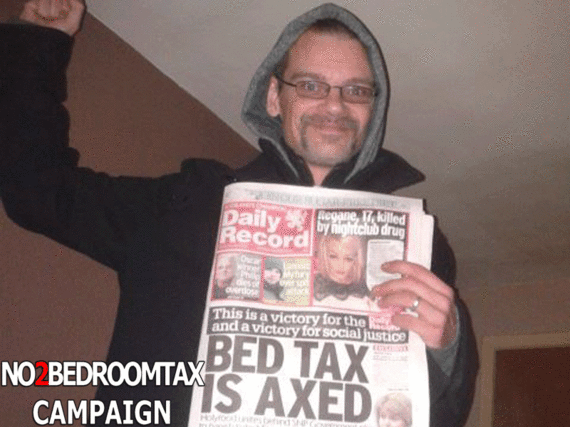 On Wednesday the 5th February, the four founding members of the No2BedroomTax Campaign went to the Scottish Parliament for the official announcement. When John Swinney confirmed the extra funding there was applause from the viewing gallery and a few tears shed. Ordinary folk in Scotland had been under attack but we fought back and won.
This was momentous day for this Parliament. The Scottish Parliament has been a force for good in our politics but it is one thing being a force for good in the good times, it's another thing altogether to be a force for good in the face of a Tory Government in Westminster which is intent to fulfil their ideological dreams.
We have had so much support from the trade union movement in Scotland. The STUC affiliated to our campaign last April and Unite Communities in Scotland were also quick to affiliate to the campaign. Their support, advice and guidance that we received was essential in our campaign. A special thanks must go to Dave Moxham at the STUC and Jack Ferguson, Yiorgus, Clopin, Cat, Bryan and everyone else from Unite Communities.
Civic Scotland and the myriad of third sector organisations joined the fight against the bedroom tax. They actions were essential to the whole anti-bedroom tax campaign. The work of the SVCO must not go unrecognised as must the work of Inclusion Scotland and the law centres, from Govan to Fife, that fought this policy thorough the courts.
We would like to thank Shelter Scotland who gave us advice and guidance and also the CAB, who provided us with a support network that tenants could use.
What can I say? The actions of grassroots campaigns inspires me daily. Their passion and commitment to a cause is breath-taking. A special to Mary Barbour's Army, who have again defended Scots from horrendous housing laws.
Local Anti-bedroom tax groups were essential in bringing about the end of the bedroom tax. Tenants protecting tenant. This is YOUR victory.
From COSLA to SFHA to the Scottish Tenants Org, we have seen the housing movement unite against the bedroom tax. I hope that this movement keeps growing as I believe that they have a valued part the political process.
A special thanks to the Glasgow and West of Scotland Forum of Housing Associations (GWSF). They are an inspiration to me and they are my friends.
The SNP need to be congratulated for listening and then acting on the concerns of tenants. Both the SNP and Labour should congratulated for uniting on this issue. The SNP, Scottish Labour and Scottish Greens have helped the No2BedroomTax Campaign and we would like to thank them for this help. Also, thanks to Mark McMillan and the Councillors at Renfrewshire Council. Their actions against the bedroom tax and other forms of welfare reform has made me proud of 'my council'.
A special thanks to the SSP who have been fantastic to us. They have helped us campaigning on the streets and have been extremely proactive in defending tenants. I hope that we see the SSP returning back to Parliamentary politics as they are a force for good in Scottish politics.
I was very wary of specifically naming organisation to 'thank' as my memory is really bad and I have probably forgotten many organisation. This isn't intentional and please accept my apologies if your organisation has not been mentioned.
I would like to personally thank the following. Alan Smart and Beat the Bedroom tax, Mary Lockhart and Mrs Barbour's Army, David Moxham, Jack and Yiorgus, Cat, Clopin, Cllr MacPherson, Richie Venton, Sandra Webster, Colin Mitchell (them boots are made for walking), Glasgow Against ATOS, Sean and Ian from STO, Helen Groves, Rory McKinnon, Bobby & Carol, Maureen and all of BinTheBedroomTax. There are many more I need to thank but I will do that personally.
A special heartfelt thanks to my friends on social media. You inspire me every day and your messages of support humbles me. I hope that I've not let you down.
This victory is not down to just one campaign or one person. This victory is due to the hard work of EVERYONE who joined the fight against the bedroom tax. And for that, I will be eternally grateful.