I've finally had time to put pen to paper (fingers to keyboard) after a month of blogging hiatus. Recently it's been all work, work, work, work, work, work (he said me haffi work, work, work, work, work, work...- you get my drift) and I feel like I've been in a permanent state of illness, hangover or stress. Roll on time off for Christmas and a possible dry Jan.
Late to start looking for Christmas presents, I know I'm not the only one who's struggled with the time or inclination, so I've rounded up some beauties for that FIT LAYDEE in your life.
Here's some ideas for stocking fillers and secret santa gifts.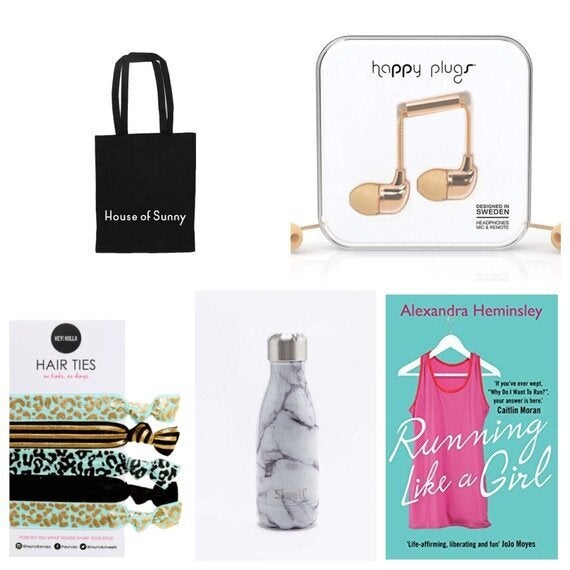 From left to right in clockwise order...
I love House of Sunny. Minimal lines and a sports-luxe feel, if you're not in the market for a full on gym bag but still want a stylist tote, this is the chicest way to cart your kit around. I happen to know they are really nice guys as well... ;)
2. Happy Plugs in ear headphones, £29.99.
I have these in marble and they look sick. They stay in your ears when running, have the essential mic and come in champagne, gold, rose-gold, pink-gold, ALL THE GOLDS.
I read this twice to really appreciate it's tone of simplicity and encouragement. If you have recently started running or know someone who has, this is a perfect gift. I'm gutted Alexandra's next book (exploring her foray into swimming) isn't out until the new year.
4. Swell marble water bottle, £25 Urban Outfitters.
Have I mentioned I'm obsessed with marble?! This is the most stylish way to go BPA free.
5. Hey Holla no kink hair ties, £8.
The cutest stocking essentials. Every girl needs hairbands and they come in so many different colours and patterns. My current faves are these leopard print gold edged ones.
Got a bit more dollar to spend and want to impress your fitness girlfriend/mum/sister/bezzie with something special? Have a look at these.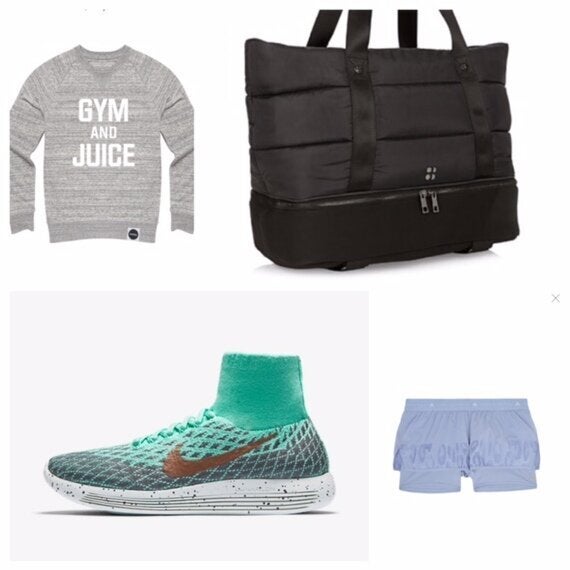 From left to right in clockwise order...
With so many fitness related jumpers suddenly on the market, for girls with a sense of humour, hip hop fans or literally those that go from the gym to the bar (HELLO), this is awesome and takes itself less seriously than the usual nods to kale and coconuts.
Practical and chic, this is the best gym bag on the market in my opinion. Subtle enough to take into work every day and accompany you to a meeting on your way in, it even offers a trainer compartment. Perfect for sweaty kicks.
I'm a massive fan of Stella McCartney's line for Adidas - it's always really quirky and mashes colours, fabrics and prints really well. Yes it's winter, but those long, fleece-lined leggings aren't going to do you any favours in an intense studio hiit class. These shorts are a fab new addition to the latest collection.
4. Nike lunarepic flyknit shield running trainers, £155.
Kinda weird looking but also so great. I've seen these in action at Nike running clubs and the build in sock look works really well on. Turquoise plus gold is such a sweet pairing too.
This post has been published on The Huffington Post's blogging platform. The views and opinions expressed in this blog are those of the author and should not be taken as those of The Huffington Post. The Huffington Post does not allow bloggers to acquire products, access or accommodation for review in the site's name.