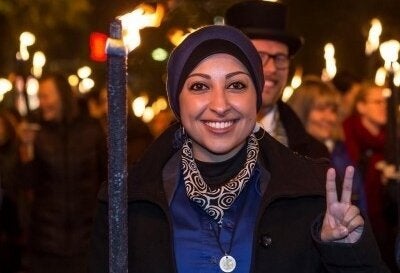 Earlier this month human rights activist Maryam al-Khawaja disappeared into the political prisons of Bahrain. Days before, her sister Zainab had been arrested. Their father, Abdulhadi, is serving a life sentence for his pro-democracy activism. In August, he began a hunger strike which has brought his health crashing down. Worried - Maryam had flown from Denmark, where she lives in self-imposed exile, to visit.
The news is worrying. Maryam faces charges of insulting the King, assaulting an official (authorities say there was a scuffle when they took Maryam's phone, from which she was tweeting her experience), and running an organisation which named officials who had tortured political prisoners. She could face a long sentence.
Her captors are the ruling al-Khalifa family of Bahrain, mafioso dictators who sweat corruption and stink of blood. They feel grand on their plastic thrones, but would be nothing without the patronage of Riyadh. They feel brave - but would be ants without their torture dungeons and Western navies bobbing in Manama harbour. The al-Khalifas : cowards, cheats and thieves.
Maryam is the opposite. She is a human rights cannonball, a princess of democracy. When she speaks you feel the energy of the Bahraini people at their finest. You are reminded of the prototype Arab Spring of 1994 to 1999, or the Pearl Roundabout uprising of 2011 - the hope of hundreds of thousands who knew and know Bahrain can be better.
When you meet her, she oxygenates you with her passion and rigour for the rights of her people. The right not to endure torture, not to endure corruption, not to endure poverty, not to endure humiliation.
Yet when an al-Khalifa speaks you hear the hiss of a snake oil salesman, with an eye on their corrupt bank accounts that tot up each day they stay in power.
You hear them purr to their powerful friends in Riyadh, Abu Dhabi, London and Washington, that they are imprisoning terrorists, not innocents, that they beat, torture and imprison these people to maintain their fabled "national security," a pseudonym for maintenance of a rancid dictatorship.
You hear the al-Khalifa lies and rightly raise a cynical eyebrow - nice try wise-guys. You think of the apartheid state they preside over - which imprisons Shia preachers, demolishes Shia mosques, and humiliates ordinary Shia families as they pass through "security" checkpoints, barbaric spectacles intended only as malicious provocations by a malicious, pathetic, bully state.
Yet Maryam represents both Sunni and Shia. She represents, as a human rights defender, anyone who faces persecution. Her future is uncertain but the al-Khalifas is clear. They are an anachronistic shambles of humanity. Their Allah will judge them harshly, and their grandchildren will blush as friends ask of their ancestors crimes against their own people.
Maryam would reproach me for being so harsh. She told me earlier this year how returning to Bahrain, she lectured the youth that throwing molotov cocktails at the police was not the way forward. She insisted on non-violent struggle, even if those same policemen raid each night - tossing teargas canisters into bedrooms where innocent grandparents and grandchildren sleep, who fire shotguns at point blank range at protesting children.
Though she is a vocal firebrand - her adherence to this principle is strict. She intended nothing but good-will when she landed at Manama airport earlier this month, but Marayam now resides in Isa Town prison. She has been forbidden contact with a lawyer. She may face a kangaroo court whose only claim to justice lies in the seal of the rotten al-Khalifas, a family which the al-Khawajas outrank on every measure : but notably, bravery, nobility and above all, compassion.
Related