As Alastair Campbell states in his new book - 'Winners: And How They Succeed' (ISBN: 9780091958862), with the exception of the great world boxing champion `Floyd Mayweather,' all winners fear failure and this is one of the drivers that pushes them forward. But no winner, or leader, succeeds forever. In the end events, time, physical decline or mortality intervene.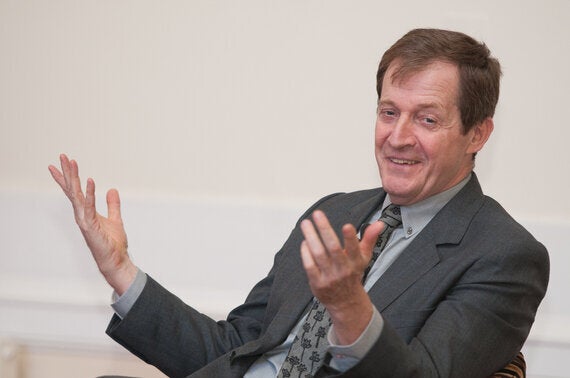 In reality, Campbell is not merely the simple public image promoted by the press or perceived by most people. He is quite far from being the controlling communications director he was thought to be during the Blair years. He is a complex character - journalist, writer, politician, lobbyist, broadcaster, sports enthusiast and family man. He has faced his own demons, learned from his failures and worked through them.
His statements on the essential aspects of winning are not unique, novel or even complex, but his extraordinary career has given him the opportunity to meet an exceptional range of people in many fields - politics, sport, business, media and the arts - and to distil out, illustrate and summarise the key issues in an engaging and exciting way.
Getting the simple things out of the way, the question is often asked - are winners or leaders born or made? This is the perennial question in developmental psychology about almost every aspect of human behaviour. The answer is, of course, neither. For leadership and winning, whether a physical or cognitive ability is genetically endowed or is an interaction of genetics with early environment, nobody will succeed without talent as the starting point. If the talent is not there, no amount of application of techniques, rule following or practice will lead to success. If it is there, then continual commitment, application, focus, practice and development is essential.
For those who have the talent the next essential element is maintaining the right mindset. Campbell illustrates with examples ranging from top athletes through politicians to the most successful entrepreneurs. There is a telling example in the book that illustrates this. Gary Lineker was not only talented but he adopted the right mindset to success. Raphael Burke, one of the class of '92, alongside David Beckham, Ryan Giggs, Scholes, the Nevilles and Budd were arguably the most talented of all but crashed and burned early on because of mindset problems. As the Australian rugby player Jack Gibson is quoted as saying - 'You can't be a dickhead all week and play good on Sunday.'
With the right attitude, Campbell claims that the key issue is to formulate and maintain a strong strategy. He demonstrates this through endless fascinating cases, suggesting that a full strategic plan comes in three parts - Objectives, Strategy and Tactics (OST). Once determined, the leader should not drift nor allow the team to do so. Another key factor is to ensure that all three elements are as simple as possible. Examples of objectives are 'Win the general election,' 'Win the Rugby World Cup,' 'Make a billion pounds,' or in the case of Steve Jobs at Apple - 'Survive.' Jobs translated that objective into an effective, single word, strategy - 'Simplify.'
Campbell shows that agreeing strategy is where organisations can and should have their real battles, but once agreed everybody must sign up and stay onboard.
Leaders don't need to be liked. They should certainly not be feared, but they do need respect if they are going to bind a team together as winners. Real winners need to communicate with a strong sense of authenticity. They should demonstrate real knowledge and experience down to the finest detail. Great examples of this are Nelson Mandela, Alex Ferguson, Jose Mourinho, Tony Blair and Willey Walsh, who raised his respect inside and outside his company, BA, by taking personal responsibility for the problems of the opening of Terminal Five at Heathrow. Bad examples are briefly successful leaders like Robert Maxwell or Tony Hayward of BP, who lost credibility over failing to step up during the Deepwater Horizon Oil spill.
Another key factor of success is teamship. The leader needs to understand the different skills required in the team and the ways in which they can believe in themselves as a successful unit rather than a collection of equally talented egos. He cites as an example the exceptional work of Humphrey Walters with Clive Woodward that ensured the winning of the Rugby World Cup.
Great winners maintain their commitment to the strategy and imbue others with this, day in and day out. People need to develop a huge resilience, react well under pressure, and be able to fail in a task and then pick themselves up, learn genuinely from mistakes and take the next step forward. They need to develop an ability to 'think correctly under pressure' (TCUP) and after failure 'get good out of bad' (GGOOB).
Alastair is a winner. He has developed clear strategies and pursued them ruthlessly with clear attention to detail. He started with talent, demonstrated commitment, acted as a team player and leader, has learned from his mistakes, got good out of bad, and developed new tactics as required.
This book is a winning project in its own right. To be honest I started reading the book with a sense of dread. I have read too many books by personalities purporting to instruct the rest of us how to succeed by demonstrating the genius of the author. Within the first twenty pages my mind was changed and I was captivated with the simplicity of the messages and the rich illustrations learned from many lives. I read the book cover-to-cover in two days and am now going back to extract those elements that have the highest priorities for my own team at Regent's University London.
Alastair Campbell deserves congratulations on an engaging text that can help other talented and committed people with potential for success to become winners themselves.