When Joe told me we shouldn't bother with the Inca Trail, and do the much harder, five day Salkantay Trek, I told him he was insane. Being not so much the sporty type as the reading and drinking red wine type, I had my doubts about dragging my carcass over 50km of rough Andean terrain. After a near tantrum, I relented, and we booked it in a sweet little hostel in Lima called the Dragonfly.
We stayed in Cusco for a few days beforehand to get used to the altitude, rented our sleeping bags, and explored the wonderful city. One chilly morning, at 4am, we scrambled our stuff together in the dorm room, desperately trying to keep quiet. I don't really know why we bothered, as we were staying in a room with a man who seemed determined to re-organise his whole backpack (everything in plastic bags) every night after everyone had gone to bed. Any backpacker will know how desperately I wanted to suffocate him in his sleep.
After a mini-bus ride in the dark, picking up people in sleepy silence along the way, we arrived at a mountain village that was to be the start of our trek. We were given a breakfast here, where the six of us going on this particular trek, and our guide, were able to learn each other's names and have some light, awkward conversation. I am terrible at remembering people's names so I won't even try. There were two Norwegian nurses, who we ended up really getting along with, a slightly patronising Spanish lady and her partner who didn't speak any English.
The first day was spent coaxing our soft muscles into movement. It was a weird combination of finding the exercise tough, but at the same time feeling relatively fresh and excited. We also marvelled at the porters and horses. They set off after us, loaded up with our sleeping gear, cooking equipment, and all the food. They would then overtake us, set up lunch by the time we got there, stay behind to clean up, overtake us again, and set up camp by the time we reached it in the late afternoon. It put our soft British bodies to shame, to arrive panting and exhausted at the first camp, only to find that dinner was ready, along with some coca tea to help us with the altitude. Our camp that first night was huge. A few different groups of hikers were camping there, along with all the horses and porters. It was in a valley/plateau just before the steep slopes up to the Apacheta pass, which we would climb the next day.
The next morning, surprisingly awake and un-aching, we dressed, ate a large breakfast and set out by about 7am. On this second day the landscape changed dramatically. The morning was spent walking through the grassy valley, and then scrambling up steep rocky slopes until we reached the 4,600 metre step. As the slopes were so steep, we got here relatively quickly, and suddenly found ourselves in a blizzard. It was a very strange experience, going from boiling sun the day before, to standing, eyes narrowed against the snow, unable to see much around us except shapes and rocks. We missed out on the supposedly breath taking view of the Salkantay peak, but I was equally amazed by this snow storm, so won't cry about it.
Once we found our way down through the blizzard into the cloudy afternoon, we stopped for lunch in a hut on a huge wind-swept plain of tiny rivers, bogs and grass. By this point, the rain had set in, and we were drenched. After a massive lunch, we continued through the rain, downward, ever downward, into cloud forest. The forest was amazing for the first hour or so, but by the time we reached our camp for that evening I was thoroughly soggy and grumpy. I was slightly embarrassed by my attitude when we came into sight of the camp and heard our porters singing as they set up for us. That night it was just our group in a little shack built on stilts, in tents, but in the dry. We ate yet more food and drank more coca tea, trying in vain to dry out our clothes for the next day. Some people had brought a few pairs of trousers, but they were carrying big travelling backpacks. Joe and I had brought just the one pair and a few tops, and were carrying little day packs. This worked out great for weight, but meant I was shivering in my pyjamas for the evening.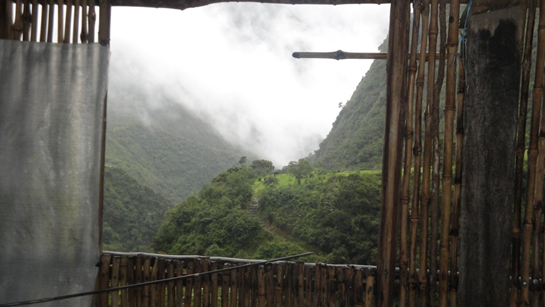 The next morning, the sun made a shy appearance, and I celebrated my first bowel movement of the trek; a very exciting time for all. This, the third day, was a slightly shorter hike. After a morning of more downhill, to the screaming protestations of my knees and thighs, the afternoon was spent walking a relatively easy trail along one side of a valley. The sun had decided to stay, and the birds and insects were chattering. At one point the track was completely covered by a huge landslide, but we scrambled across, nobody dying, and so were very pleased with ourselves. My feet were aching and blistered by that afternoon, finally giving in to the continuous rubbing of wet hiking boots, so I borrowed a hiking stick from one of the Norwegian girls. Now, I am not a fan of these sticks, as the only time you ever see them is clutched in both hands of a middle aged 'Rambler' who is doing a gentle walk, and yet completely kitted out with tube socks, hiking boots, sticks and a hat. I must admit, however, that it really helped my damp, tender feet.
That afternoon, the bulk of the trek behind us, we sat on a little patch of grass, drying our feet out, next to, of all things, a miniature shop. There seemed to be a sort of village around us, with a few people wandering about and what looked like a street. We weren't particularly driven to explore, being content to sit in the sun drinking Fanta lemon. We then got on a bus to our camp for that evening. The bus felt slightly like cheating, but we didn't care.
Our camp that evening was where the only real bonding of the trek happened. We were in the middle of the jungle, in another shack on stilts, with a few tents inside. As well as having our evening meal, we had access to a freezing cold shower for $2 (awful but worth it, as the stank, by this point, was rank). We could also purchase $1 litre bottles of beer. Considering we were only walking a measly 10km the next day, the Norwegian nurses, Joe and I, sat until midnight drinking beer, and doing that thing that people do when they are from other countries.
'Oh you do it like that in your country? Cool. We don't!'
'What was school like in your country?'
And so on. We had fun, followed by drunken sleep.
The fourth day was really the last day of the trek, as the next day was spent at Machu Picchu. I was determined to walk with a spring in my step, especially as the ground was flat, and we had a bus for the first hour or so. We then walked for a few truly gobsmacking hours along a disused train track through real, Peruvian rainforest. I was ecstatic enough having seen huge white blooms, and a multi-coloured caterpillar the size of a chocolate bar, when, all at once, the day was sent over the edge into perfection. We noticed some work men, further down the tracks, standing still and staring fixedly into a tree. When we caught their eye, they motioned frantically for us to come and stand next to them.
In a tree, right next to the trail, about 20 feet up, was a bear and her cub. The pure joy of the local workmen was enough to tell us that this kind of thing absolutely never happens and that we were privileged to see them. They were Spectacled Bears, as these are the only native South American bears. Spectacled bears are small, shy, and endangered. I will never forget seeing them. They sat there, happily watching us, as we watched them, just metres from where we stood.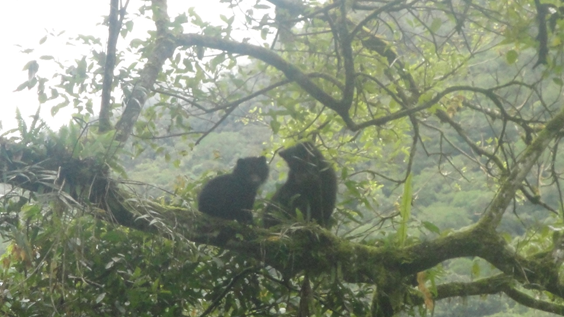 That evening, still reeling from what we had seen, life was made even better by our first real bed in what felt like months, despite it only actually being three nights. The hot shower and clean bedding was a dream. The town of Aguas Calientes as the base of Machu Picchu is a very cool place. It is ridiculously over-priced due to its location, but it is a network of rambling streets and tall old buildings leaning over you.
The next day was Machu Picchu, which I won't go into detail about, as many hundreds of thousands of people have written about its stunning vistas and misty, historical wonder. Honestly, the memory of seeing Machu Picchu is nowhere near as special to me as the memory of actually doing the trek. Accomplishing something I never thought I would be able to do, seeing things that I never thought I would see, and meeting people I will probably never meet again. You are all tired, a little altitude sick and soggy to the bone, so an easy camaraderie forms. You barely have to have the formal conversations of names and jobs, as that is not what counts in that kind of situation.
I don't care what somebody does for a living if I can trek with them for days, through a million different landscapes, and lie, dozing next to them, in the yellow equatorial sun.