All of us were moved by the heart breaking images on our televisions of refugee children, alone, frightened and with nowhere to go. Those images served to remind us of the appalling danger children seeking refuge from conflict face. The groundswell of public action has been overwhelming and the child refugee crisis has finally been given the political attention it deserves. But we can - and must - do more.
The Prime Minister's offer to accept 20,000 vulnerable Syrian refugees directly from regional camps is welcome, but it does not go far enough. Right now there are tens of thousands of children on our doorstep who have arrived in Europe all alone. It is vital that we intervene and, as Save the Children has called for, take in at least 3,000 of these unaccompanied children in the UK.
The Prime Minister argued that refugees who reach Europe are already safe. This simply is not the case. According to the Italian Ministry of Labour and Welfare, of the 13,000 unaccompanied children who arrived there in 2014, almost 4,000 disappeared after arriving.
Imagine for a second if 4,000 children went missing in Britain. We would be horrified. There would be a public outcry and we would stop at nothing to find these children and guarantee their safety. Why should it be any different for child refugees in Europe?
Missing children are at serious risk of falling prey to people traffickers and being forced into prostitution, child labour and the drugs trade. Charities across Europe, like Save the Children, are doing all they can to protect these children and try to reunite them with their families. But despite their extraordinary efforts, they report that these risks are on the rise.
Many of these children have no hope of being reunited with their families - or it would simply be too dangerous to try. They have arrived in Europe scared and alone, traumatised by the horrors they have escaped and the journey they have endured. We have a duty to care for these children and give them the chance of a normal childhood.
This year already, 7,600 children have arrived unaccompanied in Italy. Serbia have registered a further 4,000 unaccompanied children arriving from Greece. People will make desperate, dangerous journeys as long as what is behind them is more terrifying than what is in front. This is why the Government must also work with its European counterparts to prevent the need for people to embark on a perilous journey in the first place. But we also have a legal, political and moral obligation to help the children who have made it to Europe.
The UK has a long, proud history of supporting the most vulnerable children. During the Second World War we accepted 10,000 kindertransport children fleeing Nazi persecution. Let us honour this proud history and not turn our backs on the most vulnerable children in Europe today.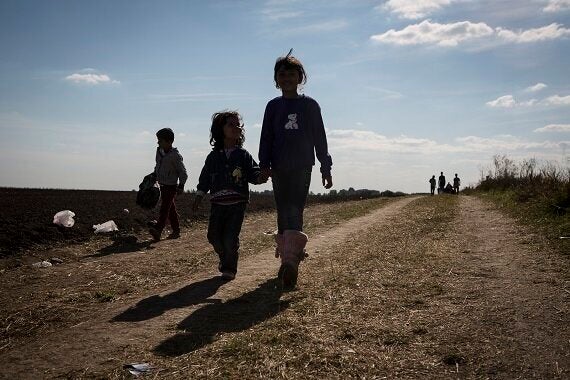 Syrian siblings walk alongside the train tracks that run from Serbia across the border into Hungary (Jonathan Hyams/Save the Children)
Related