So a few months ago I got my period. (Yeah, ok, I've had it every month before and since, but stay with me.) I was rushing through the streets of New York, swearing as I went.
I really didn't have time for this. Why didn't I see the warning signs - that backache wasn't from the long flight. I ran into a convenience store, got some tampons and painkillers, and hurried on to the UN headquarters.
It was World Toilet Day, the first ever to be recognised at the UN, and I was there to launch the new WaterAid report We Can't Wait, about the fact that one in three women and girls don't have safe water, sanitation and hygiene.
There I was, speaking on a panel with UN ambassadors about the problems women face every day: walking for miles to fetch water, girls dropping out of school because they don't have private toilets, losing children to diarrhoea diseases, facing violence when they have no choice but to defecate in the open.
But what I didn't say is if I was a Nepalese woman in Darchula District, or many other places for that matter, I wouldn't be talking to anyone, let alone decision-makers, at that moment. I wouldn't be allowed to work, to go to the village, to cook, or possibly even touch water - because I had my period.
Myths and taboos
Despite more than 50% of the world's female population being of an age where they menstruate, there are so many cultural beliefs and practices that still surround our periods. Women and girls are told all kinds of things - don't bathe (you'll become infertile), don't touch a cow (it will become infertile), don't touch a plant (it will die), or don't look in a mirror (it will lose its brightness).
The many myths and taboos say a lot about what society thinks of women and girls, and only serve to fuel the cycle of discrimination. The stigma is so extreme that it has normalised exclusion, ostracism, confinement and even incarceration. This continued discrimination is punishment for what? Being a woman. Having the ability to give birth, and having a reproductive cycle that includes menstrual bleeding every month.
And yet menstruation isn't spoken about - to the extent girls in many parts of the world may think they're dying or have some terrible disease when they first get their period, let alone know how, or have the ability to, hygienically manage it.
In a Bangladesh study, 60% of women workers reported being unable to pay for sanitary products and used filthy, chemical-laden rags from the factory floor as menstrual cloths. They suffered regular infections. Girls in urban slums are known to collect used pads from garbage dumps and wash them out for their own use. In some cases they may resort to cow dung.
Given the amount of time we spend managing our periods, it's remarkably easy to take for granted. But all women need to be able to do this hygienically, safely and with dignity. And yet there are so many challenges: having privacy, water, soap, available spaces for changing, washing and drying underwear, affordable materials for absorbing menstrual flows and safe ways to dispose of waste.
Things are changing
This Saturday is International Women's Day and I'm optimistic that things are changing for women and girls - feminism, around the world, is fighting back. No More Page 3, End Every Day Sexism, 1 Billion Rising, and growing campaigns across Africa and Asia - every day there are more stories of triumph and activism.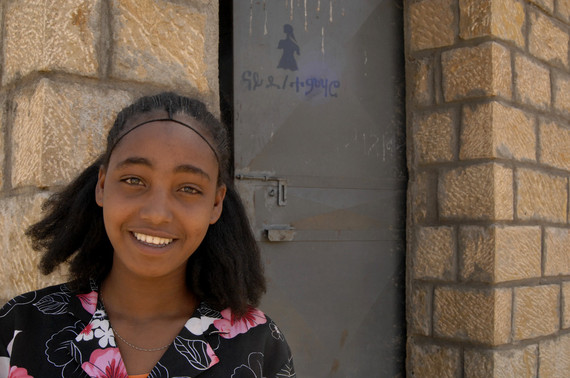 Girls like Ement, at Hiwane elementary school in Ethiopia, need to be given the space to care for themselves and the right to equal treatment. Photo by Marco Betti, WaterAid.
In the UK, Secretary of State Justine Greening is trying to play her part. A couple of days ago she passed a new Gender Equality Bill. This week she's attending the UN's Commission of the Status of Women, with many other leaders.
One of the things they'll talk about is what should go into global commitments on poverty reduction, the post-2015 framework for Sustainable Development Goals. Greening has been clear since the beginning - she's championing a goal on women and girls.
There's growing global consensus that this is important - especially around women's and girls' ability to play an equal part in all decision-making processes.
After all, no matter where you are in the world, women have to be braver and fight harder to participate and have their voice heard. Facebook executive Sheryl Sandberg wrote a best-selling book telling women around the world to 'lean in'. But let's face it: if you have your period and no sanitary towels, tampons, or anything else, no running water, and nowhere to change in private, would you 'lean in' and fully participate?
Hygiene, sanitation and water are critical issues for woman and girls,and must be included in the post-2015 gender debate.
Without these crucial, but often ignored rights, women will continue to be discriminated against.
Period.