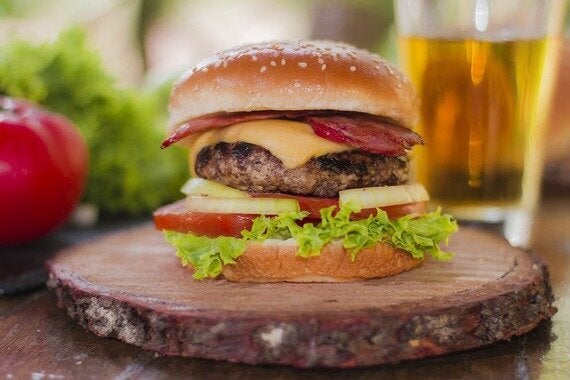 I love meat. I like my steak so rare that if it came still mooing I would be in seventh heaven.
It's a running joke in my family: 'just knock off its horns and wipe its arse'. I take my burgers slightly more well done, but not overly so, I'd sooner chew on a hunk of leather than an overcooked patty.
With the onset of summer and the dusting off of barbeques that comes with it, us meat eating, middle floor flat dwellers can only dribble at the smells that lazily waft through the open windows. Bereft of outside space, if we want to indulge in some al fresco dining we are forced to amble down to the local park with a disposable barbeque and try not to think about the myriad of dogs who have done their business in that exact spot...
We have collectively moved on from the horse meat scandal of 2013 and consumers are once again relishing burgers, in all their juicy glory. Yes you can go all Hugh Fearnley-Whittingstall (if you're that way inclined) and mince your own venison, add your secret blend of spices and nonchalantly flip the patties on your temperature controlled, gas-powered BBQ. But for those of us who don't have that luxury, (nor want to run the risk of food poisoning) there are a glut of fabulous burger joints spread across our fair city who have taken the idea of the humble burger and given us back a meaty dream.
Ladies and Gentlemen, allow me to present my favourites (just introduced in time for summer):
Byron Burger HELLO KIMCHEESE! This Korean inspired piece of burger art is a 6oz hamburger with a Korean BBQ glaze, bacon, Freddar cheese, crispy onions and kimchi cucumbers, all nestled under a dollop of Gochuchang sauce (a staple Korean condiment). Need more Korean in your life? Pair with Gangnam fries and you may as well be eating it in South Korea. You're welcome.
Shake Shack They're bacon us crazy! By which I mean June is officially Bacon Burger month at Shake Shack (also available on app - how wondrously lazy!) So what do they have on offer? Only the Bacon Cheeseburger, the Bacon Double Cheeseburger and Bacon Cheese Fries. You're bacon.
Five Guys With a classic, but proven menu of cheeseburger, hamburger or bacon burger (and a variation on those themes), an app that means you can pretty much order what you want, when you want, the chain are now spreading their burger love outside of London with a potential new store opening in Oxford later this year.
Honest Burgers The Dalston Chilli Burger (sadly only being served in Dalston) is enough to make me hot foot it over there and experience this meat nirvana: beef, scotch bonnet bacon, chipotle ketchup, Red Leicester cheese, pickled courgette and lettuce.
Gourmet Burger Kitchen The Chicken Ninja Burger is Japanese influenced, formed from a panko crumb covered chicken breast, katsu curry sauce, resting upon a charcoal bun and served with Tokyo coleslaw and miso ketchup.
I'm sorry, I've got to stop, I'm too hungry to even think about writing any more. Let me know if I've missed any.