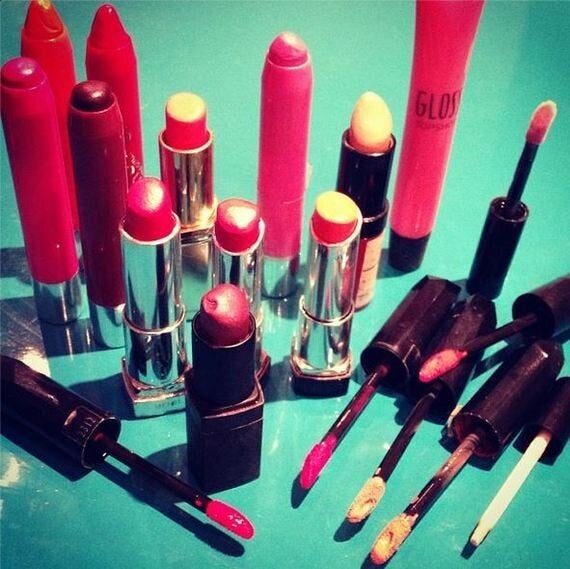 Did you notice, a couple of weeks ago, on Tuesday 9th November, a whole host of women in your workplace - or on your train, or on your walk home - looking a little paler than normal? A little less defined, a little less 'glowy'?
No? Well, me neither, if we're being honest, but chances are you might have done.
Tuesday 9th was BBC Children in Need's BearFaced day, a charity campaign which encourages women to replace their normal morning make-up routine with a little Pudsey pawprint temporary tattoo, in exchange for sponsorship to support Children in Need.
Yep, that's right. Children in Need wanted us to sponsor women to just... wear their normal faces in public.
I feel like that literal explanation kind of gets to the bottom of the many issues with this initiative, but in the interests of making this blog post 500-800 words, we can look a little closer.
Whilst it might be an event that passed entirely under your radar - it didn't cause a huge splash - the campaign did recruit some (kind of) big names. Most notably, it kicked off with a BearFaced celebrity photo shoot, in which the likes of Michelle Dockery, Jodie Whittaker and Rachel Stevens stripped (of cosmetics) for the camera.
In the interests of transparency I should tell you that the camera in question was wielded by Rankin - the celebrity photographer who's snapped everybody from the Queen to Kate Moss. With a star-studded career that kicked off in 1999 and has only kept climbing since, it's common knowledge in the fashion world that Rankin could make a three-day hangover look sexy. Or glamorous. Or elegant, or whatever transformation you so required for your glossy centrefold. So, the BearFaced photo shoot - showing us how going without make up should look - had Rankin. It also had lighting. A studio. A hairstylist. A re-touching team. Photoshop. You get my drift.
Putting the 'natural' celebrity photos aside for a second, it's clear that this is a charity campaign aimed at the world of the stylish - the celebrity photographer and the big names, plus it all revolves around make up. Accordingly, the fashion media chimed in, with a flurry of the social media and online articles which also cause me problems. Throwing around words like 'brave' and 'bare all', magazines from ELLE to Hello! hammer home the very clear message - a woman without make up is so shocking that the very action of choosing not to apply in the morning is one worth sponsorship.
Regardless of whether you do or you don't wear makeup, regardless of how much or how little, as a woman with a face, I can tell you that this idea feels weird. The impenetrable weirdness of the concept is perhaps most obvious when you lay this charity campaign side-by-side with another campaign which encourages altering one's appearance in exchange for the well-meant cash of family and friends.
Compare, for example, the BearFaced campaign - which is ostensibly for women to participate in - with Movember, the ultra-masculine 30-day moustache growing challenge which sweeps the nation by storm each November. While women were (quite quietly and without much furore) encouraged to be brave and bear all for a brief working day, men are spiritedly roused to rally the troops and master the mo' for a whole month.
Putting aside the fact that men are asked to enhance while women are asked to subtract for these charity challenges, which could inadvertently lead us down a not-very-fashion Freudian rabbit hole, there are still plenty of things that confuse me about the contrasts between the two.
I'm not sure, for starters, what to think about the fact that a man changing his appearance facially is wrapped in a big butch bow of comradeship and the spirit of healthy challenge, whilst a woman changing the way she looks is dangerous, something she must dare - and be dared - to do.
I'm not sure if this comparison proves that make-up, and the act of applying to cover up, is so ingrained in our culture that we simply can't face (pun kind of intended) the thought of women without it.
I'm not sure why this is a part of the fund-raising incentives organised by BBC Children in Need, an organisation which supports 'projects working with children and young people...who are experiencing disadvantage' as a result of many things, but most relevantly 'behavioural or psychological difficulties', such as, for example perhaps, body dysmorphia.
I'm not sure, in short, why anybody ever thought the BearFaced campaign was a good idea - and why there aren't more people wondering that.