As the latest instalment in the Star Wars franchise prepares to take the world by storm, it's interesting to note that much of the discussion around the film has revolved around the film's Black British lead, John Boyega, whose face is now inescapable. The actor came to fame in the cult classic Attack the Block - and decamped to the US shortly after. And no wonder. Had Boyega stayed in the UK, it's doubtful he would have been given any leading role in a movie, let alone one the magnitude of Star Wars.
Boyega is just the latest in what is quickly becoming an exodus of BAME talent leaving the UK for the US. He follows Marianne Jean Baptiste, Idris Elba, Lennie James, Benedict Wong, Archie Punjabi, Dev Patel, Colin Salmon, Navreen Andrews, Gubu Mbatha-Raw and many, many more. And it's not just actors who are leaving, but writers, directors and creatives of every discipline.
Just why are so many leaving now? Valued at more than $125bn, the US TV industry dwarfs the UK's (worth £17.5bn), so it may be that the reason there are more opportunities is simply because it is bigger - and so-called minority audiences carry massive financial clout (for example, there are more than 11 million African Americans). Or is the US market really more receptive to creatives of colour? The US certainly has its fair share of megastars of colour. The former star of The Fresh Prince of Bel-Air, Will Smith is one of the biggest movie stars in the world with undeniable box office appeal. African American producer Tyler Perry became one of the most successful people working in Hollywood with his box-office smash movie franchise, Madea, based on his self-penned stage plays. He has his own studio in Atlanta worth an estimated $3bn and produces the TV series The Browns and House of Payne, among others.
Meanwhile, one of the richest women working in entertainment, former talkshow host Oprah Winfrey has used her star power to provide positive images of African Americans in television and film, starring in and producing a number of projects including the Martin Luther King biopic, Selma. And we can now count African American showrunner Shonda Rhimes, the creator of a series of top-rated TV shows, Grey's Anatomy, Private Practice, Scandal and How To Get Away With Murder, as one of the most successful people working in TV today.
Meanwhile, the current American TV season has seen a string of shows headed by diverse casts. Fresh Off the Boat is the first Asian American-led comedy in 20 years; Blackish, a comedy starring comedian Anthony Anderson is one of the few successful comedies for ABC; and hip-hop drama Empire starring Terence Howard and Taraji P. Henson is a hit for Fox with 18m viewers. Meanwhile, Orange is the New Black, the prison-set comedy with a largely female and LGBT cast, is a hit for Netflix, and Transparent, about a middle-aged family man who comes out as transgendered, is arguably Amazon's first successful show. While there are now a number of people of colour in front of and behind the screen, Hollywood doesn't always get it right. In 2008, the National Association of Colored People (NAACP) threatened the entertainment industry with political action if it did not increase diversity. More recently, in an interview with the Hollywood Reporter comedian Chris Rock opined that Hollywood doesn't hire black men as executives. And there was much controversy surrounding The Help, the film about two African American maids in the 1960s South.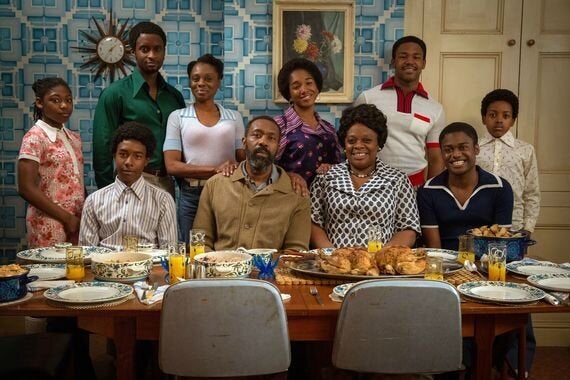 In his Bafta Television Lecture at last year's Edinburgh TV Festival, actor and comedian Lenny Henry called for channels to ring-fence a sum of money to stimulate growth in BAME production companies. Richard Curtis, Idris Elba, Neil Gaiman, Stephen Poliakoff and Emma Thompson were among industry figures who added their names to an open letter sent to broadcasters. In his speech Henry questioned why just 5% of employees in creative industries are BAME, despite making up 12.5% of the total UK population.
"Between 2006 and 2012, the number of BAME's working in the TV industry has declined by 30.9%," he told The Guardian. "The total number of BAME people in the industry has fallen by 2,000 while the industry as a whole has grown by over 4,000. Or to put it another way - for every Black and Asian person who lost their job, more than two white people were employed."
Why is diversity important? The channels are in real danger of losing great swathes of their audiences permanently to other media. Companies that are struggling for survival cannot invest in homegrown material, so everybody loses. I stopped watching British television - and I know I'm not alone in that. When Lenny Henry's self-penned drama Danny and the Human Zoo aired on BBC, it trended on Twitter - and I made a point of watching it. If you build it, as the movie adage goes, they will come. And yet broadcasters seem intent on ignoring the appeal of stories featuring diverse voices and faces - except, in the BBC's case, when it comes to renewing its charter.
As Henry says: "This is something worth fighting for. It's not just about showbusiness - everywhere you go people are discriminated against. And if by having an organised voice against inequality and a lack of diversity we might be able to push that down - how brilliant would it be?"
Popular in the Community