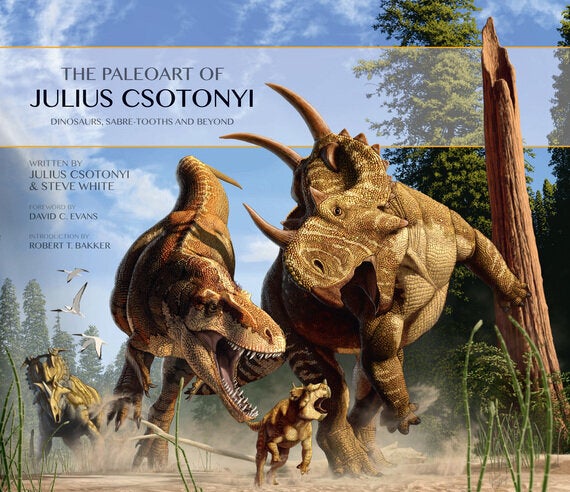 Millenia may have passed since they roamed the Earth, but dinosaurs still hold sway in our imaginations in an extraordinary way. Apparently, scientist and artist Julius Csotonyi did his first dinosaur drawing when he was three years old -- and, in a remarkably prescient act, his parents kept the picture. Years later, he fulfilled his childhood dream to become a much sought-after paleoartist, recreating prehistoric scenes and wildlife with stunning veracity.
Csotonyi has been commissioned to create murals and artworks for a string of museums around the world, among them the Houston Museum of Natural History, the Royal Ontario Museum and the Natural History Museum of Los Angeles County. Before reading this book, I had no idea that such a thing as a paleoartist existed, but they provide an important link to the past, as Dr David Evans, curator of vertebrate palaeontology at the Royal Ontario Museum in Canada acknowledges.
"Artists colour prehistoric life, and thereby connect the past with the present," he writes in the foreword to this book. "They make it come alive for both scientists and the public. For the non-scientist, colour brings deeper accessibility and appreciation, an ultimately a better understanding of evolution and the diversity of life through time. And for scientists working with artists, colour often forces us to pause, think more carefully abut what we know, and ultimately learn more about the fossils and the world in which they lived so that the reconstruction can be as accurate as possible."
Csotonyi takes us through his process, from pictures of fossils in situ to sketches of bones and skeletons, and the finished paintings themselves of fully fleshed-out creatures. We see dinosaurs in a variety of scenes - fighting and feeding, swimming underwater or crossing lush fields and forests.
The dinosaurs featured range from the truly weird and wonderful sauropelta edwardsorun and the bizarre Brachiosaurus, to the mighty, meat-eating Tyrannosaurus. And Csotonyi covers a significant time period, depicting precursors to modern mammals and birds.
If you know a child who is just crazy about dinosaurs, then this book will bring hours of pleasure. But The Paleoart of Julius Csotonyi is so gorgeously presented and packed full of fascinating information, it's just as likely to appeal to adults, too.
The Paleoart of Julius Csotonyi: Dinosaurs, Sabre-tooths and Beyond (Titan Books, £24.99) is available from Amazon.co.uk and all good bookshops