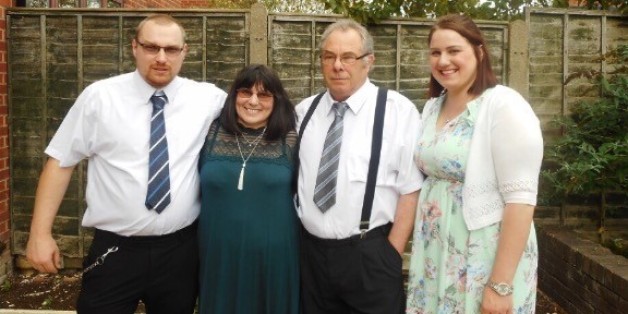 Alison Cooke
Often we don't appreciate what we have while we have it, and for me it took the shock of nearly losing my dad  to make me really appreciate every moment we have.
On 1 November 2015, my dad, Alan, went for a doctor's appointment. I didn't really think about it at the time, but when I asked him as usual how it went, I'll never forget his response:
"I've got cancer."
Those three words were shattering. He had been diagnosed with advanced bladder cancer and the doctors' told him he'd only have one more Christmas left. Not knowing what to do, I just went up to my bedroom and cried.
Dad went into surgery not long after, and we were so relieved to be told it was successful. I just carried on as normal, until one afternoon, when I spotted a message from my dad on my mum's phone that confirmed the worst: "The operation wasn't successful, the cancer is too deep. I don't know what to do, or how to tell the kids".
I was heartbroken. Dad told me he'd been offered some treatment options to extend his life, but that he wanted to pass away peacefully with his family at his side and no fuss. However, after talking to doctors and other people going through cancer, he was left in two minds, and when a surgeon offered to remove his bladder in March, he accepted.
The operation would take four hours, so Mum and I went to the hospital to wait. I couldn't bear to think about my dad in the operating theatre, and as we chatted I poured my heart out to my mum and we consoled each other. I just couldn't cope with the idea that the worst could happen - how would I live not being around the only man I loved?Fed up of waiting to hear news of the worst, my mum went through the ward doors and saw the surgeon who was operating on Dad. The next few moments happened so quickly. We were called into a little room, and the doctor held his face in his hands, then looked up and said: "I'm very sorry, but Mr Cooke's heart stopped".
I screamed and collapsed into my mum's arms. After what seemed a long time, but was actually only a couple of minutes, the surgeon explained that Dad had suffered a cardiac arrest after coming round from the anaesthetic and would be taken to intensive care.
When I was finally allowed to see him, I was horrified. The man lying in that bed, covered in tubes, with machines all round him didn't look like the man I last saw just 9 hours ago. The surgeon told us to prepare ourselves for the worst as my dad might not survive the night.
We stayed with him all night, and the next morning we were told the he had responded well enough to treatment that he would be taken off life support that afternoon. We all prayed and hoped for him, and when the doctors switched off the machines, he opened his eyes and smiled.
By the following day, he was sat up in bed, smiling and talking, and within two days he was out of intensive care and back to being the man I knew. No one expected my dad to be home within 12 days of a cardiac arrest, but soon he was walking about, craving cider and fish and chips with lots of curry sauce! Within weeks he had made a miraculous recovery, and soon we were given the news we'd all been waiting for: my dad was finally cancer free.
Hearing that news, the relief was incredible and each new appointment brought even better news than the last.
Now we'll be spending another Father's Day together this weekend, and hopefully we have many more days like it to come. My dad is a walking miracle, and I know I won't ever take anything for granted again.
Alison is supporting Cancer Research UK's 'Right Now' campaign to beat cancer sooner. Visit cruk.org