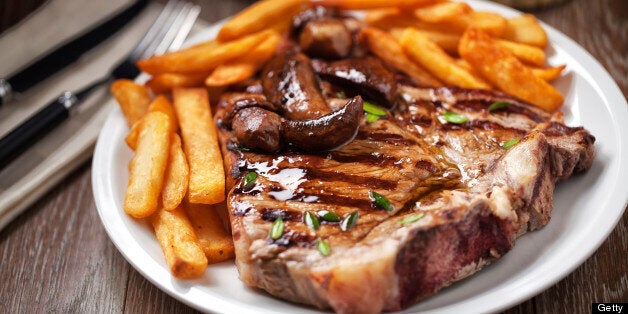 A table laden with cheese and pineapple on sticks, mini sausages, egg mayonnaise sandwiches and angel cake - not some flight of fancy back to the parties of my youth but the food that was served at an event that I recently attended. The assembled hoards huddled around the table like the hungry hippos of my childhood and amid a chorus of 'Ooo's', laughter cuddled the table as paper plates were piled high. It is not hyperbolae to declare, the crowd loved it.
I recently cooked a dinner that started with breaded fish, piled on a platter. Biscuit crumb coloured scampi snuggled and made happy bedfellows alongside calamari and all were greedily dunked and slathered it all in home-made marie-rose sauce. There followed steak and chips with a peppercorn sauce, if I'd have defrosted a Viennetta, crimped my hair and blasted Spandau Ballet from the Hi Fi it would've been a case of, "Give me a minute to pull on my jellies and I'll meet you in 1983".
I've read up on going sugar-free; I endeavour to eat more mindfully; a friend and I went shopping to become Deliciously Ella; I will doubtless embrace all things bug like in my concern for more sustainable sources of protein; I have been tempted by foraging courses; I follow the highs and lows of our humble pound of butter and delight, for its sake and my own that it is getting better PR; I embrace the metaphorical tongue to trotters eating of the coconut, the milk, the flesh and the oil and I will grind a cauliflower and pretend it's cous cous with any well read, devoted foodie. However, when it came to producing a slap up dinner for all to enjoy I didn't go for anything involving a spiralized vegetable in full masquerade mask teasing the table that it was a carb or something infused with the aroma from whisky soaked sustainably produced mesquite wood chips in a homemade smoker.
The reason for the steak dinner was that the Birthday Boy enjoyed it and therein lies the first of three nubs. Some foods have become a cliché and at the heart of any cliché is so often truth. Teaching us little new there, but what it is worth us all remembering or realising is that many people thoroughly enjoy a prawn cocktail or variation thereof, followed by a steak dinner and rounded off with gateau and if there is a box of after eights to pass about, well it's happy days, or evenings all around. It is easy to assume that because we are told that we should all be eating celeriac or that an avocado a day keeps the food judging police at bay, then that's what we will whip up (or mash up) each evening. That's fine if that is what you want to eat but if you don't, then don't. A quality steak, cooked well, decent chips and a creamy, spicy peppercorn sauce is all food that many like to put in their mouths and chew with gusto.
The second nub is nostalgia. I read a phrase recently, 'gourmet nostalgia' and whilst it may appear sound bitey it encapsulate so much of what was generating the gush over slices of pink and yellow sponge glued together with a cloying, overly sweet slick of synthetic cream. Whilst there are many attractions of adulthood and many of us wouldn't want to relive aspects of adolescence, those rose tinted glasses get donned and we can recall or at least trick our inner selves in to a belief that the world of our youth was simpler, a time to be sighed over with dopey grins and sugar filled tums and so of course, that cake or savoury that reminds us of Kelly's 8th birthday party, the crush we had on Brian or long picnics in the woods with Dawn and Julie, is going to generate some cooing.
Thirdly food should be fun. We're not simply eating to exist. We're past clubbing a woolly mammoth to death to wear its fur coat and wrench meat from its bones in the original nose to tail way of eating. We have options, knowledge and lifestyle issues and once we have incorporated allergies, dietary requirements, cultural and religious observances and finances, many of us are still left with a huge degree of choice and with that choice we can play and amuse ourselves not just keep ourselves alive. So if I want to challenge taste buds with a surprising ingredient or attempt a new cuisine, knock up an end of the month, knackered, quick and cheap pesto pasta or use every oven tray I posses serving up a spread of fish fingers, crinkle cut chips and battered onion rings I can and I will.
Surely the only thing to deride and mock is those that tell us what we should eat for fashion or fad. Definitely seek advice on healthy options, new flavours and ways of cooking and absolutely be open to the wide, exciting variety that surrounds us but choose what you want to eat and eat what makes you happy, because living and eating like that truly is the ice magic on top of my vanilla soft scoop.