To be the very best in any industry, consistently producing at the highest level is a minimum requirement, but quite how good the performances need to be is naturally relative to those of previous greats. In recent years the bar has been raised so vastly in the world of football by the goalscoring exploits of Ballon d'Or winning Cristiano Ronaldo and his predecessor Lionel Messi that any rate worse than a goal-per-game can now make a player good, but by no means great.
When Gareth Bale became the most expensive player of all time in the summer, he was always going to face comparisons with the world's best, and his price tag was also inevitably going to be something of a burden. Without a pre-season behind him and expectations heightened by his hefty fee, it had at first looked like the reputation that preceded him would be a hindrance.
£86m for an attacking player who aged just 21 tore Inter Milan apart at San Siro and later carried Tottenham to their best-ever Premier League points tally, makes a goal-a-game average not all that crazy an expectation. When he finally made his debut at Villarreal - and scored - he gave the first indication that he might have been worth such a huge outlay. Six fruitless weeks later, though, Bale had yet to make a mark at the club, and looked a shell of the player that had originally become a Galactico. Then things took off.
Real Madrid smashed seven past Sevilla and Bale was at the heart of all of their play. He scored the first two - albeit the second via an extremely fortunate deflection - and set up the fourth and fifth. He may well have gone on to complete a hat-trick - of either goals or assists - if the game wasn't the Welshman's first competitive 90 minutes since the final day of the previous campaign. Bale then embarked on an incredible run of form in which he registered eight goals and six assists in just seven appearances and looked to have found his calling in the Real Madrid eleven.
Playing on the right side of a three-pronged attack in which he and Cristiano Ronaldo flanked Karim Benzema, Los Blancos settled into some rhythm and began to pick up more and more impressive results. The wingers combined the pace, power and two-footedness to turn defenders inside-out, both comfortable cutting inside to shoot or going down the line to cross. When they did the latter, Benzema was on hand to finish off the crosses, and the opposing winger would also join the party in the box. Benzema is a very good player, but Bale and Ronaldo were stealing the show, looking an increasingly effective duo.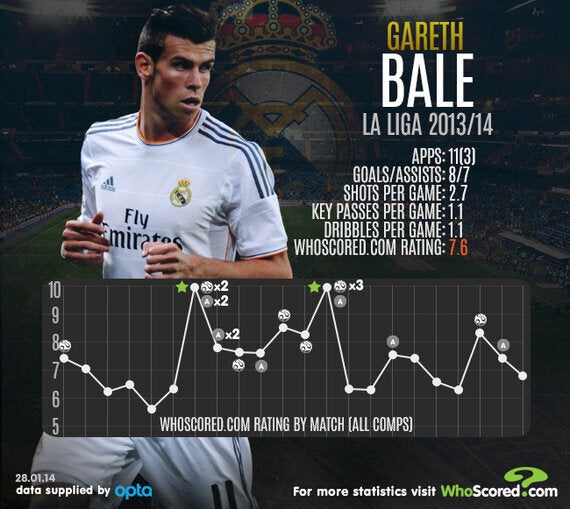 The main man at the Bernabeu was still undoubtedly Ronaldo, though, and Bale really needed to prove he could step out out from Ronaldo's shadow. That he did, as when Ronaldo picked up a hamstring injury at Almeria, Bale quickly assumed more responsibility in attack. Ronaldo went off after 55 minutes with the score at 1-0; a Bale-led Madrid went on to win 5-0. Without the Portuguese star on the pitch over 216 minutes of action across two and a half matches, Bale had 14 shots and scored five goals. Real won each game scoring at least four times in each.
When Ronaldo returned, however, Bale faded into the background. He went six games without a goal. Ronaldo had a point to prove. He was still top dog, and wanted everyone else to know it. In the nine games they have both featured in since the eventual world player of the year returned from injury, he has had 67 attempts on goal. Bale has had 20.
This isn't necessarily a criticism of Bale, however. Retaining the confidence and self-belief to outshine Cristiano Ronaldo on his own stage is one hell of a task, and that Bale became another member of Ronaldo's cast is hardly that surprising. He is thus extremely unlikely in a team with Ronaldo to score at the same rate over equally extended periods. Nonetheless, to justify his price tag, Bale doesn't need to reach such extreme goalscoring heights. He merely needs to find his place in the team and help this Real Madrid side fulfil their incredible potential.
Carlo Ancelotti seems to have now settled on a 4-3-3 formation that includes the Bale Benzema-Ronaldo trident, but also the man that Bale was thought to be in competition with for a single place on the right wing, Ángel Di María. The Argentine is now occupying a central midfield berth, making an interesting combination with Luka Modric and Xabi Alonso, that has proved complimentary and effective. Alonso - or occasionally Illarramendi - sits at the base of the midfield, with Modric and Di María flitting about in front, both energetic enough to get forward but maintain defensive responsibility. The front 3 are, more or less, left free to concentrate on attacking.
There will be pressure on the manager to incorporate the club's record signing, superstar Ronaldo and fans favourite Di María into a single starting eleven, but Bale has proven himself worthy of the place with his performances. He still has plenty to learn if he is to become one of the world's best, and he has sufficient time to do just that. For now though, having closed the gap at the top of La Liga to just one point, he needs to concentrate on providing for the good of the team. Personal development will come with time, but in terms of this season's expectations, it is going to remain Cristiano Ronaldo's platform to perform, and Bale can just do his best to aid the team achieve their goals.
All statistics courtesy of whoscored.com where you can find yet more stats and player ratings.