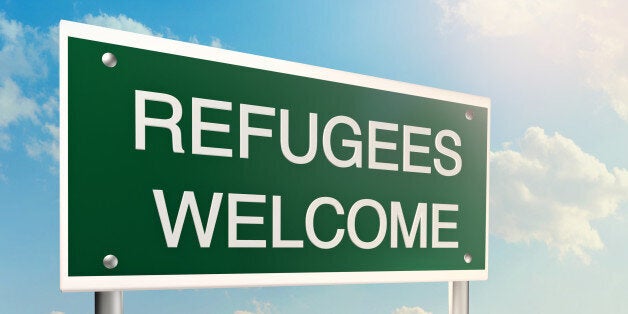 I came to London as a student, but became a refugee when the war in my country made it impossible for me to return home. Working with the British Red Cross in the late 1990s, I was moved by the way British people welcomed my fellow Kosovans. Ordinary people in Liverpool, Manchester, and other cities where we worked donated clothes and helped them feel at home. They understood that they just wanted safety, and a normal life.
Twenty years later, the mood feels different. The political landscape has changed, but so has the way we think and feel about refugees. Although the UK only hosts a tiny fraction of the millions of displaced people in the world, we hear that there is 'no room left'. We have forgotten that welcoming those in need is a basic act of humanity.
On Saturday 17 September, I will be taking a truck to the Refugees Welcome Here demonstration in Park Lane in central London, which will show public support for allowing people to come and live in safety in the UK. In the back of the truck will be a homey 'living room', where members of the public are invited to come and sit with me, hear my story and tell their own, or share reflections on how refugees should be welcomed.
The installation, called 'Refugees Welcome', is an attempt to recreate the solidarity and welcoming spirit that I experienced when I first came to the UK. But it also reflects the darker side of our response to refugees. The idea of the truck came to me when I was traveling through Calais, and saw people waiting by the road in the hope of jumping into a vehicle that would take them across the Channel. As far as it represents change, the truck symbolises hope for a better future, but for those who suffocate or freeze to death on the way, it is also a tomb.
After Brexit, reconnecting with our capacity to welcome is more important than ever. On the day of the Brexit referendum result I was at the British Museum, presenting Refugees Welcome as part of Refugee Week 2016. I wanted to serve tea because it's such a British way of welcoming people, and I had two chairs and two cups, ready to share a brew with museum-goers. But that morning, one of the cups broke, and I was on my way to buy another one but something stopped me - an inner feeling, a hunch. My visitors book that day was full of anger about Brexit and the surrounding hostility towards migrants. Like the teacup, Britain was shattered, broken and alone - drinking tea for one.
Art may not be a solution for the millions of people in the world who have lost their homes. But I believe that art can make the issue of refugees visible, in a way that is understood by all, regardless of faith, nationality or language. Where language fails, art can break through. People have known about the use of rape as a weapon of war in Kosovo for a long time, but when I hung 5000 dresses in a football stadium there last year, they couldn't look away. They were faced with the reality!
Refugees Welcome will be a window into the welcoming Britain I remember - a safe space where people from all backgrounds can come in, have a sit down and share a story. I hope you can join me.
Refugees Welcome will be at Curzon Gate, off Park Lane from 12.30pm on Saturday 17 September.
Refugees Welcome is commissioned by Counterpoints Arts, a charity which supports and produces the arts by and about migrants and refugees: www.counterpointsarts.org.uk
For details of the Refugees Welcome Here demonstration, visit www.swruk.org
Related