This is the time of year for reflection, and very difficult for all those who have recently lost loved ones. As I celebrate with my family, I've been thinking a lot about Sam Beaven and hers.
When Sam called me, she was scared and my heart went out to her. I didn't know then that we'd soon become friends and hang out together for a month in Mexico, walking, eating, shopping - even whale watching.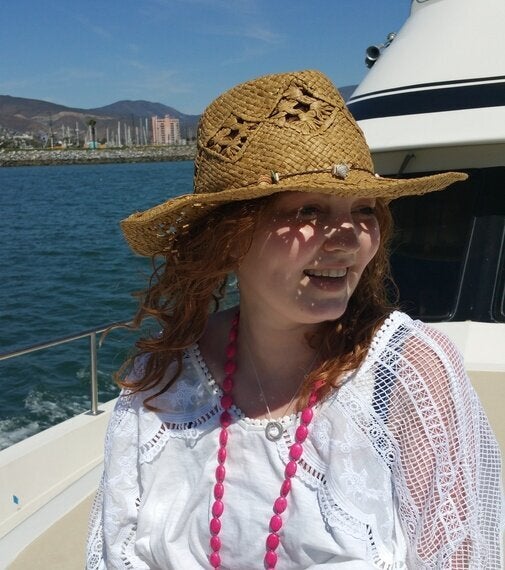 Beautiful, brave Sam died on May 4th, shortly after returning home to the UK. Twenty-nine years old, mother of two and a dearly loved wife to Alex, with a cancer story so sad it hardly bears thinking about.
Just two months previously, I'd been lying on my bed in my apartment in Mexico, looking at her Facebook page, killing a few hours before it was time to go out to eat. Wow! What gorgeous hair! She'd lost it by the time we met, and was wearing a very convincing bonded hairpiece that made her feel, as she said, 'More normal.' I never heard her complain about it.
It's very sad, in fact it's more than sad - it's just plain wrong - that there's another way to administer chemotherapy that is far less damaging, with a significant reduction in side-effects, but which is presently denied to the vast majority of cancer patients. No one actually has to lose their hair, or vomit. Or get so neutropenic and anaemic that more treatment, possibly even hospital admission, is needed. It can happen, but it is far less likely.
How different could cancer care be if IPT (insulin potentiation therapy) was the usual way to administer these horrible yet useful medicines? How different for Sam if this low-dose chemo, immunotherapy, metabolic protocols, vaccines, hyperthermia, and all the things on offer elsewhere, had been available on the NHS right from the start, after her tragically late diagnosis; sparing her the need to cross the Atlantic and be apart from her children, only adding to her stress and anxiety?
Like so many patients, regardless of their treatment protocols, Sam died of an infection. She was responding to the treatment but her immune system collapsed. No wonder.
We, the 'medical tourists' got ourselves to Mexico, in pain, our irradiated tissues inflamed, tingling with peripheral neuropathy, veins turned to vermicelli, toxic with chemo, sore from surgeries, often with tubes, bags and dressings attached, usually having been told we were as good as dead, knowing that there were doctors here who had a different approach and who just might be able to save our lives. Brave us. The walking wounded, characters from a chapter of what one day will be medical history.
We ignored the 'this site is unsafe' messages, got hold of the money somehow, and packed for a leap in the dark, when most of us were weak, ill and running on very low reserve tanks. Too much precious energy had been wasted trying to convince friends and family, not to mention our oncologists, that what we had chosen to do was valid and the most responsible thing that we could do under the circumstances.
No, we were not about to fall into the hands of quacks and charlatans, who just couldn't wait to give us false hope and take our money, but rather were travelling to be treated by doctors with amazing reputations, working at the cutting edge of our cancer pandemic and delivering excellent care with empathy and kindness.
From the way people who go abroad for treatment, unavailable here, are treated, (Ashya King's family for example), you'd almost think that trying to save your life or the life of a loved one was a crime.
Alex told me that the doctors wouldn't even look at Sam's reports and scans from Mexico. Not only is this insulting to their international colleagues, but shows a shocking lack of intellectual curiosity in our doctors about integrative cancer treatments, which in a growing number of cases are, and in many more could be, helping their patients. Sam refused her UK oncologist entry into the room where she died.
Everyone knows that there are no answers as to why some people make it and others don't. Everyone's unique; everyone's cancer is unique. Some things work for some people. But nothing works for all of the people, all of the time. However, whether it's two weeks, six weeks, four months or whatever random time period some consultant has 'given' us to live, where there's life, there's hope. No one could ever be wrong for trying.
Sam and Alex tried. They raised the money themselves - an incredible effort with the savvy use of social media. One day Sam's girls will know just how hard she fought for them. I saw her bite back tears as she spoke to them on the phone, sometimes waking just so she could catch them on FaceTime.
We talked about how powerful a message it would be when - because it was when, not if - she got well, to all young women, to everyone. Sam, that message of hope is still going out. That's what you'd want, so that your friends and your daughters might not have to be so fearful; might see a new story emerging around cancer, a better one, with happier endings.