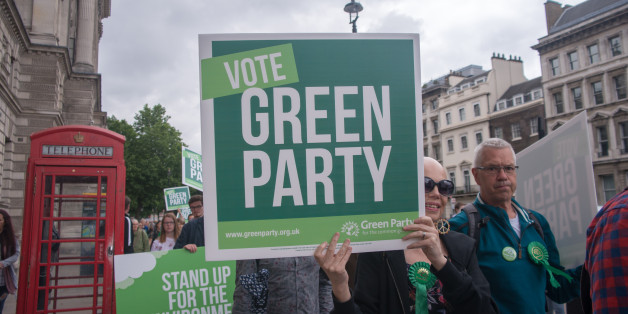 NurPhoto via Getty Images
This is an exciting election for the Green Party. We have a real opportunity to get more Greens elected and increase our vote share, but we'll only achieve this with hard work and by getting volunteers onto doorsteps: it is an election where every vote really does count.
The opportunity is crystal clear in a seat like Bristol West, where our candidate, Molly Scott Cato, only needs a 4% swing to beat Labour. In other seats too we stand a real chance of electing more Green MPs in this election, and every Green vote we receive across the UK renews and increases the authority with which we can talk in the media about the Green policies you want to see in action. The policies that inspired the audiences of the television debates not just to think about the MP they want, but the country that they want to build.
We've been going all out to get Molly Scott Cato elected to Parliament, with hundreds of volunteers knocking on tens of thousands of doors... and we're not done yet. We still have floating voters and voters who think they need to vote Labour to keep a Tory MP out. We will only change minds through meaningful conversations on the doorstep.
On Friday, 9th June, I don't want people will wake up to hear that we didn't win our seat in Bristol by just 100 votes so we'll keep on going, as a party and as a movement, doing everything we can to make sure that doesn't happen, to get every vote we can for Molly. You can get involved by registering to volunteer here https://molly4bristol.org/get-involved/ and spend next weekend on the path to making history: helping to get our second Green MP elected. If you can't make it to Bristol then please volunteer in the Isle of Wight, Sheffield or another local seat.
Having worked with Molly, it's clear to me that she's everything that Parliament needs over the next five years. As an economist who's an expert on Europe, the fact she's a Green is almost the icing on the cake.
Last election we secured 1.1 million votes, which helped ensure that Greens were represented in the televised debates, and it is this support we need to ensure we get better media coverage. We need to retain that vote and beat UKIP to keep our place on TV and radio.
Caroline Lucas, defending her seat in Brighton Pavilion, has done an incredible job over the last seven years as our only Green MP, but she needs Molly next to her in the Commons, especially as she has come to wonder where the rest of the opposition are on some of the most vital issues of our time - our NHS and public services, our environment and climate change. And, of course Brexit.
Where Labour have whips and party lines, the Greens have the freedom to stick to our principles. One more Labour MP among scores wouldn't make much difference but imagine the difference another Green MP would make! That's a message we have been pushing hard in other seats too, like the Isle of Wight, Sheffield Central and Bath.
As Greens, we often point to the unfair first past the post electoral system and the fact that in far too many seats people's votes won't affect the outcome. It is true that, with more than a million votes, a fairer electoral system would have given us more than 20 MPs last time, but that doesn't mean that you shouldn't vote Green. Not at all.
Green votes will change the political climate. By demonstrating support for our distinctive stance, not just on protecting the environment but also on issues like a universal basic income, scrapping SATs tests and lowering the voting age to 16, we will influence the other parties. Yes, when Labour announces bold new policies, we're glad to find they've been reading our last manifesto - even if they do still have a long way to go to match our commitments on a publicly owned NHS, scrapping nuclear weapons and offering people a say on the Brexit deal. Let alone to have a set of policies that work together to create the kind of Britain we want to live in.
Every vote for a Green candidate sends a signal that this is what we want. We want to do politics differently. We want a government that believes the best way forward is by working with each other rather than against each other. One that puts the rights of citizens above those of corporations, which ensures that nobody is left behind.
Every vote for the Green Party is a vote for a confident and caring Britain we can all be proud of.