A few days ago I saw an image that hasn't left my mind. Three year old Aylan Kurdi's lifeless body washed ashore, drowned, after the overcrowded boat he was on with his family capsized. His older brother, five year old Galip Kurdi suffered the same fate as did the boys' mother.
The boat the family had boarded was carrying them from war torn Syria bound for the Greek island of Kos. Sadly, their journey did not end in jubilation that they had fled to safety but has ended in a tragedy that has touched the hearts of many.
Dead because they sought refuge, to escape from a life that we can not really comprehend. To seek a better life, a safe life.
You have to understand that no one puts their children in a boat unless the water is safer than the land-Warsan Shire
When I saw the image it gave me the impetus I needed to do something and I know so many others had that feeling too. Together with hundreds of fellow bloggers we launched a mass media campaign by changing our profile pictures to black and white images of our children holding a sign saying the words 'It could have been me' we uploaded these images to our Instagram accounts and to Twitter. We were trending most of the day on Saturday 5th September with thousands of images appearing across social media!
It was an honour to watch a group of people uniting together and raising awareness of such an important issue. We still need YOUR help-we need everyone to join us and unite to raise money and awareness.
We hope that you will be inspired to upload images and share them on social media and of course donate to Save the Children's Syria Crisis Appeal. This will be an ongoing campaign and we want it to go viral!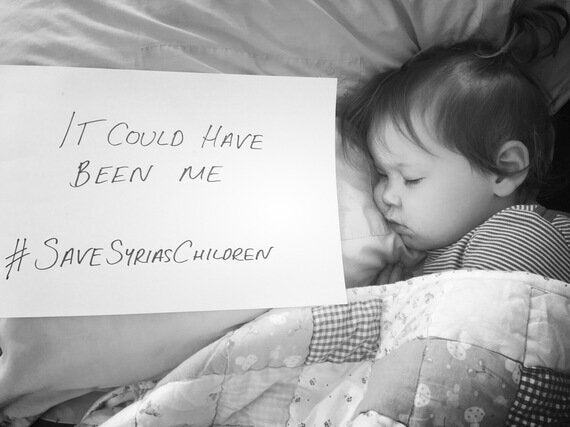 The image will comprise of a black and white photograph of your child/children holding up a piece of paper with the words:
Then please donate £5 by texting the word SYRIA to 70008 The money will go straight to the Save the Children Syria Crisis Appeal.
If you don't have children and you want to say 'It could have been my niece/nephew, my neighbour' whomever you want to say, it's up to you. If you don't want to use an image of your child you can say 'it could have been my family' of course it goes without saying no-one is excluded from joining in the mass social media campaign.
What if this were you or I? It could so easily be happening to all of us too. These people are real: Someone's mother, father, sister, brother...
It could have been any one of us.
The children of Syria are facing one of the worst humanitarian crises that the world has ever seen. Children are dying on our doorstep and we must take action. Please pledge your support today for those fleeing war and persecution.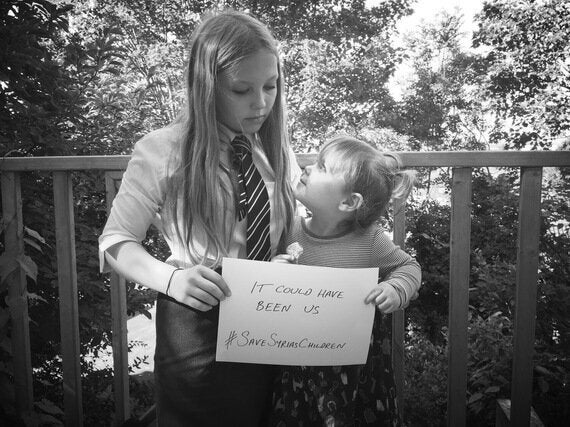 Related