As October draws to a close and the air becomes crisp with the fullness of autumn, my memories draw me back to a familiar place. For thousands of men and women worldwide, November brings with it a day of great honour - one that has touched the hearts of so many for nearly a century. On Remembrance Day, we call to mind the tragedies of war, the sacrifices of the brave, and the ways we can bring about a more peaceful planet.
Since 1919, the Commonwealth of Nations, France, Belgium, the United States, and other countries have observed Remembrance Day on 11 November. It is a time to reflect, to show appreciation to those who have served and pay tribute to all souls lost in conflict. In 1915, Lieutenant Colonel John McCrae penned his famous ode "In Flanders Fields" after witnessing the way red poppy blossoms spread through the trampled chaos of the battlefield during the Great War. Within years, this poem became the most famous of its day, and from country to country the poppy was recognized as a symbol of remembrance.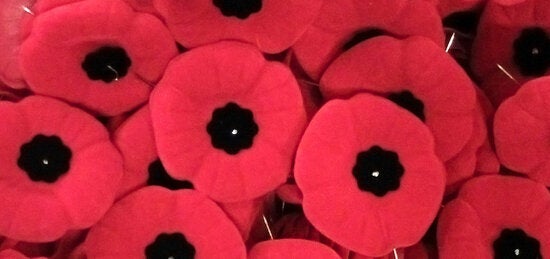 The poppy's roots wound themselves into the lives of many families, including my own. When the Second World War tore through my country, I watched as relatives, friends, and neighbors were swept off in its destruction. The flowers left in graveyards were among the few bright things left in its wake, and as a child, I looked after the delicate blooms I found there. I wished to preserve some beauty in a time of tragedy.
By 1956, the war's shockwaves still shook much of the earth. I had left Croatia and moved to New Zealand in order to start a new life and a family with my husband. The meaning of the poppy had only grown stronger with the passing of years, and before long, I joined the wives and mothers who crafted commemorative flowers for the benefit of The Royal British Legion.
When we first began to make these simple tokens of remembrance, they were constructed from red and green crepe paper. The poppies were beautiful but fragile, and patrons would need to purchase a new flower each year. As our efforts gained support, we were able to craft the poppies from a more durable cloth, and our little blooms could be displayed proudly year after year. I remember seeing men pin our cloth poppies to their lapels and felt my heart swell - with them, they carried both their memories of those lost and mine.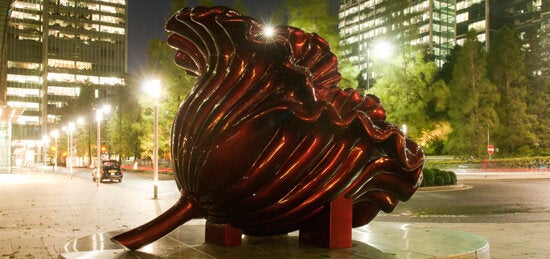 Ana Tzarev's Love poppy, installed in October at Canary Wharf.
For years, I made poppies to benefit servicemen, selling them to our church's congregation and at parent-teacher galas at our children's school. As our town filled with more and more of the bright remembrance blooms, it was clear how far their message reached and how many lives they touched. Our community, like so many others, united to support those who survived the war and the families of those who never made it home.
To this day, I believe the Royal British Legion's legacy of providing necessary care to veterans and their families makes them one of the finest and most worthwhile charities. On Remembrance Day and always, I feel blessed that the first poppies I created - long before my life as an artist - were made in their good name.
Popular in the Community