This is the second installment in a 2-part post written in celebration of Remembrance Day. To view the first installment, click here.
For those of us who have known the heavy weight of war - whether we have witnessed its toll on a beloved veteran, lost a soul held dear, or outlived the fight ourselves - the message of the poppy is not felt only on Remembrance Day. It is a striking symbol of the struggle we will carry for the rest our lives, the burden of memory. The effects of battle have shaken the world time and time again, but when we rise before its shadows, we are never alone. As survivors, we stand together to prove no sacrifice was made in vain.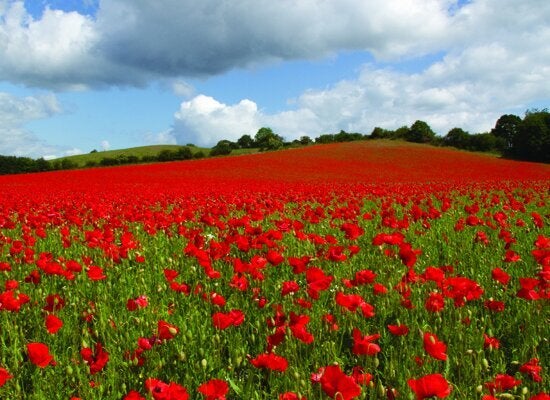 The Daily Telegraph recently ran an article about The Poppy Girls, a group of five young women selected by the Royal British Legion to record a song in honour of Remembrance Day. These girls sing from the heart, knowing first-hand what a life touched by war brings: each is the daughter of a father in the armed forces. Their cover of Regina Spektor's "The Call (No Need to Say Goodbye)" will be made available as a single on 10 November, with a portion of the proceeds donated to the Royal British Legion's efforts to support those who have dedicated their lives to serving and protecting others. To see such a beautiful offering made from such young spirits is profoundly touching, a treasure beyond words.
Each Remembrance Day offers opportunities to both reflect on the past and seek out ways to make our future as bright as can be. The greatest tribute we could offer to our veterans is to stop their numbers from growing, to forge a lasting path to peace no storm can wash away. We must strive to reach an end to such incredible suffering.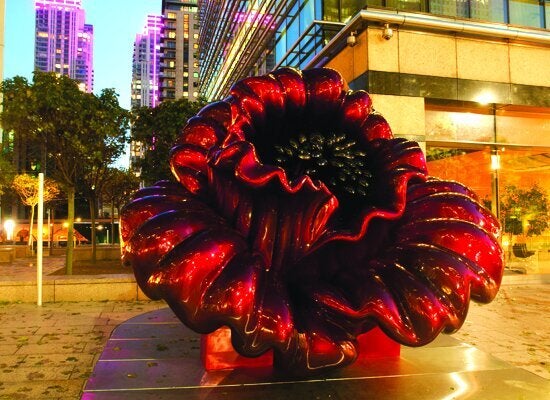 This goal can only be achieved through uniting our unique talents and energy. As an artist, my life and work are devoted to the pursuit of bringing beautiful dreams to life. Chief among these dreams is a vision of true peace, existing outside of ideals and alive within our daily actions. I made each of my Love flower sculptures, which have been sown across the globe, with the intention of creating safe spaces for dialogue beneath their enormous petals. Progress begins with conversation, and once such exchanges start, the differences that divide us pale against the feelings that bind us.
I offer our world's veterans and their families my poppy flowers as a tribute, made to show that they will never be forgotten - a global bouquet to laud those who stood, brave and humble, for their countrymen. This Remembrance Day, give thanks and show respect by using your unique gift for the greater good. With hard work and hope, may we rebuild our world upon the most stable foundations: love and peace.
In honour of Remembrance Day, Ana Tzarev's Love poppy is now on view at Canary Wharf. For more information, please visit www.lovepeaceflower.com.