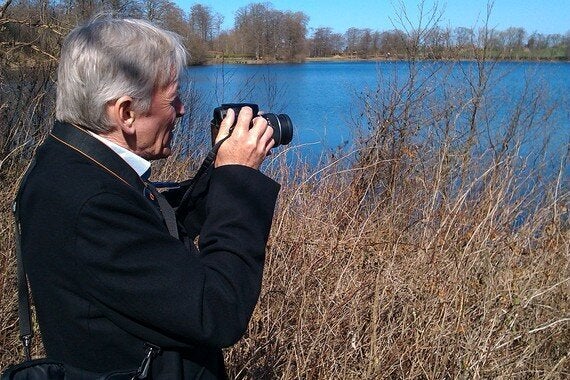 As I write, I'm sitting in stunning natural surroundings in the New Forest in the south of England; above me is blue sky, around me are trees and all I can hear is the singing of thousands of birds and the distant chatter of the occasional family cycling by. I think to myself that I wish my dad could be here with me right now.
My dad passed away at the end of August last year at the premature age of 62 to cancer. This week my dad would have turned 63. It pains me immensely that he is not here and left the world he loved so dearly before he'd finished his work here; he had a lot more to give to the world and the world had a lot more to give to him.
Spring was his favourite season and he'd once told me: ''It's incredible that something that can seem so without life and look so dead can suddenly have so much life again. There is constant activity beneath us, even though it doesn't look like it nature is always working hard, it is so fascinating."
His love of spring and nature manifested in many ways, like when he asked me to delay my mom's request to mow the grass in the garden at home a little as he wanted the bees to benefit from the small flowers on the lawn, knowing how much trouble they are in at the moment.
He was an avid bird lover too and some years back we had had a tough winter in Denmark that never seemed to end. My dad moaned and moaned about how cold and lifeless it was and how hard the weather was on the birds whom he had laid food out for. The relief and joy on his face when he noticed the first signs of spring arriving was priceless, and it was as though the birds came out in force to sing for him as a thank you for looking after them over the winter. One bird in particular, a blackbird, kept coming back time again; my dad was convinced it was his deceased grandmother making an appearance.
As a lawyer with clients spread across Denmark, my dad would often find himself travelling alone in the car through spectacular bio diverse landscapes to visit people. My sister gave him a CD with bird sounds to listen to in the car which he'd often play for hours at a time; he became particularly good at identifying obscure types of bird song and liked to imagine himself surrounded by them all.
As I sit in the New Forest dwelling on his passion for the natural world and his influence on me from an early age, my thoughts turn to whether kids and families today are losing our connection with the natural world. Some of my strongest memories from my childhood include experiences of being outdoors as a family, being taught about nature by parents who were passionate about it, doing things like picking elder flower and brambles literally on our doorsteps. But if we'd have been a more urban family would that have happened and if not, is it possible I might not have been inspired to become the environmentalist I am today? All I can do is remain grateful for the passion they imparted on me which is now such a fundamental part of my life and work.
England is on the verge of breaking into full spring at the moment; some trees are in full bloom, some are only halfway through while others are only just starting to show signs of life. Seeing the resilience and beauty of nature is reassuring and feels somehow symbolic of how my dad is willing me and my family to move through our still overwhelming grief about his loss and seize the infinite possibilities of a new year and a new season. I hope to honour that.