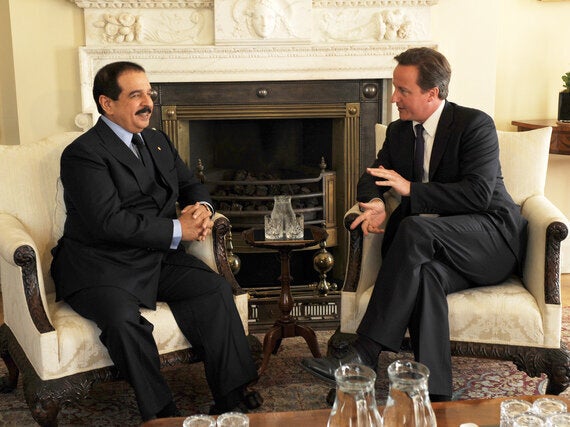 David Cameron entertaining the King of Bahrain. Copyright Number 10
This Sunday will see the trial of Nabeel Rajab, the president of the Bahrain Centre for Human Rights who is facing up to three years imprisonment for insulting 'a public office' on Twitter. This might sound exceptional, but it is only the latest terrible example of the crackdown on human rights that is being waged by the Bahraini authorities. Rajab's arrest comes only five months after he was released from a two year imprisonment for his participation in demonstrations.
The last few weeks have also seen the detention of human rights activist Zainab Al-Khawaja for ripping up a photo of the King and campaigner Maryam Al-Khawaja, who was detained last month on political charges while visiting her father in prison. Unfortunately these high profile detentions are part of a much bigger picture that has also seen attacks on and detentions of journalists, artists and opposition parties.
Last month 50 detainees held a 30 day hunger strike in opposition to government torture. A statement released by the prisoners accused the authorities of a number of serious abuses; including beatings, insults, torture, solitary confinement, and forcing them to stand for long hours.
The situation has been intensifying for some time. Earlier this year the King reinforced his authority by introducing a new law that imposes prison sentences of up to seven years on anyone who publicly insults him.
Official reconciliation talks have fallen apart, following three years of political deadlock. Opposition groups have called for a boycott of the forthcoming parliamentary elections that are due to take place in November. The boycott has been fuelled by the worsening human rights situation and concerns that it will be conducted unfairly with a view to entrenching the power of the government.
The regime has been condemned by Amnesty International, The Economist Democracy Index and Freedom House, among others, but none of this has stopped the UK government from strengthening its relationship with Bahrain. Human Rights Watch has condemned Bahrain's criminal justice system for failing to deliver basic accountability and impartial justice, describing it as "a highly functional injustice system."
As well as announcing new trade agreements, the Department of Business Innovation and Skills has listed Bahrain as a "priority market" for arms sales and the government has invested a lot of time, money and political capital into its very public support for the Bahraini authorities as in a fawning attempt to secure a deal on Eurofighter jets.
This summer the Bahraini royal family descended on the UK as part of a garish and costly propaganda offensive that saw them rubbing shoulders with the Queen at the Royal Windsor Horse Show and hosting a specially arranged conference in the heart of Westminster.
This was just one public display of support in what has been a mutually sycophantic relationship. It followed a high profile state visit from Prince Charles and "GREAT British Week"; a colourful and flamboyant arms fair and gimmicky tribute to all things British that took place in Manama in January and attracted visits from Philip Hammond MP and Prince Andrew.
The 2011 uprisings should have seen a re-evaluation of the way that the UK does business in the region, but it has licensed £25m worth of military equipment to Bahrain since then. This has included licences for machine guns, sniper rifles, weapon sights, ammunition and anti riot shields, all of which can be used for internal repression.
What is implicit in the arms sales is a political support for the regime and a message to democracy activists and those fighting repression that their aspirations for human rights and civil liberties are of less importance than arms trade profits.
This point was emphasised by the Foreign Affairs Committee's 2013 report into relations with Bahrain and Saudi Arabia, which concluded that: "Both the government and the opposition in Bahrain view UK defence sales as a signal of British support for the government." The same Committee urged the government to include Bahrain as a 'country of concern' in its annual human rights and democracy report.
Unsurprisingly their request fell on deaf-ears, with the latest report listing 28 countries and choosing to omit Bahrain. Instead, and against evidence from opposition groups, the report concluded that "the overall trajectory on human rights (in Bahrain) will be positive." The report was updated this week but still makes little mention of the impact of the crackdown, instead concluding "there is evidence of real efforts being made in areas where human rights concerns remain."
Arms sales are not apolitical acts. On one hand, they bolster the buyers by giving them a British endorsement as a fig-leaf of respectability, but they also buy the UK government's political support and compliance. As the crackdown continues to escalate it is becoming increasingly clear that decisions being made in support of arms sales are having serious consequences for the victims of state repression.
Andrew Smith is a spokesperson for Campaign Against Arms Trade