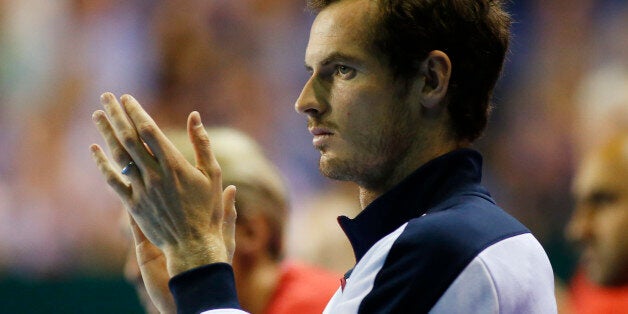 Last September, having seen countless images in the news of child refugees fleeing their homes and making incredibly dangerous journeys in search of safety, I decided that I wanted to do something to help. With a packed schedule, including Davis Cup matches and the ATP World Tour Finals, I came up with the idea of donating £50 to Unicef UK for every ace I hit until the end of the 2015 season. Thanks to the support of my fans and partners, the campaign raised over £83,000 for Unicef's work to help children affected by the conflict in Syria.
A year on and sadly the stories of children who have been affected by ongoing conflicts around the world do not seem to be abating. Earlier this month Unicef released a new report that outlined how nearly one in every 200 children is now a refugee and that across the world 28million children have been driven from their homes by violence and conflict. Between 2010 and 2015, the number of child refugees increased by more than 75%. Just two countries - Syria and Afghanistan - account for nearly half of all child refugees globally. Traumatised by what they have seen at home, children face further dangers whilst on the move, all too often travelling alone without food, suitable clothing or shelter.
To coincide with the launch of Unicef's 'Uprooted' report I shared a video on my Facebook page of 10-year-old Mirna who has been forced to leave her home in Iraq because of the ongoing conflict inside the country. Like millions of other children, she now lives in a temporary camp and longs for what she has left behind - her school, her friends, her toys. More than anything she wants to return the place where she grew up, the place that she calls home.
Since becoming a father in February this year, spending time with my family is more important than ever and while they often travel with me on tour there is nothing like being together at home. I can't imagine what it must be like for children and families who've been forced to flee their homes because it no longer feels safe, risking their lives on perilous journeys with an uncertain future ahead of them. Having a child of my own has strengthened my commitment as a Unicef UK Ambassador and one of the reasons I created Andy Murray Live, a new exhibition tennis event, to raise much-needed funds to help support vulnerable children. And when deciding where to put on the event there was one place that felt right, Glasgow. My home town.
After a busy summer, it will be brilliant to return to Glasgow and play in front of a home crowd. I will be taking on Grigor Dimitrov, currently ranked 22 in the world, in the best of a three sets singles match. The last time we played each other was at the US Open and with his style of play, I'm sure it will be an entertaining match. In the doubles match, my brother Jamie and I will take on Grigor and Tim Henman.
The event has been a year or so in the making and whatever happens on the court, I am really proud that it will help raise money for two great causes, Unicef and a local Glasgow charity, Young People's Futures. With the money raised through the event, Young People's Futures will be able to provide vital support to children and young people in some of the most deprived areas of Glasgow. And Unicef could help provide life-saving food, clean water, vaccines, and education for children affected by conflict and disaster, such as those caught up in the refugee crisis.
Andy Murray Live will be broadcast on Sky Sports 3 on Wednesday 21st September, 7:30pm-10:30pm
Help Unicef provide life-saving supplies and a safe place to rest and play for a child affected by war or disaster. Text ANDY to 70111 to donate £3. (Texts cost £3 plus 1 standard rate SMS. Unicef receives 100% of your donation. By texting you consent to future telephone and SMS contact from Unicef. Full T&Cs at Unicef.org.uk)
For more information about Young People's Futures visit youngpossilfutures.org.uk
Popular in the Community