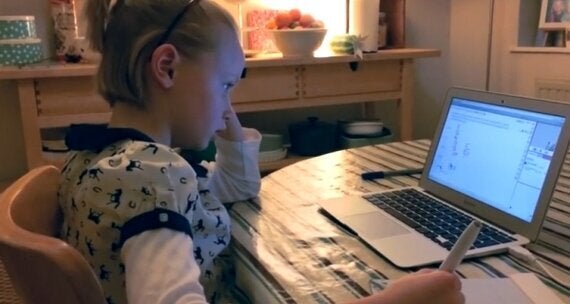 There were many subjects I simply didn't do well at at school. For a long time I thought this was down to my ability, aptitude or general intelligence in particular areas.
However, while I've re-engaged with these topics as my children tackle them in their schooling I'm discovering that I was hampered as much by the way they were taught as by my natural ability at them.
As an experiment I've been setup to test the more tailored approach to teaching offered by the Maths Doctor service. This matches up learners and tutors with tailored online lessons. I was interested in seeing how their different teaching method would help my children in subjects they considered themselves not good at.
One of the immediate benefits of the online system is that you can book in lessons to fit in around your family life. The student receives an electronic pen and pad that connects to their computer via USB and enables them to access the shared white board with their tutor.
This interaction was something of a novelty and, I think, gave the lessons an futuristic air. "It's good to be learning maths differently" was one response from my daughter. Certainly, the technology worked well and offered a track-able experience for both tutor and student.
More than this though, it was being able to hand pick the style, age and gender of her teacher that led to the biggest benefits for my daughter. As she had largely had male teachers I selected a female tutor for her. Also I requested that it would be someone recently graduated.
As you can see in our video, the result was that her Math sessions with the tutor had more of an inspirational edge than at school. She was being taught by someone aspirational, who while remaining professional and clearly in the teacher-student role, could also related to her on more of a friendship level. In particular for subjects not traditionally pursued by girls I think this offers a route to engagement without the worry of peer pressure not least by being taught by other women to aspire to.
Also the style of interaction and method of teach was tailored to her needs. Rather than hammering out questions on her own or in a group she was led through a method in a one to one style. Furthermore she could interact with her tutor with the digitizer pen and pad, as well as understanding things graphically on the white board.
After her four sessions with the Maths Doctor tutor she has a markedly different relationship to the subject. Even after the first session she was keen to do more -- something that I think came from the online style of teaching by a hand picked tutor.
While this kind of inspiration could also be found in friends, family and school being able to get some online assistance for my daughter was something I have really valued. In busy family life this kind of quality attention to a particular subject can sometimes slip (particularly if the child is not over keen), and having a helping hand was something of a relief.
Online tuition certainly offers a route to enhancing skills and knowledge in a subject area, but for my daughter the bigger (hidden) benefits were that it sparked inspiration and offered an aspirational relationship to the subject she didn't have elsewhere.
My next plan is to poll local teachers to see what they make of the Maths Doctor service and how it can complement other styles of learning. More about Maths Doctor on their website.