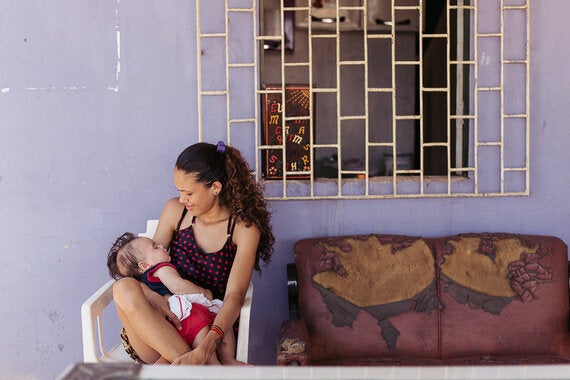 Photograph: Plan International / Natalia Moura
Plumes of dust fill the air as the car roars to a stop outside a small lavender house in Maranhão, Brazil.
There's Pedro from Plan International Brazil - timekeeper, translator and all-round man-in-the-know; Davi, our outspoken videographer, whose eyes light up every time we stumble upon a good story; and Natalia, who takes beautiful photographs and can show you how to strike a model-worthy pose.
We pile out of the car, eager to stretch our legs and meet Charlienne - a 17 year old mother of one (above).
Instead, we're greeted by a rambunctious group of men, swigging beer by a rickety, faded snooker table. They clearly find this situation - and all of our equipment - a hoot.
Keen to make the most of my new language app, I throw out some pigeon Portuguese for fun.
"Hola." "Ciao." "Tudo bem."
Friendly laughter fills the air. Surely, my pronunciation isn't that bad... Before I can launch into anymore newly-learnt phrases, Raimunda appears.
Clad in a red vest, shorts and Havaianas, her hair swept up to counteract the hot heat, she greets me with a warm hug and a kind smile and introduces herself as Charlienne's mother.
Raimunda runs a bar in her house, so she can support her family. She ushers us past the men and through into the backyard.
A young girl sits on a faded plastic chair, a baby boy cradled in her arms. Charlienne's smile is bright and she exudes an excitable energy - a bundle of curly hair and charisma.
I am here to interview her about her life as a teen mother and what it's like to grow up in a community characterised by violence against girls and women. Her mother settles down next to her and it soon transpires that they've both been through a living hell, subjected to 17 years of violence at the hands of Raimunda's ex-husband.
For Raimunda, this is an opportunity to lay bare the hell she's been through and she's willing to entrust her story to me.
I am quickly reminded what a privilege it is to be able to travel to countries such as Brazil, and to listen to the stories of incredible girls and women who've overcome hardship with the support of Plan International's Because I am a Girl projects.
These women welcome you into their homes, offer what little they have and talk to you as though you're their long-lost friend, even though we just met five minutes ago.
It's quite an incredible position to be in. Perhaps it's because they hope you can help them in some shape or form, but I like to think it's more than just that.
This is their moment and this is their story, their lived reality, which if shared could essentially save a life.
A few days later, I meet Girlene. Arriving at a dance studio in a neighbourhood festooned with graffiti, we make our way up the stairs. I only know a little bit about her story, but nothing can prepare me for what I am about to hear.
Girlene, 30, is warm, beautiful and incredibly articulate.
After a quick pre-interview, it's clear this woman is something special. We set up the cameras, but nothing can prepare us for what happens next.
Speaking with grace and humility, she reveals how she was physically assaulted by her father age 10 and raped by her mother's companion when she was just 13. We're all overwrought with emotion, captivated by her words.
She starts to cry. She asks for a minute, but she's determined to carry on. I want to hug her, but she quickly explains she's not crying because she's sad. She's crying because it's dancing that helped her overcome these demons.
"I get emotional talking about dance because nowadays I don't feel pain anymore. Dancing has helped me fight this big monster that's been at my side. When I danced, I grew bigger and stronger than the monster."
I want to know what she'd say to other girls in the same situation. She turns to look straight down the camera, to address all of those girls and women who've suffered violence, and says:
"To all the girls and women who have suffered like I have, please speak up! Don't let anyone get away with it. Talk to someone you trust, who believes in you - and someone you know can make a difference. Let's show society we don't have to stay quiet."
Even though parts may be lost in translation, it's a moment that's so powerful, so moving, that I fully understand what she's saying.
These are stories that will stay with me for a lifetime.
Popular in the Community