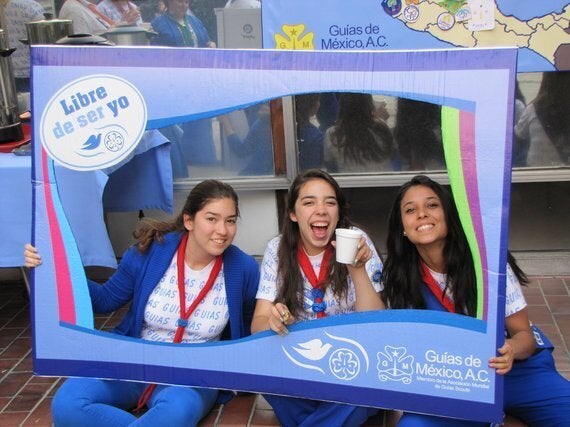 The Girl Guide and Girl Scout Movement builds the confidence and skill of girls and young women across the world. Photo credit: World Association of Girl Guides and Girl Scouts
Imagine a world where every girl is and feels valued. Where girls have the confidence to learn, lead and thrive. Where they have the ability to go to school, speak out in the classroom knowing what they're saying matters. Imagine a world where girls don't feel they have to look a certain way to succeed, where they aren't belittled or reduced to just a body image.
At the World Association of Girl Guides and Girl Scouts (WAGGGS), we aim to provide a space where girls can be the best they can be. In places local to them - safe from judgment, stereotyping and violence - they can learn by doing, they can make friends and have fun.
It's a concept that's worked for over 100 years and research released this week proves why the Girl Guide and Girl Scout Movement matters more than ever.
According to the research, about a quarter of participants had been part of the Boy Scout or Girl Guide Movement. Those who had been part of the Movement were around 15% less likely to go on to suffer from anxiety or mood disorders at age 50.
It is different growing up as a girl today, compared to over 50 years ago. Girls are subjected to numerous pressures, due in part to the boom of social media, cyberbullying, violence and the desire to attain the perfect body image. However, we're working hard to keep up with the changes so today's Girl Guides and Girl Scouts can have better mental health later in life too.
Across our 146 countries, we are committed to developing global programmes that build the confidence and skills of girls and young women. They are leaders of today and, in a rapidly changing world, we want to empower them to live the life they want to lead. We want them to lead in their own way too, whether that is at home, in school, in the workplace or, perhaps, one day as the first female president of the United States.
The study further stated that self-reliance, coupled with teamwork and being active outdoors are benefits that will serve girls well into later life.
At WAGGGS, these three attributes are ones we believe in and ones we seek to instill in Girl Guides and Girl Scouts whether they live in Africa, the Arab region, Asia Pacific, Europe or the Western Hemisphere.
Our non-formal education approach -- which relies on experiential, hands-on learning -- helps to make complex topics accessible and fun for young people. By encouraging girls to work in small groups and using a mix of learning styles and activities such as role play, sketches and games, girls and young women can take ownership of their lives and develop leadership and skills. Small groups create a sense of belonging, providing a space where young people are able to listen, discuss what's important and better support one another.
The topics we cover in these groups are more pertinent than ever to girls and young women across the world. In collaboration with Dove, we've developed the Free Being Me programme, which encourages girls to feel free to be themselves and banish the body myth. Studies have shown that taking part in activities like Free Being Me has a lasting impact on girls' well-being.
Girlguiding UK is encouraging its members to speak openly about mental wellbeing through its Think Resilient programme. Resilience helps girls cope when they're faced with the stresses of everyday life - whether that's in their schools, families or friendship groups - so that they can have fun, take new opportunities and have good mental wellbeing.
It's clear Girl Guiding and Girl Scouting builds confidence no matter where girls are from. It helps girls overcome adversity to ensure they have the opportunity to become the strong, confident women they so deserve to be.
I remember hearing the story of Pascaline, 29, who lives in Rwanda. She had been caught up in the genocide. It had torn her family apart and her father, two brothers and other members of her family had been killed. Through the support of her mother, together with her Girl Guiding group, she's developed into a strong, young woman who is using her experience to support others.
"Girl Guiding has taught me a lot about life," she said. "It's made me adjust to new environments, it's opened doors for my personal development and, more importantly, it's encouraged me to honour my existence as a global citizen. I wouldn't be where I am today if I wasn't a Girl Guide. I've gained knowledge, confidence and skills that school never offered, plus I've made everlasting friendships."
To find out more about more about the World Association of Girl Guides and Girl Girl Scouts and to join the movement, visit its website.