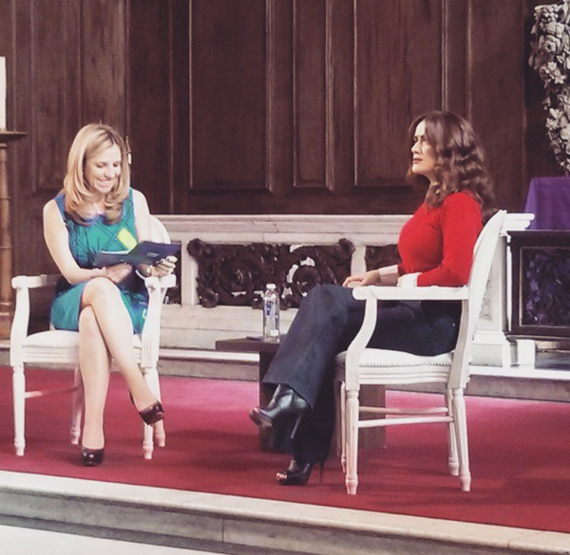 Salma Hayek in conversation with VP of Facebook EMEA, Nicola Mendelsohn
Salma Hayek had a lot of things going against her when she started out in Hollywood: for one, she was a dyslexic soap star facing language barriers in an industry notorious for being closed and unfriendly. But she went on to become one of the very few female film directors in the industry (who account for just 7% of the total), and got to the point where she was able to bring an iconic film like Frida to the screen as the sole producer, with a story that no other producer was willing to touch: that of a fat hairy woman in a problematic marriage - all the wrong things from a studio's perspective!
As you can imagine, it's not easy getting ahead as a female Muslim Arab-Mexican (Hayek is half-Lebanese) - no, not even if you're as famous as she is - she still gets stopped at customs! I got a real sense of the amount of hard work she put in to get where she is, something she says she was able to do because she had a clear vision from the outset: her dream was 'to do movies, not be famous'. She spoke of the importance of having a vision, and then of following it and not being waylaid by someone else's version of what you should do. Today she is a proud supporter of Chime for Change, a global programme to raise funds and awareness for girls and women around the world, focussing on education, health and justice. She started it because she wanted to make it easier for people who wanted to contribute to this cause to participate: 'you don't have to be rich or famous to help someone', as she said.
It was also amusing, and dare I say refreshing, to hear her take on social media - she resisted joining social networks because she doesn't believe in people looking down at their phones all the time and being disengaged with the present. But she finally bit the bullet and joined Facebook and Instagram this week in order to be able to draw more attention to the many causes she supports. She also took her first selfie at the event, which took three whole tries!
Her story of how Avon, which she supported as a brand ambassador when she started out, is still one of her favourite brands was borne out by her belief in the brand's work in making women financially independent. It allowed the Mexican women that she knew to support themselves and their families to break out of poverty, get their children educated and stand up to domestic violence. To an audience question on the role of advertising in objectifying women today she said that things are changing even in advertising - the industry is 'making an effort - not because they are saints' but because it is beginning to dawn on them how important what they do is in terms of creating campaigns and images to look up to. I couldn't help but cheer.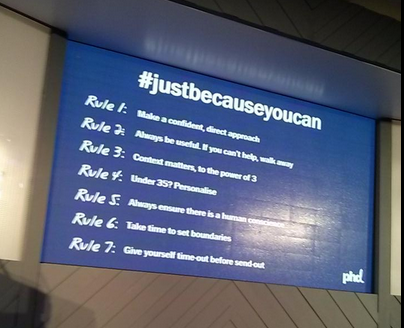 PHD's 7 rules of personalisation
At PHD's session on personalisation, comedian Dave Gorman had the audience in splits as he started off talking about his fascination for how brands communicate in the modern life, often spouting meaningless statistics in ads, like '71% of 99 women agree' - what does that even mean, and really do people really care, he asked. He had quite a few amusing stories around having things 'automatically' added to his shopping baskets online: would you accept it if the shop assistant ringing up your groceries in-store 'automatically' added something to your basket in real life?! No, he didn't think so!
PHD's Simon Harwood and Michael Florence then showcased agency research involving 2000 people that looked to assess what people in real life thought about the personalised digital ads that almost every agency and brand today seem to be exploring in their advertising. The result was 7 rules that can be adopted as guidelines for anyone looking to make sure that their work doesn't tip into the Uncanny Valley level of personalisation, moving along the scale from undesirable brand to George Clooney and onward to a spooky stalker-type con artist if they are not careful. (Disclosure: I work for PHD).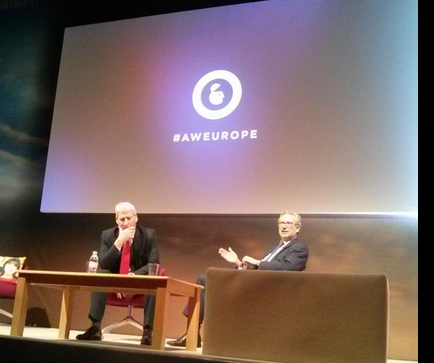 Jeremy Paxman and John Witherow in conversation
The last talk I attended on Monday was a conversation between Jeremy Paxman and John Witherow, Editor of the Times. Between the broadcast model (Paxman doesn't believe institutions like the BBC should be charging fees for people watching TV in a world where cross-screen viewing is now the norm) and the print model (Witherow proudly saying the Times' paying subscribers are what enable them to employ journalists across the world to cover the news), media businesses today continue to be challenged to keep up with the pace of change. Of course, it's not like newspapers without paywalls aren't paying journalists, but it is hard to argue that paying subscribers are irrelevant. Politics came into it significantly of course, given the backgrounds of the speakers, but one of the things that stayed with me was Paxman's view on media and politics today: that 'political coverage is too much a prisoner of Westminster' and we need to go back to focussing on the citizenry and what matters to us, versus having the agenda dictated by politicians. He also had a controversial point of view on making voting mandatory in order to get, amongst others, young people more engaged with democracy, because the current system exists such that politicians know it is the 60+ who vote in large numbers and therefore try to curry favour largely with them.
I couldn't agree more. It's definitely time to throw the old models of media and politics out of the window.
Popular in the Community