The UK is the world's sixth largest economy, yet 1 in 5 of the UK's population live below our official poverty line, which includes 3 million children whose lives are a daily struggle.
It's a disgrace that huge companies like Tesco can still manage a downgraded £1.4 billion profit, yet wont pay more than the minimum wage, so taxpayers are forced to top up with universal tax credits!
In 2012, Starbucks was found to have paid just £8.6m in UK tax over fourteen years, despite making over £3bn ($4.8bn) in UK sales since 1998. This was because corporation tax is paid on profits and, despite the vast sales, the company reported losses over that time.
The following year, Amazon's UK subsidiary was reported to have paid just £2.4m despite generating sales of £4.3bn.
Google, Apple and others have joined the list of big corporate names that have also found themselves in hot water over their tax bills.
So is anyone standing up for the little guy? Well, Russell Brand is, and what a bashing the media are giving him. Rupert Murdoch and chums, all of whom are in the business of keeping the poor down and milking them for every last bean have taken exception to him shining a light on this issue. The pasting Brand has received at the hands of The Sun, in response to his fight to save the New Era housing estate in London from being sold off, evicting 93 tenants, so the rent can be trippled, is worrying. The tabloid media are very happy to shout down anyone who dares to criticise the capitalistic status quo, where the rich get richer at the expense of the working classes. The red tops set us against each other lest anyone focuses on the real issues of the ever widening wealth divide, which causes the rot in our society and lack of compassion.
The UK housing shortage means we only build 125 000 houses a year instead of the 250 000 needed, according to Shelter. Yet successive government allow, nay, encourages wealthy foreign investors to purchase new build properties simply because our property performs better than any stock, share or bond. And they often don't even bother to let them out. Investors from China, Russia and the Middle East are snapping up new build properties in London and fuelling a surge in prices, research has found. Around 65-70 % of new build homes - which foreign buyers prefer - in prime London locations have gone to overseas purchasers in the last two years, according to data from estate agents Chesterton Humberts.
If you lose your job and you have no savings, you are utterly screwed. And Clintons Cards have even deigned to produce a Christmas card to mock the poor (these have since been taken off the shelves). You'll even need a payday loan to fund your own funeral.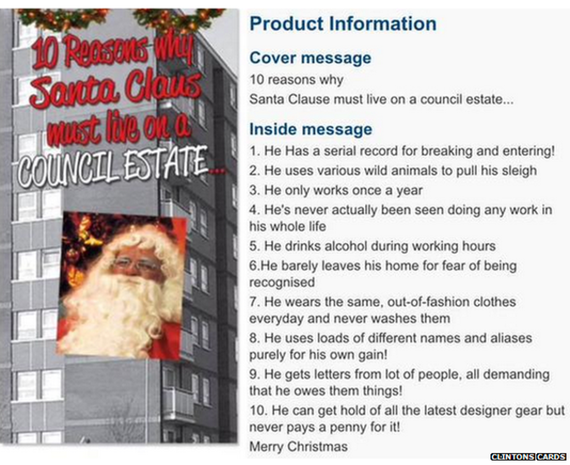 The rich poor gap keeps getting wider (well done Dave!) and as long as you are on the rich side of the gap, you needn't worry about the plebs outside shivering in the cold, losing their homes because they can't afford bedroom tax or because the rents gone through the roof now the new landlord is in charge.
So next time you sit down and update your facebook status to gloat about your new car/handbag/south american gap year, have a thought about those who have little to smile about this Christmas. Why not make a donation to your local food bank. You know Russell will approve.