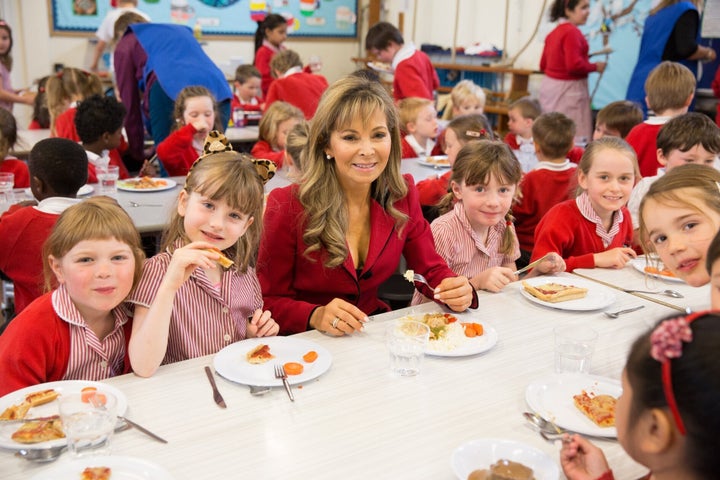 My recent visit to St Mary Magdalen's Catholic Primary School Mortlake was a real insight into the importance that food plays in the school day. It was also an opportunity for me to put to the test some of my tried and tested methods of engaging children (and teachers) with good, nutritious food.
On Friday 12th July, the much awaited School Food Plan was published; something that I am involved in with the co-founders of Leon restaurants, Henry Dimbleby and John Vincent. It is a huge project and Henry and John have brought together teachers, heads, cooks, caterers, parents, children and government to determine how to increase the number of children eating good, nutritious, hot meals at school.
St Mary's was an amazing example of the positive impact that a good school meal has on children and their productivity; yet today the take-up percentage of school meals is shockingly low at just 43%. Most children either bring in a packed lunch (which are almost always less nutritious than a cooked meal) or buy something outside school (most often junk food). This matters because it means that not enough children are eating well and not enough money is going into the system to ensure that it can provide great food and pay its way.
The School Food Plan contains 16 actions that hope to transform our school dinners, and this includes a £16.1 million injection of cash from the Department for Education over the next two years to help schools increase take-up of meals and ensure healthy breakfasts are available for thousands of children who arrive at school hungry.
A practical checklist for head teachers has also been developed to provide them with practical ways to increase the number of children taking school meals. The checklist is based on real positive working examples such as a cashless payment system to reduce queues and offer after school cooking lessons for parents with their children - I think this 'community' approach and encouraging people to come together to encourage better eating habits is a really positive one.
Lowering the price of school meals is likely to be a challenge, but the more children that take up school dinners, the better it will be for the school's finances. A half-empty dining hall - like a half-empty restaurant - is certain to lose money. But if take-up increases, the economics of scale kick-in as labour and overheads do not increase in line with the number of meals served. This is about careful planning to keep the kitchen and dining hall working smoothly with a higher turnover of meals.
Small schools are slightly trickier as they have far more limited resources, so I am working with Henry and John on a central distribution solution for small schools who struggle financially because of their scale.
What the report isn't suggesting is that we ban packed lunches all together. Yet, a good school meal is going to be far more beneficial for your child if their lunchboxes are filled with unhealthy foods - chocolate, sugary cereal bars, salty crisps.
Improving access to school dinners is an important front in the battle against childhood obesity and bad eating habits. 20% of children are leaving primary school obese and the NHS is spending £10 million a year on dealing with diet related diseases.
However, it's also vital to give parents the skills to feed their children well at every meal, rather than just preventing them from giving their children junk once they are at school.