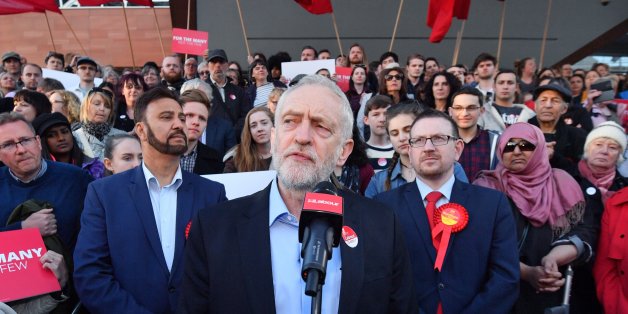 Anthony Devlin via Getty Images
Everything I am, everything good in my life, and everything I have achieved I owe to the Labour Party and to a Labour government. Today people see a successful entrepreneur who sits on the boards of several public companies and charities in the UK and the USA, but this was not always so. 
When I was a young man in my early twenties, I found myself homeless. Public housing assistance, thanks to the Blair Labour government, ensured I could get back on my feet, climb the ranks of large corporations and ultimately become a successful entrepreneur. The Labour also taught me about giving back, a value that has become a consistent and large part of my life.
In addition to my business interests, in 2013 I became the first non-US citizen (and first British citizen) to be appointed to the Board of Directors of GLAAD, the world's largest LGBT media advocacy organisation. I was the founding chair of the European Diversity Awards, Europe's largest award ceremony to honour and celebrate difference and diversity in the UK and across Europe. In 2014 I became a patron of Diversity Role Models, the UK-based LGBT charity focused on the prevention of bullying, and in 2016 I was appointed Chair of the Labour Party's Business and Enterprise Council. I gladly and with complete conviction accepted that role because I'm living proof that only Labour can unlock life chances for the many and not just the few.
When Jeremy first won leadership, some existing Labour members and donors, myself included, worried that his leadership, while undoubtedly well-intentioned, appeared backward-looking, scattergun and, at times, unnecessarily abrasive. I was very glad that when faced with an existential challenge to their leadership - a General Election in which we started 20 points behind - Jeremy, John McDonnell and their team responded by focusing, uniting, and producing a manifesto for the first time since 1997 that both addressed and answered important questions for the British people. As a result, masses of young voters were inspired to vote for us for the first time.
While the outcome of 2017 was a victory over expectations, it was not an electoral victory; even though it was our party's best result for 16 years we still have fifty-five fewer seats than the Tories and cannot credibly form a government. The Next election will be fought in marginals hanging by just tens and hundreds of votes - in the case of Kensington just 20. Labour will need to broaden its appeal while remaining united. That's trickier than it sounds, but it's vital that Labour does so. The 2017 election really did go down to the wire. The Tories tally of 318 seats leaves it eight short of an overall majority. But if you add together Labour's majorities in those eight most marginal 'holds' which stood between Theresa May and victory, you get a combined total of just 786. If she had persuaded just 400 more people to support the Tories in those two-way marginals, she would have been safely across the finishing line. A harrowing prospect.
Britain has real problems. No one would guess based on the mainstream media, but business leaders I talk to and see daily all agree. Like me, they are worried about the direction of the British economy. After seven years of unfair austerity, which disproportionately targets the poorest in our society, Britain lags way behind every major western economy in almost every measure: productivity, trade deficit, core infrastructure investment, levels of household debt that disproportionally affect the poor; and real wages falling behind inflation.
If Britain is to succeed in future years then it needs to regain, retain and maintain its economic strength, which underpins our capacity to have a generous interventionist state, then we need to grow. Creating wealth for all requires intelligent planning and hard work. It requires well-trained, confident and happy people. That's why more so than even tuition fees, it was Angela Rayner's proposal for free lifetime further education that would make a huge difference to life chances, giving working people the chance to train or retrain in a flexible economy. We also need world-class infrastructure underpinned by smart investment. That's part of the reason renationalisation of our core utilities and infrastructure is not "hard left"; it's prudent financial management and economic planning. I've said publicly for many years that it's madness to outsource planning for investment to markets and to allow private players to extract vast amounts of wealth from core utilities; utilities that are of systemic importance to our country, its people and our basic way of life.
Technology is quickly changing our future. It changes the way we work, manage resources, learn, love and communicate. It exponentially increases our knowledge of the world around us. Highlighting inequalities and injustices, technology makes us both more aware of the need for change and improves our capacity to quickly execute smart changes. One of my first startups - a financial services company operating in over 184 counties - is one of the world's fastest growing FinTech companies. It answered the question of how to ensure that the poorest people in our society don't end up paying the most for basic financial services. It helps people - like Mexican labourers in the United States - to pay a fraction of what the legacy banks charge for the privilege of sending his or her own money home. It's disgusting that banks and other institutions can take advantage of the people in our society who are least able to protect themselves or their hard earned money.
To succeed in future decades, we will need to truly liberate the state from its rusty Gladstonian shackles to cope with this accelerating, technology-driven future. A flexible, enabling state needs to be powered by a listening government. And I don't believe that anyone that has just witnessed Theresa May's brittle, tin-eared inflexibility in the General Election can believe that the Tories can deliver it. Until today, business has been wary of Jeremy Corbyn and John McDonnell. But their campaign proved they can listen to people and respond to their needs. It reminded me and many others that it is only Labour, which forged by working people as a necessary response to the Industrial Revolution to bring dignity to workers, that can do the same in the wake of the Information Revolution. 
The facts speak for themselves. Labour is the natural party of workers as well as being the natural party of business.  1997 to 2007 was Britain's longest, sustained period of economic growth in 200 years. Britons going into 2007 had unprecedented wealth, compared to any other year when taking inflation into account. The bottom quintile hit a peak of income that we have never matched since. All this under the Labour government.
Labour's last manifesto started to ask and answer the questions that need to be parsed and solved in order to create a new era of prosperity for Britain. The manifesto is one that learns from our last period in government and builds on it. That's how we'll prove Labour is best for the British economy, best for British business and best for the British people. With Brexit negotiations less than a week old, now more than ever, people are realising that Jeremy Corbyn's bold, listening Labour is the natural party of business.