So pervasive is the selfie trend, that it seems that nothing is sacred - not even patients undergoing surgery. Recently, a photograph was posted and spread widely on social media, depicting a surgeon holding a large piece of skin he had removed from a patient's abdomen.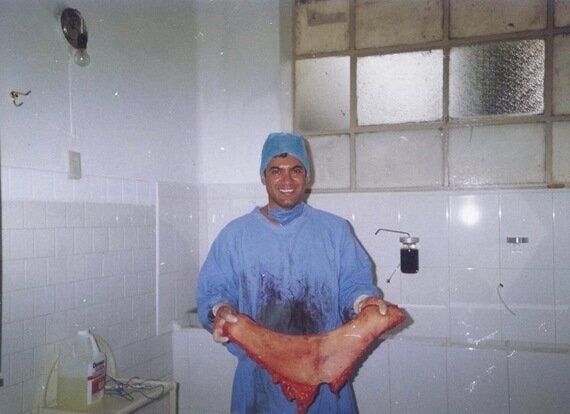 The picture ignited a debate about the appropriateness of this kind of photograph - and opinions are divided regarding whether or not this kind of graphic photograph is acceptable.
It's interesting to note that the 'selfie' in its original guise - that is, a self-taken photograph of an individual's face - has sparked an increase in requests for cosmetic surgery.
The selfie has established itself as a form of self-expression since it boomed in popularity with the advent of smartphones with a front-facing camera in 2010. According to a new study by the American Academy of Facial Plastic and Reconstructive Surgery (AAFPRS) one in three facial plastic surgeons surveyed saw an increase in requests for procedures due to patients being more self- aware of looks in social media.
AAFPRS members surveyed noted a 10 percent increase in rhinoplasty (nose jobs) in 2013 over 2012, as well as a 7 percent increase in hair transplants and a 6 percent increase in eyelid surgery. The British Association of Aesthetic Plastic Surgeons (BAAPS) noted similar trends in their annual audit in 2013, noting that anti-ageing procedures were popular for both sexes, with eyelid surgery up by 14%, face and neck lifts up by 13%, fat transfer (where fat is injected into the face to add volume) up by 15%, and brow lift surgery rose by 17%.
The global market for cosmetic procedures and products is enormous - and is expanding both in terms of value and number of procedures performed annually. Americans spent nearly 1.2 billion dollars in 2013 on plastic surgery and nonsurgical procedures, according to an estimate by the American Academy of Facial Plastic and Reconstructive Surgery. About three-quarters of the procedures were non-surgical (including Botox and fillers). The most popular procedures included rhinoplasty, facelifts, and blepharoplasty (eyelifts). Several industry experts have said that an ageing population, as well as a growing acceptance of cosmetic surgery are the prime factors responsible for the market growth, but Edward Farrior, MD, President of the American Academy of Facial Plastic and Reconstructive Surgery argues that social media has a huge influence. "Social platforms like Instagram, Snapchat and the iPhone app Selfie.im, which are solely image based, force patients to hold a microscope up to their own image and often look at it with a more self-critical eye than ever before," he says. "These images are often the first impressions young people put out there to prospective friends, romantic interests and employers and our patients want to put their best face forward."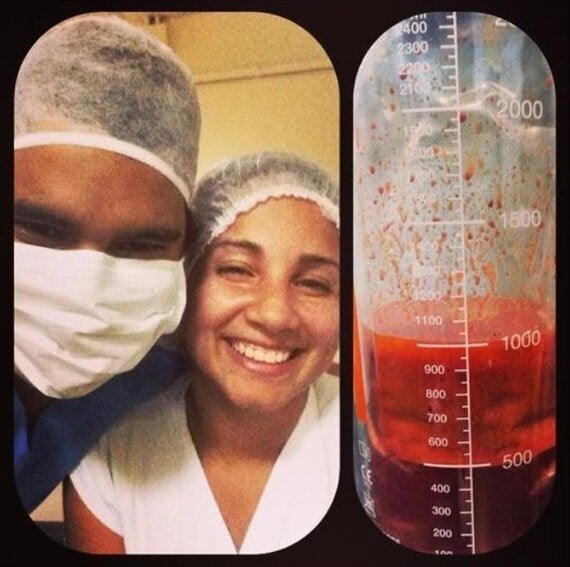 So is this 'surgical selfie' an indication that the modern, technological era is running amok? Is nothing now safe from the camera phone? I asked my social media followers their opinions.
There are numerous people who believe that this kind of postoperative graphic selfie, like the aforementioned lump of excised flesh, is abominable, and that this kind of picture violates moral and ethical boundaries - and they have not been shy of expressing their opinions on Facebook.
Sonia Faria Mace said: "All photos posted on social media from the OR (operating room), after surgery, or holding areas or things removed is tasteless and completely unacceptable."
Dr Corina Cazacu said: "I think a doctor should act like a doctor. I don't agree with these kind of 'selfies'. It's not normal for a doctor to show off like this in my opinion."
Heidi Waldorf said: "Inappropriate and in poor taste... Photos that include removed body parts etc should be respectful of the human from which they were removed and kept scientific/medical."
Shana Han said: "I don't think this type of photo should be shared. This should be private."
Jim Fernau said: "Inappropriate from a plastic surgeon's perspective. We must respect the public eye and represent ultimate professionalism. We all make mistakes. This is a mistake of very poor taste. An experienced surgeon would never reveal the abdominoplasty specimen. A novice surgeon would be proud of his prized specimen."
Timur Veysel Dogruok disagreed, and said: "Abdominoplasty is cool, we need videos of doctors performing the op."
Whilst it is understandable that some individuals who have undergone cosmetic surgery want to show off their newly acquired amended facial feature or body part, and thus post before and after pictures on the internet, it is quite another for professionals involved in surgery to be doing so.
Besides the issue of taste, there is the very important issue of patient confidentiality and respect for privacy. Ok, the patient is not identifiable from the photograph, of course, but that is not to say that it's not a violation of their privacy to have a piece of their excised flesh broadcast across the internet. It somehow seems disrespectful. Even if a patient gives his or her consent to such a photograph, does that mean that it is acceptable to place it in the public domain?