If you are throwing a bash, or a family get together over Easter then have a little fun with this recipe. I made these for a bit of fun at a party last year, I served them in the egg boxes and mixed them in with a few other sweetie desserts, the guests were really taken aback by them. I bought the eggshells from www.infusions4 chefs.co.uk - Infusions is a great company ran by Jeremy, who is a good friend of mine, a top chef who had a Michelin star at the age of 25 and the company supplies me with the coolest products - just check them out, you can buy direct from their website and then you can have a go at this recipe yourself.
This recipe makes approx. 2 dozen eggs, with a little bit left over to put into any ramekins, bowls or cups that you might have lying around... I like to serve them back inside half dozen egg boxes.
Serves up to 24 people
Prep time: 1 hour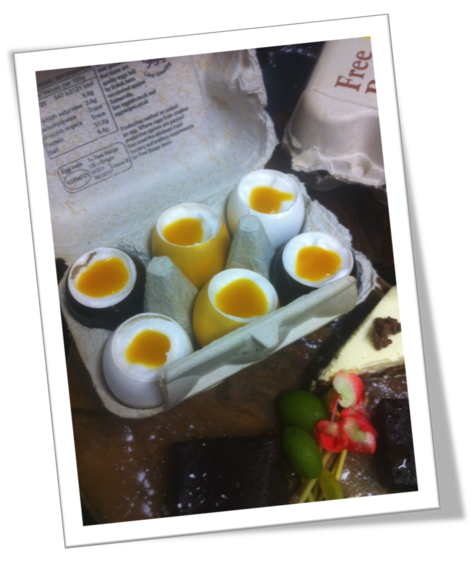 Ingredients
To make the Catalana mix you will need:
500ml whole milk
7 egg yolks
Zest of ½ orange
Zest of ½ lemon
½ cinnamon stick
1 vanilla pod, split
100g caster sugar
10g cornflour
24 eggshells
To make the Italian meringue you will need:
100ml water
400g sugar
6 egg whites
To make the Egg Yolk you will need:
100g ready-made mango puree
Crockery/Kitchenware
Heavy bottomed sauce pan
Balloon whisk
Large mixing bowl
Wooden spoon & teaspoon
Sugar thermometer
Small sieve
Pastry brush
Method
Place the milk, orange and lemon zests, cinnamon and vanilla pod in a saucepan over a medium heat and slowly bring it up to the boil. Remove from the heat and let the flavour's infuse for about 15 minutes.
Whisk the egg yolks with the sugar and cornflour until pale. Pass the milk through a sieve and get rid of everything else. Return the milk to the pan and warm over a medium heat. Just before it reaches boiling point, slowly add the egg mixture, don't stop whisking until it begins to thicken - don't let it boil, you will know it's ready when it coats the back of the wooden spoon nicely!
Pour the mix straight into the eggshells, about half way like this...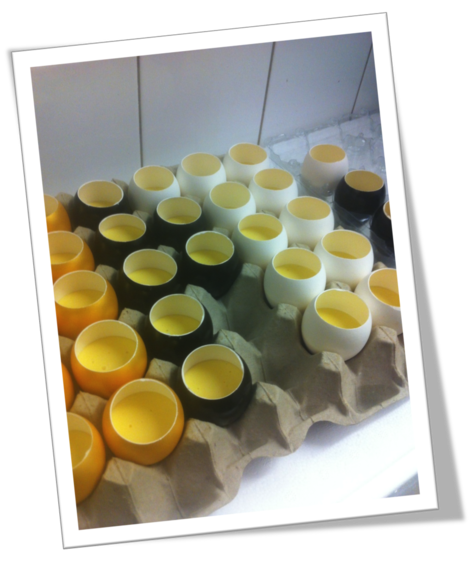 Place the eggs straight into the fridge to bring the temperature down and to help cool them completely.
Now it's time to make the meringue! Sorry guy's this is the precise part, you have got to be focussed for this bit! Put the sugar and water in a heavy-based saucepan. Place over a medium heat and stir the mixture until it boils. Skim the surface and wash down the sugar crystals which sometimes form inside the pan with a brush dipped in cold water. Now increase the heat so that the syrup cooks rapidly. Use a sugar thermometer to check the temperature.
Meanwhile beat the egg whites until stiff, if you have an electric whisk use it.
As soon as the sugar hits 121°C take it off the heat then pour sugar syrup onto the egg whites, do this really slowly until the mixture is almost completely cold. It should be fluffy, stable and really - really white!
Now you can spoon into the eggshells like this...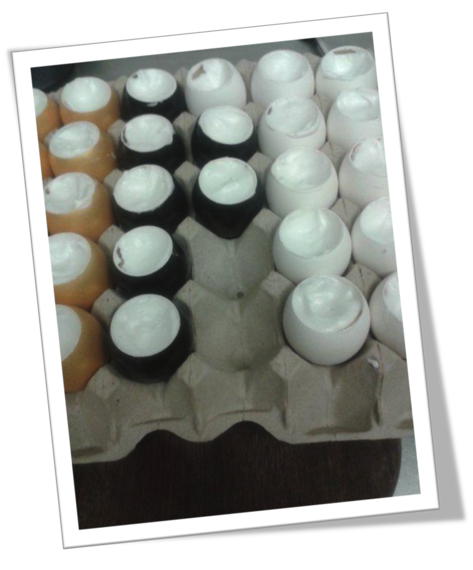 Now for the easy bit, use the back of a hand-warm teaspoon and make a little dip in each egg to make space for the mango puree then carefully pour equal amounts of the puree to make the egg look like an egg!
You can serve these with little soldiers of sugar coated baked puff pastry to dip in, or mix it up as I did with a bunch of other desserts, with something chocolatey too!
Enjoy!