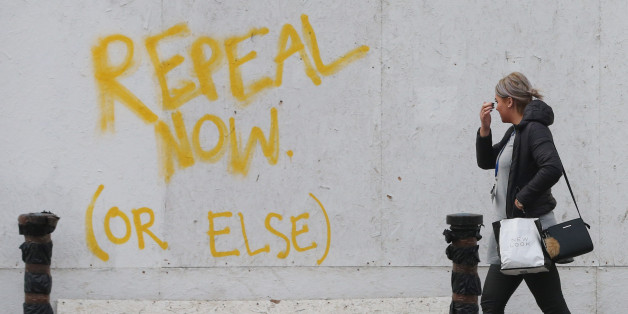 Niall Carson/PA Wire
We know that pressure from international human rights committees and courts, public debate and even the death and ill-treatment of those seeking abortions in Ireland, is not enough for the government to reform and expand the law. 2017 marks the 34th year of the 8th amendment, a constitutional impediment to health, autonomy and dignity, for those who experience a crisis pregnancy and need to access an abortion due to health, circumstance or choice, and further; to those of us who want to continue a pregnancy but face a legal and health system which values the life of the foetus we carry above our own right to health, choice and consent.
The 'Citizen's Assembly' is another roadblock in a litany of delaying tactics from the state. Similar to the gratitude and acceptance we were expected to experience after the dreadful Protection of Life During pregnancy Act 2013 - which further criminalised abortion in Ireland, while creating a monstrously inaccessible 'legal route'- we are now expected to sit patiently for the recommendations of another theatre of 'debate'. In reality, irrespective of what the Assembly recommends, the government has no obligation to take any informed action on it. It is, we believe, an offensive and wasteful reaction to this issue. The last poll conducted by Amnesty International in Ireland highlighted over 80% of respondents as favouring expansion of current legislation, each year the March for Choice, organised by the Abortion Rights Campaign, grows in size and individuals from politics, art, music and media continue to add their names to support of repeal. The 'appetite for change' is here, it has been here for a very, very, long time.
Not a traditional industrial strike, we call on people to show their solidarity, support and anger by taking an annual leave day off work, where possible not to complete domestic work and to wear black, among other actions, while we ask business owners to show their support by closing their services or all or part of the day (not at the cost of the workers obviously). We cannot police how people will respond and manifest the action, this movement is huge and we know that an issue such as this, which effects so many of us, will continue to have an emotive, direct and creative response until the law changes.
We strike for the 12 people a day who travel to the UK to access abortion, for the thousands of people who order abortion pills online every year in Ireland. We strike because, among other areas of life, this is a work place issue; we take time off to travel, to have an abortion with pills at home, it affects our ability to do care and domestic work. We strike to make visible not only the impact the current draconian law has on our lives and health but also to draw the state's ears and eyes once again, to the strength and vigour our movement has - a movement which only gets more frustrated, furious and committed, with time.
#Strike4repeal #wewontwait