Exploring a new yoga venue in London is always exciting. What will it look like, what kind of vibe will it have, what will be unique about it? What will be on offer?
So I couldn't wait to check out a new studio that popped up earlier this year in a posh location on the river bank right next to Vauxhall station, called Embody Wellness.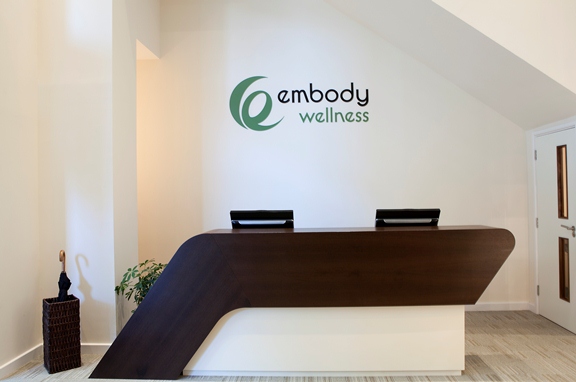 Strictly speaking, Embody Wellness is not a yoga studio, but a wellness spot offering a mix of yoga and pilates classes as well as a range of health & beauty treatments. The latter is of particular interest to me, so I've decided to try & test two of their most popular treatments: a hot poultice massage and a facial.
What could be better than a sense of something warm on your skin, with a nice earthy smell, on a chilly London afternoon? Hot poultice massage has always been one of my favourites. This balmy treatment incorporates multiple tapping of steam-heated muslin poultices filled with aromatic herbs and spices along the back muscles. It's an ancient massage technique and is fantastic to soothe muscle tension, improve circulation, increase lymphatic drainage and promote deep levels of relaxation.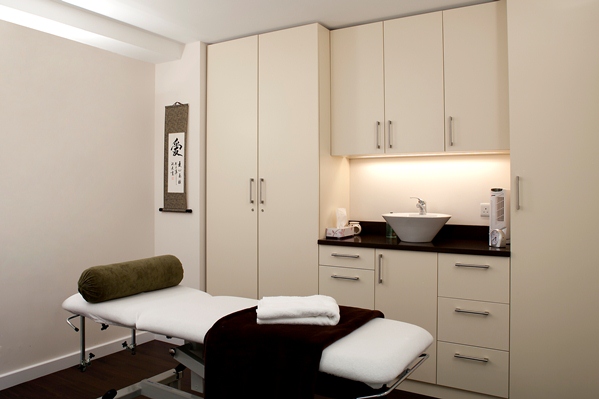 I like it hot, so I wouldn't mind if my poultices were much hotter than they were, but my therapist was trying to be cautious not to burn my skin. She kept re-heating the poultices in a special steamer as they were getting colder, always trying it on her own skin first before applying them on my back to make sure the temperature is ok.
As the treatment progressed, I couldn't help but feel the gradual relaxation of my back muscles, and the soothing of my entire body and mind as a consequence. The therapist kept tapping the poultice on my back again and again, warming up the muscles and sending them to the blissful state of relaxation, and I kept trying to drop my thoughts and let go of inner buzz, surrendering into the massage couch.
Then it was a quiet "Are you ok? Please turn over to the other side". I think I've drifted away during the massage and relaxed quite a bit. It was time for an express D-Vine facial. Oh my, I love facials!
This particular one has been specially designed for an instant boost of radiance and is great for all skin types.
Any time I have a facial I'm always trying to make the most out of it by having a chat with the therapist to find out something new about how best to treat my skin and what's latest on the beauty market. Not all the therapists are chatty, but in this case Ricardina Guimarães who was my therapist for both treatments seemed to enjoy the chat just as much. She started off with taking a close look at the skin on my face and has immediately identified that it's too dry in some areas and too oily in others (the skin's natural way of self-balancing). Hence, I needed as much moisture as possible. Ricardina was talking me through each step of the treatment, explaining what she was doing next and what for (it's always great to be treated by a therapist with dozens of years of experience).
Ricardina used the range of skincare products by Caudalie, which was my new discovery in the world of holistic beauty. It's a French brand, hence no wonder it has something to do with wine. In fact, Caudalie was the first Vinotherapy spa in the world to share the ultimate beauty secret of grapes. It makes use of various vine and grape extracts, including grape-seeds, which are the most powerful antioxidants in the plant world.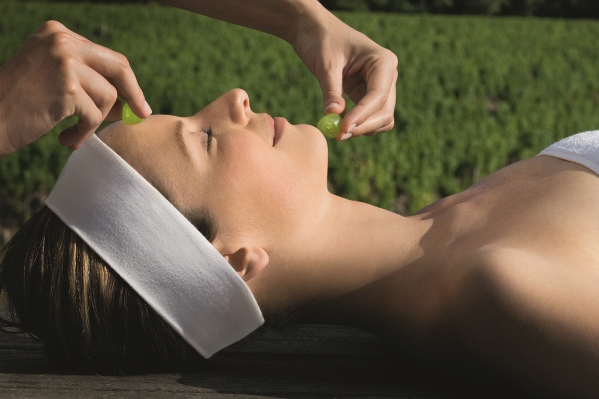 Until now I was confident that I give my skin enough moisture; I use natural facial oils and light creams, twice a day. Ricardina's advice was to switch to water-based moisturisers to help bring my skin back into balance; only then she said it will be beneficial for me to start using facial oils for further nourishment. Until then the oil just sits on my skin without full penetration and doesn't give me the much-needed moisture.
Given my skin condition, Ricardina has opted for offering my skin an extra boost of moisture, using various deeply refreshing and moisturising products, one after another.
A nice touch to the entire experience was a foot massage which I received whilst having my face mask on - so much better than seeing the therapist walk out for 5 min!
After the treatment I felt like my skin has just had a litre of water; it was very supple, soft, glowing and very well moisturised.
As a little treat, I've received the samples of some Caudalie products which Ricardina used for my treatment. (I have since bought some of the products and am really enjoying the feeling of deep moisturising).
This was one of my best afternoons of the month, spent in pleasure and with use. Feeling well relaxed, with my face glowing, and equipped with some good knowledge about how to keep my skin in a good condition, I was ready to rock and couldn't wait to tell my girlfriends about my new holistic discovery in South London.