This spring I went to Bali for the second time in the last few months. Last time I left with a heavy sense of unaccomplishment; I didn't quite connect to the place. So I needed to make up for it this time round. Delving into what Bali is all about - all things health & spirituality - felt like the right thing to do. Luckily, there are plenty of places on the island of Gods to do that.
As a dedicated Spa junkie, I decided to test out a different kind of healing resort just outside Ubud, called Fivelements. The fact that this newly opened sanctuary of holistic health has already won the Destination Spa of the Year Award made the place even more desirable. And it did prove that accolade to me just over the course of a day's stay.
Every single aspect of Fivelements is designed to bring the guests in line with the resort's two guiding principles. The first one, Tri Kaya Parisudha, encourages you to align your thoughts, words and actions. The second principle, called Tri Hita Karana, is looking at harmonising you relationships with other people, the environment and the Divine.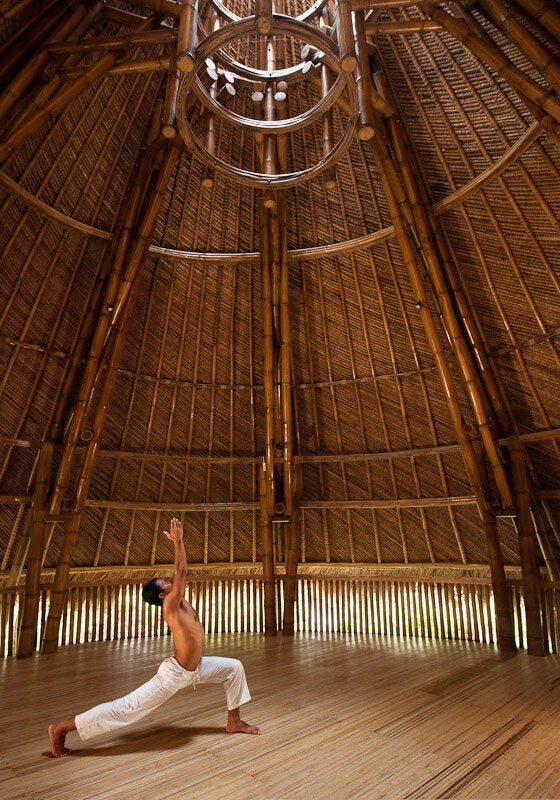 Sounds like quite a task? Well, the resort has all the right tools at hand to guide you through that journey of transformational change.
It starts immediately as you arrive and sink into the resort's ambient energy of care and support. A deep sense of comfort is all over you, and no wonder; the property's design goes in line with the Balinese feng shui and is similar to that of a traditional Hindu temple. It has the "head" turned towards Bali's sacred mountain (the reception area); the "body" where all the activities happen (dining and treatments) and the "feet" where the resort's seven accommodation rooms are located, with the generous amount of space in between.
Pretty much the entire place is made out of bamboo with plenty of symbolism woven in. Just a little example: the biggest yoga hall resembling an oyster-shaped mountain has two roofs that come together towards the top, representing the duality of life. Its entrance points towards the water and the exit towards the mountain symbolising the cycle of life.
An ambient sound system throughout the resort playing devotional music adds to the meditative atmosphere.
The process starts with identifying your challenges, which may involve analysing the patterns from your past, looking at pitfalls in your current lifestyle, and setting the goals for you to achieve during your stay.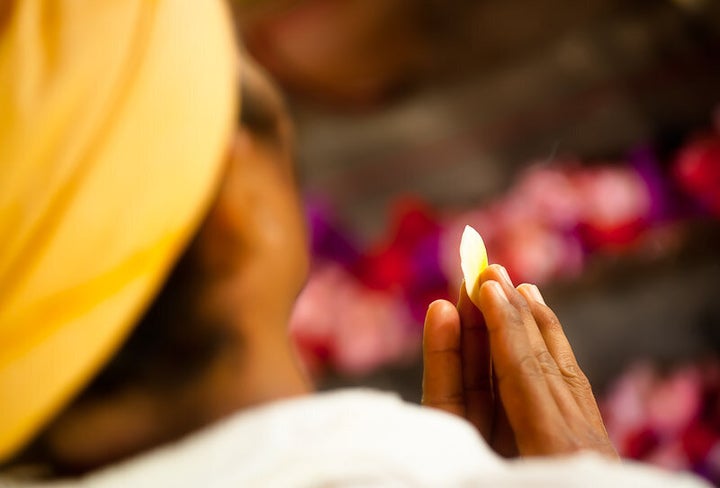 Based on the "diagnosis" the therapist recommends appropriate healing rituals, most of them being a combination of meditation, mantra chanting and energy work.
Surrender in capable hands of native Balinese healers and enjoy Holistic Massage with Prana combination, Deep Healing Reflexology, Acupressure, Invigorating Bodywork and Muscle Release, Chakra Balancing, Prana Healing... the list goes on.
I was in need for a good relaxing therapy and went for the signature Sakti treatment. It started with a relaxing feet washing ritual which sent the impulse of relaxation to my brain straight away. Warm water with sea salt, lime and flower petals of three colours: red for energy, purple for spirituality and light pink for compassion... everything here is for the reason.
My beautiful Balinese lady therapist then slowly yet firmly massaged my every single muscle with that sweet feeling of relaxation and "no-rush" attitude that I'm so lacking in my daily life. She then gently scrubbed my body with a sea salt exfoliator infused with holy basil and lemongrass. Finally I was transferred to a warm bath with lemongrass to activate blood circulation, orange and lime for essential vitamins, pandan leaves and ginger to awaken my senses and clear the head. Do I need to say any more? After the treatment I was gliding over the surface, feeling balanced, relaxed and happy.
As much as I love holistic beauty treatments, I was eager to experience traditional Balinese healing. Panca Mahabhuta session with a local healer Pak Wayan the next morning it was. "Balance the five elements within the body and get rid of any unhealthy energy within the body". That sounded promising...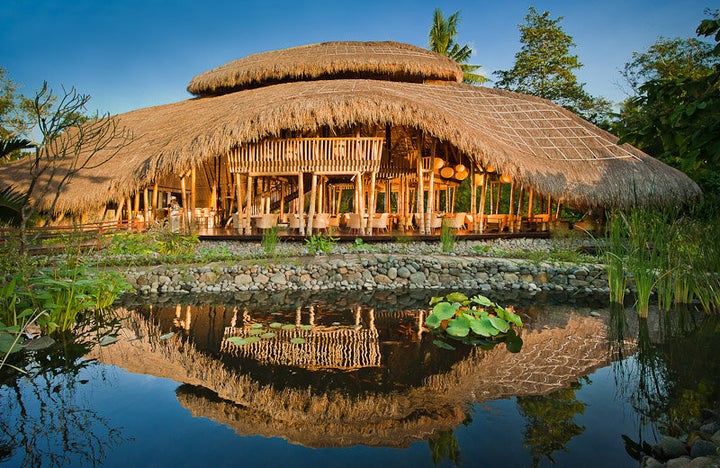 It would probably look like nothing much to an outsider: I was just lying there still the whole time, the healer would chant mantras, then place his hands over the different parts of my body. Yet I was being taken over by a stormy kind of feeling as the healer did the work; I could literally feel all sorts of negative emotions being ripped out of my body, and my head was just as noisy as the waterfall outside. There were a few moments when I just wanted to scream and run away.
An hour and a half later it all calmed down. Having checked my chakras, Wayan said (to my relief) that my energy is generally ok, "just a little bit in my head" due to "too much thinking". Well, isn't that like a requirement in the Western society?!
These and other sorts of energetic experiences at Fivelements are combined with two other pillars of healing: Sacred Arts (yoga, meditation, Qi Gong, Somatic Therapy, Aikido, Dance) and Living Foods.
The food at Fivelements deserves a special mention. Over half of it are raw food dishes (clearly, no meat). Once again did I realise that raw food can be heavenly for all your senses yet leaving you with that wonderful feeling of lightness. An inspiring gastronomical journey based on innovative living cuisine.
Here's a glimpse of it: live seed & goji berry granola with nut or seed milk, fresh banana and berries; roasted medallions of nut-purple sweet potatoes, topped with buttered cilantro and portobello mushrooms served with grilled zucchini, aubergines and tomatoes; a dish of young coconut and pumpkin noodles, bean sprouts, cilantro and peppers tossed with laksa sauce... A culinary story in itself is the signature assortment desert dish with a dash of Heston Blumenthal (a sorbet of sweet potatoes and raw beetroot is one example). Finish it all off with a body cleanser juice made of dark leafy greens, cucumber, ginger, pineapple, cilantro and lime. That's basically like eating out of the God of Health's hands.
Having spent some time in this oasis of nourishment and transformational healing, not only do you leave rested, rejuvenated and quite possibly free of some deep-seated conditions and shifted mindset. You also get equipped with some tips and tools that can bring about some profound changes in your daily life.
Best way to embark upon a new healing journey at Fivelements is to do a Pancha Mahabhuta retreat for at least five to seven nights. That's now on my "must-do" list of self-development for the near future.
Related