"Welcome home", I was told with a smile as I stepped into CasaSandra after a mammoth 20 hour journey from London to Holbox Island and it felt like home. All my worries and apprehension were washed away the moment I walked up the candlelit footpath of the boutique hotel. My Mexican adventure had begun.
"Wherever you go, becomes a part of you somehow." Anita Desai
HOLBOX ISLAND
Holbox island is located about a two hour drive and thirty minute ferry from Cancun airport, although you can get to the resort by plane if you're willing to part with a small fortune. It's home to only 2000 people, whale sharks and over 150 different species of birds, including flamingos.
As I nervously walked into the hustle and bustle of the arrivals gate at Cancún airport, I was greeted by a man holding a white sign saying "Ashley Luis". Once I had tripped-checked that I was definitely going to the right destination and wasn't taking the ride of my Mexican namesake, I found myself on the drive to Chiquilà making it to the top deck of the 9pm ferry, feeling the sea-air against my skin and watching the star-heavy night sky. I couldn't help but scan my fellow passengers trying to gauge what type of people I might meet in paradise: I suppose part of me was dreaming of meeting my dream man or my best friends on day one, but sadly my fantasies weren't met.
My hotel was beautiful, and I'm scared in giving it the praise it deserves my words will either not do it justice, or feel insincere. It's a boutique hotel whose luxurious rooms and suites fit the rustic feel of the island defined by its handmade Mexican and Cuban interiors, along with the works of art of its Cuban artist creator Sandra Perez Lozano. My favourite thing about the hotel is not the thatched-roof huts (known in Mexico as palapas), its proximity to the most idyllic soft white sand and turquoise blue water, nor the unparalleled kindness of the staff, but it is the attention to detail. Each evening, I would arrive into my room to a different letter on my bed, inspiring me to have a good evening and informing me of activities for the following day. Perfection is in the small details, and I found myself looking forward to these little notes at night. It was home.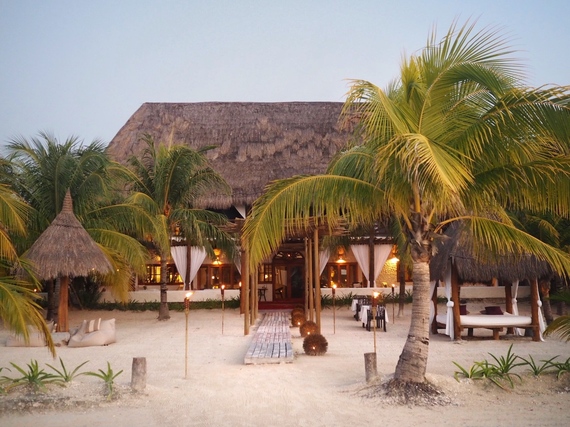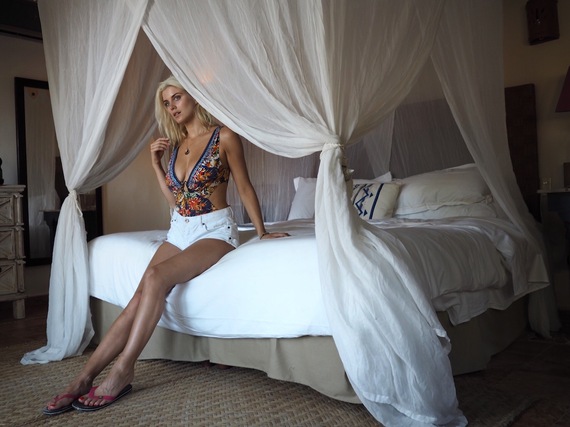 Jet-lag awoke me early the next morning allowing me to watch sunrise as I ran along the beach, Plus, I was the first person to arrive at breakfast! I already know that food will be a big part of my Mexican journey because I love the flavours and variety of the dishes. I feasted on fresh papaya, melon, pineapple, and the most delicious lobster and cheese empanadas (called empanadas Holboxañas), before embarking on a private boat tour of the three uninhabited islands that surround Holbox.
I saw pelicans and iguanas on Bird and Passion Island (amongst many other species of birds I wouldn't know), and swam in the beautiful natural spring water of the Yalahau lagoon before returning to Holbox. I was really hoping to see and swim with a whale shark on the boat trip, as whale sharks come to the island between June and September every year (it's one of the major tourist attractions of Holbox), but sadly I had missed the season by a couple of days.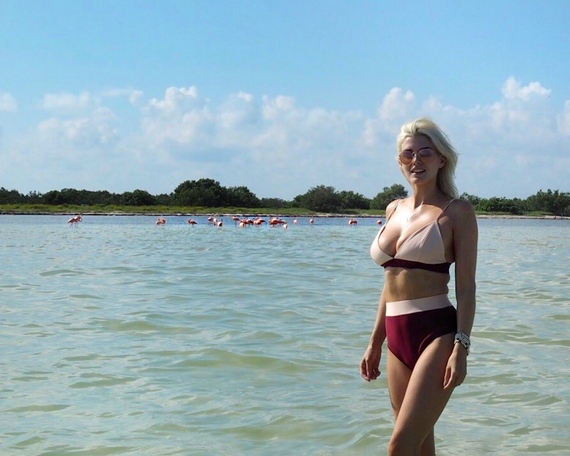 Straight after, I took a golf buggy taxi to see a little more of Holbox Island and as we drove through the sandy streets we passed the many colourfully painted buildings that make up the town centre. Next we headed along the beautiful coastline and as we watched the sky turn to the soft orange and pinks of sunset my driver told me of a local delicacy: pizza de langosta. I knew where I was going for dinner.
And so it was on my second night I found myself on the main square at Pizzaria Edelyn, the self-proclaimed creators of the lobster pizza, amongst couples on honeymoons and groups of locals, with a medium sized pizza and a bottle of Indio, which is a really light and delicious Mexican beer. I have to be honest, the pizza didn't blow my mind, and I only managed half of it despite it being the smallest size on offer, but I'm happy I got to try a local delicacy.
The next day I made my way to CasaSandra's tiny spa, located next to their very beautiful outdoor swimming pool, for a relaxing Mayan massage. The massage lasted for 50 blissful minutes and covered my whole body; I was slowly leaving behind the stresses of London life and the digital world.
This was immediately followed by a private ceviche making class by Alonso, one of the chefs at CasaSandra. I am the first to admit that I am an awful cook and take no pleasure in it. I often choose Deliveroo over even twenty minutes in the kitchen, but given my obsession with the Mexican dish, I decided it was a skill I wanted to take home to England. Call me wife material, I know.
I decided to spend my final day enjoying the idyllic beach setting, drinking mango daiquiris, and devouring my book: Matt Haig's How to Stop Time (I definitely recommend reading it). It was at breakfast on my very last day that I met a group of girls that would change the course of my Mexican adventure, but I'll tell you all about that soon. As I stepped onto the ferry I felt so sad to leave this beautiful island and its people once more. A place so peaceful and happy that even the many dogs seem content as they run around the beach playing with each other. That said, I was very excited to make my journey to Tulum, towards my new friends.