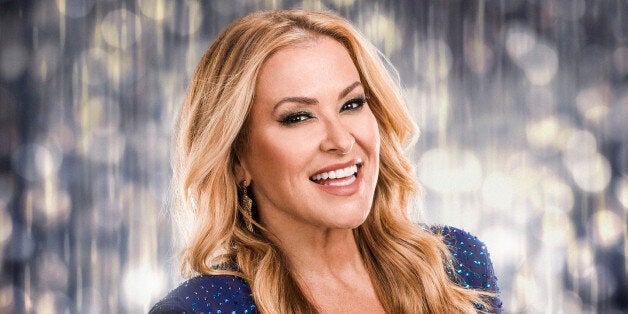 Some fans on Twitter claimed the US singer should have been forced to leave over eliminated contestant Melvin Odoom, despite the fact she explained the reason she couldn't participate was because the scar tissue from her double mastectomy had ripped.
This backlash is complete bullshit, and here's why.
Anastacia was robbed of part of her body after having breast cancer, not once, but twice. After undergoing a radical mastectomy in 2013 and subsequent reconstructive surgery, she signed up to Strictly Come Dancing to get to know her body again. In an interview ahead of last month's launch show, she bravely told The Huffington Post UK of how she hoped it would also give her the confidence to bear her scars for the first time.
"I want to discover how to use my upper body, because with my radical mastectomy, I had to remove my lats completely from the bone and attach them to the front. So with the costumes, I sort of want them to feel comfortable, but I also have these huge scars on my back, and these costumes are very revealing. I would love to be able to accomplish that at least, to realise that I can show them. It's just I've never showed them since 2013, and it would be an intense situation. Even talking about it, I have a lump in my throat."
To therefore be unable to compete in the dance off because of something that has perhaps defined the last few years of her life, must have been devastating. The last thing she'll have needed was trolls from the dark corners of the internet (not to mention former pro dancers James and Ola Jordan) trying to bring her down. Her injury should be a reminder to people of why she signed up for the show in the first place, not a reason to attack her.
What many viewers probably don't know is that she's actually donating her whole appearance fee to a breast cancer charity to help women who have been through the same thing. And because of how the celebrity pay structure works, the longer she's in the competition, she will earn more for that charity. For that reason alone, you can give her a free pass to the final and hand her the bloody Glitterball trophy as far as I'm concerned.
On a side note, it was disappointing - and sadly, unsurprising - to see how the tabloids chose to cover this story. The Mirror ran with a piece claiming Anastacia had a "backstage meltdown" during the filming of the results show, which painted her as some sort of diva who'd thrown a strop to get her own way. Even if the story is true, I really couldn't care less. I'd say she was pretty entitled to have a cry and be upset, in fact. Meanwhile, over at the Daily Star, they made the news a front page story, which carried the headline "Strictly In Crisis Over Boob Hell", alongside a picture of fellow contestant Laura Whitmore in her underwear. Like, really? Though I guess it's nice to see their practice of reducing a female to a pair of breasts isn't even stopped by the fact they belong to another woman.
It can be frustrating when someone leaves the competition who maybe shouldn't, I get it. But this is a Saturday night entertainment show, not a general election. So how about we all stop taking it so seriously, yeah? Anastacia is a brave woman who deserves nothing but our respect and admiration. Not this sort of crap.