Last month, a fisherman in Lesvos, Greece told me that there have always been refugees coming. The past 16 years, they've been coming. The big difference now is that women and children are coming too.
With women refugees come new challenges, one of which is pregnancy.
EmpowerHack - Solutions for Women and Girls
I first learned about the challenges refugee women face in November 2015 at the inaugural EmpowerHack hackathon in London. EmpowerHack, founded by Hera Hussain, Kimi Lawrie, and Han Pham, is a volunteer collective of technology, health, and humanitarian professionals collaboratively building solutions for women and girls through hackathons and a post-hack accelerator. At the event, Dr. Hina Shahid shared some of her experiences volunteering in Lesvos with the Muslim Doctors Association.
She explained how doctors at camps and along the transit routes were incredibly overwhelmed, seeing upwards of 250-300 patients per day (in comparison, in the UK doctors would never see more than 40-60 per day). Many were general practitioners (GPs), without a specific background in pre-natal, maternity or women's health care. Many were male or did not speak the same language as the women. Most of the translators were also male or even family members, which posed difficulties for women who were uncomfortable discussing such issues in front of men.
Women and children now comprise more than half of the refugees crossing to Europe. Nearly one in 10 of the women are pregnant, so this issue cannot be ignored. Some women begin their journeys pregnant, seeking a better life for their future child; others become pregnant, or are the victims of sexual assault, along the way and add pregnancy to their list of daunting challenges.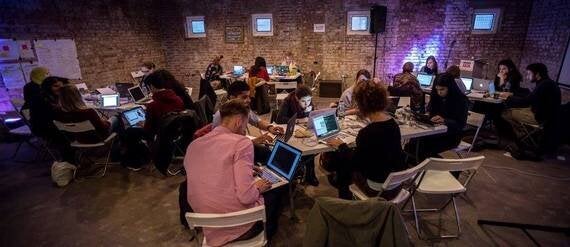 EmpowerHackers hard at work at the hackathon in London. Photo Credit: Will Edgecombe.
HaBaby - Supporting Pregnant Refugees in Transit
Through the EmpowerHack hackathon and post-hack accelerator, we are developing HaBaby, a web and mobile application to support pregnant refugees in transit. The name comes from combining the Arabic word "habibi," meaning sweetheart or baby, with the English word "baby." HaBaby aims to triage the most life-threatening symptoms and connect women to care, and is accessible in multiple languages; English and Arabic to start.
While the majority of refugees have access to smart phones, most refugee women don't have their own device. Most refugees in transit don't have consistent access to the internet. Many women choose to prioritize their family's journey over stopping to seek health services. The design of the application seeks to address these challenges, while also providing reassurance and support. Our design needs have been addressed through a collaboration with UX for Change, led by the talented Sandra González. Designing for new contexts pushes technology professionals to stretch themselves, in addition to helping with a good cause.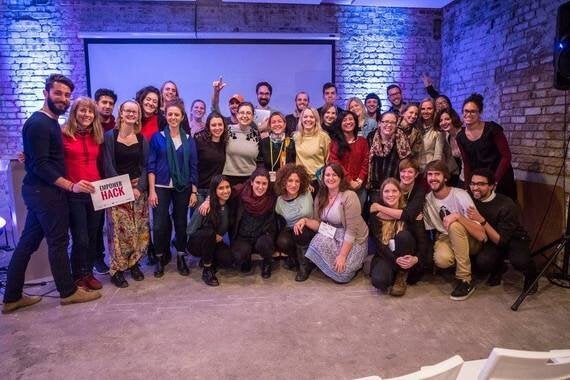 Enthusiastic EmpowerHackers at the hackathon in London. Photo Credit: Will Edgecombe.
As the refugee crisis continues, we need to work together to support this vulnerable population, and bring HaBaby and other solutions to refugee women in need.
To learn more about, volunteer for, or partner with HaBaby, please email Audrey at hababy@empowerhack.com. For general inquiries about EmpowerHack, please email hello@empowerhack.com.