Hi I'm Emma, I've worked in the environmental and sustainability industry for 7 years now. I work with companies on their environmental obligations under extended producer responsibility regulations. I'm currently trying to reduce my own environmental impact and have set up an instagram account @thatthingcalled_sustainability to keep me accountable whilst I try and reduce my plastic consumption, general waste and begin my journey on home composting.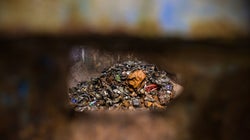 Bloomberg via Getty Images
What actually happens to our recycling in the UK?
JGI/Jamie Grill via Getty Images
Shopping local is always key to a sustainable beauty regime