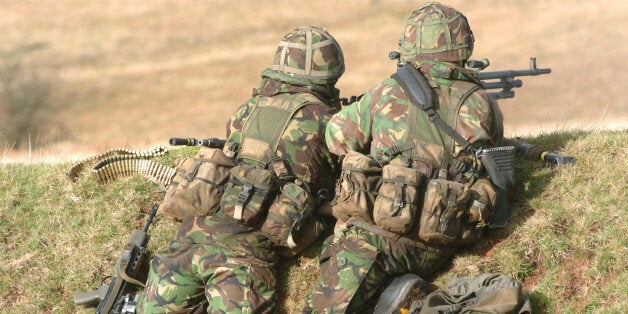 Colonel Richard Kemp was Commander of British Forces in Afghanistan and a former head of the international terrorist team at the Cabinet Office so no one can argue with his military pedigree - but that's no guarantee of good sense.
I read with disbelief an article he wrote in The Times, suggesting that recruiting more Muslims into the police and armed forces is endangering this country. Colonel Kemp's argument is that Islamic State is determined to infiltrate our forces and seems to suggest that British Muslims will be the enemy within, comparing them to Afghan police and troops who attacked our forces in 99 "green on blue" attacks.
"The understandable drive by the armed forces and police to recruit more Muslims, and a less understandable concern for ticking the politically correct box over operational effectiveness, combine into an unprecedented danger," he wrote.
Muslims are not welcome in the British army - that's the message he seems to be sending out. If you're a Muslim you might be a terrorist, a "sleeper" radicalized online and recruited by Isis to murder members of the Royal Family or members of the Cabinet.
Can you imagine anything more offensive to a young Muslim considering joining the British armed forces than being branded a potential terrorist simply because of their religion?
In his speech to last year's Conservative Party conference, Defence Secretary Michael Fallon said he wanted one in every ten new recruits to come from ethnic minorities. How will we ever achieve that goal if a senior military figure like Colonel Kemp tarnishes all Muslims by suggesting it is too dangerous to recruit them?
The British army needs more cultural intelligence. Whether we are fighting wars in the Middle East, or trying to keep the peace there, we need much greater diversity in our armed forces.
But you will never persuade more Muslims to join the armed forces if they think they are going to be stigmatised. It is already difficult enough to break down barriers and present the armed forces in a positive light; if young Muslims think they have to prove to their commanding officers they are not potential terrorists, rather than operating on the assumption that being Muslim doesn't automatically make them a terrorist suspect, we will never change the face of our armed forces.
I served in the Territorial Army and it changed my life. It challenged my preconceived ideas about society and grounded my identity as British; I will forever be grateful for the discipline, teamwork and life skills I learnt in the TA. I would love more young Muslims to go through the same experience as I did, but negative messages and smears from influential military figures will prevent this happening.
The armed forces need to think about how they can market themselves to Muslim communities. They need to hold open days at barracks and go into schools, trying to find a way of connecting with young Muslims and counter-acting the negative propaganda too many are fed through social media.
Our wars are changing and our armed forces need to change too. I worry that attitudes like those expressed by Colonel Kemp will set them back by a generation.