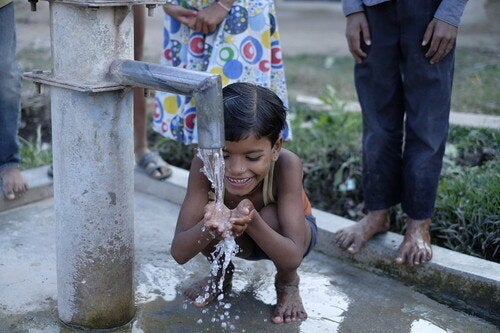 A girl drinks water from the village handpump in Bhikampur, Chitrakoot, Uttar Pradesh, India. WaterAid/Mansi Thapliyal
This week I will leave what has to be one of the best jobs in the world.
After nearly 12 incredible years as chief executive at WaterAid, I am retiring - though it was not an easy decision to step away from the energy and dedication of this wonderful organisation.
It's sometimes hard to explain our passion for ensuring everyone, everywhere gets access to the basics we take for granted, that is clean water from the tap and decent flushing loos. How can a toilet be an inspiration, you may well ask? It certainly can. The alternative is children and their parents defecating in the open and getting sick as a result.
Every day that I have worked for WaterAid, I have been energised and motivated, hearing the stories of lives transformed by having clean drinking water nearby, good hygiene and a decent place in which men, women and children can go to the toilet safely and with dignity. We have seen children finish school and go on to contribute to their community, parents who have become better able to provide for and care for their children, and women empowered beyond their previous traditional roles to become leaders in their communities.
Beacons of light amid crises
The stories from the people we have met are beacons of light amid the terrible humanitarian crises which the world is presently facing, and in light of public questioning of the importance of overseas aid. It is so clear to me that as global citizens we all have an interest in investing in helping those less fortunate than ourselves to live decent lives, freed from poverty.
There is a huge task before us. Some 663 million people are still without access to clean water and nearly 2.4 billion are without a decent, private toilet.
A few weeks ago, I visited a Dalit community in a rural area outside of Lucknow in India - some of the most marginalised people in the world, eking out a living with next to nothing. WaterAid and our local partner organisation had been talking to them about the tradition of open defecation - shared by more than half a billion people in India - which was contaminating their water and food, and making their children ill.
Despite already working long hours, the community's volunteer health committee decided to rise at 4 am each day, to encourage people to use the new communal latrines, rather than going into the bush. It took months, and the committee was at times deeply unpopular for their efforts, but eventually everyone did change their habits. By the time I visited, everyone was very proud and keen to tell us how their families were now healthier and that their children were no longer getting diarrhoea.
Most inspiring for me were the girls who were so proud of their school's new water source and latrines. They dream of being teachers and IT workers - dreams which may now be realised, now that they can finish their education with fewer bouts of illness and a way to care for themselves at school during their periods.
In these rather uncertain times, it can be easy to lose sight of the huge progress that has been made in recent decades. As recently as 2000, 18% of the world's population did not have access to clean water; within 15 years this had dropped to less than 10%.
But huge change is required if the UN Global Goals on sustainable development to end extreme poverty by 2030, and to create a healthier, more sustainable world, are to be achieved.
This requires concerted effort from everyone -- national governments, the private sector and international agencies and civil society organisations like WaterAid. We need to work together, collaborating and adopting innovative ways to address these 17 goals, which cover health, education, women's rights, the environment and of course Goal 6 to reach everyone, everywhere with water and sanitation.
It took 58 years for humanity to advance from the first aeroplane in 1903 to the first space flight in 1961. The Internet grew from a first test message in 1971 to integral to everyday life in less than 30 years. Facebook took just 13 years to reach 1.9 billion people. Almost as many people in the world now have mobile phones (4.8 billion) as have toilets (4.9 billion).
When we are motivated and driven, progress can be lightning-fast. With determination and political will, the right systems and finances, innovation and dedication we can ensure a healthier, happier, more prosperous future for everyone on our planet, and we can do it in our lifetime.
This can be achieved. And no one should be left behind.
Barbara Frost retires from WaterAid after nearly 12 years as Chief Executive this week, succeeded by new Chief Executive Tim Wainwright.
Related