To mark World Water Day, come with WaterAid for a moment to Papua New Guinea, an island in the Pacific Rim - a remote and mountainous country boasting more than 850 different languages among its 7.3 million people.
This island is facing some of the most difficult development challenges on Earth. A poor nation threatened by rising seas, and with climate change worsening both regular flooding and droughts, Papua New Guinea also has the worst rates of household access to water in the world.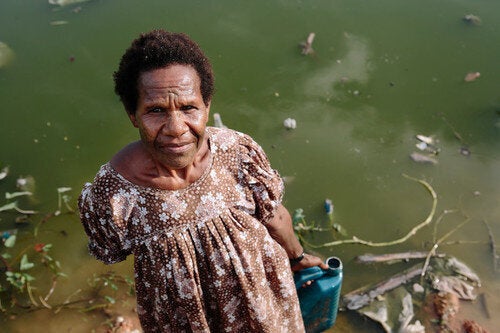 Doris Talban, 51, collects water from a stagnant lake which is her source of water for washing in times of drought, near Marata 2 settlement, Port Morseby, Papua New Guinea. Photo: WaterAid/Tom Greenwood
Nearly two-thirds of people in Papua New Guinea face a daily struggle of long hikes or negotiating with black-market vendors, just to get small amounts of water that are most likely to be neither clean nor safe to drink. This situation, combined with the 81% of people who don't have access to decent toilets, has left this nation and its people in a never-ending struggle for survival.
The devastating impact of doing without water
It is a situation repeated in many other countries, with devastating impact. WaterAid's State of the World's Water briefing examines where in the world it's most difficult to get access to clean water, and the costs - financial and otherwise - that are borne by the poorest and most marginalised.
Among our findings are that there remain 16 countries in the world where more than 40% of people do not have access to clean water, 12 of which are in Sub-Saharan Africa. The result is that some 315,000 children around the world lose their lives to diarrhoeal illnesses before their fifth birthday, each and every year. One in five babies who die in their first month of life is claimed by sepsis, which might have been prevented with safe water, good sanitation and good hygiene, including midwives being able to wash hands with soap.
The impact reaches beyond health, affecting access to education and work, and communities' ability to develop and progress.
In places where water is hard to come by, the poorest may be spending half or more of their precious incomes just to get this life necessity. And even in countries where in general progress has been made in improving access to clean water, we've shown that families living almost side-by-side may be paying dramatically different prices for their water, depending on whether they've been reached by government-subsidised tapstands, or are still relying on vendors with massive markups on cost for water of dubious quality.
What makes this situation so frustrating is that we know the solutions. We can address so many other problems by ensuring that communities have affordable access to safe water, good sanitation and good hygiene, including handwashing with soap. Political will and financing can turn this situation around, and it makes good economic sense to do so. The annual global economic losses associated with poor water supply and sanitation are estimated at US$260 billion - nearly double the net overseas development aid, $135.2billion, given by donor nations in 2014.
Since we marked the first UN-declared World Water Day in 1993, the world has made incredible progress. Yet there remain more than 650million people in the world without access to clean water, who are faced with a daily struggle involving long dangerous walks or expensive black-market vendors, just to get water that is likely neither clean nor safe to drink.
The impact of climate change and increasing extreme weather patterns are likely to make competition for water resources more fierce, and it is the poorest and most vulnerable who will lose out - unless we succeed in keeping the promises of the Global Goals.
Six months ago, world leaders at the United Nations promised in Global Goal 6 to deliver access to water and sanitation to everyone, everywhere by 2030. This is possible only with real political dedication and financing to back it.
It is shameful that so many of the world's poorest still struggle for access to this life essential. On this World Water Day join WaterAid and our partners in showing your support by going 'Blue for Water' on Twitter, on Facebook, by signing our petition and by adding your voice to call on governments to address this injustice.
Together we can work towards change within this generation, to consign to the past the need for anyone to drink dirty water.
Popular in the Community