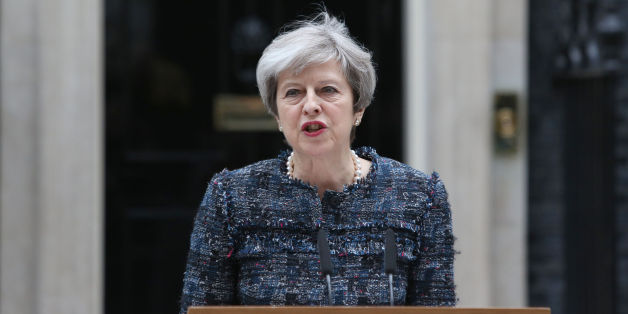 PA Wire/PA Images
Theresa May's approach towards asylum seekers and refugees has been of concern since she was Home Secretary. She presided over 'Go Home' vans which were a throwback to the racism of a bygone era that should have no place in the 21st century. Her cutting of the search and rescue operations in the Mediterranean have literally denied a lifeline to refugees who are drowning as a matter of course on the edge of fortress Europe. This year, the government stopped taking the small numbers of refugee children that it had previously conceded to, thanks to Lord Alf Dubs, himself one of the Kinder transport children who fled the Nazis. It is said that a civilisation should be judged by how it treats its strangers. We clearly have a lot to learn about how to be a civilisation.
Kelechi Chioba is an asylum seeker pleading to remain in the UK, for fear for her life if deported to Nigeria. She is an openly queer, disabled, woman suffering from mental health issues, yet the home office state her reasons are 'insufficient'.
Kelechi, who is keen volunteer for the National Union of Students (NUS) Disabled Students' Campaign and Black Students' Campaign (LGBT+ representative), suffers from polio, is wheelchair user and suffers from mental health problems. In Nigeria, she is regarded as a curse and a source of shame upon her family, due to her disability. She has suffered severe abuse at the hands of her family, including verbal abuse, beatings and attempts to end her life. Kelechi, who had secretly enjoyed relationships with women in Nigeria, found she was able to come out openly in the UK and embrace her bisexuality. Kelechi found support in the Black Students' campaign in particular, where she was elected, along with her job share, another Nigerian, to represent LGBT+ students of African, Arab, Asian and Caribbean descent across the country.
Kelechi is a prominent queer activist and is well known, in particular by the Nigerian communities in the UK. She is afraid of what this means should she be forced to go back to Nigeria, a country where it is unsafe to be openly queer. With laws preventing individuals from even joining a gay organisation (there is a 10 year prison sentence), and stories of individuals being killed for being queer, Kelechi, who is vulnerable, as someone who is completely reliant on a wheelchair, is understandably terrified of what might happen to her if she is forcibly returned. With stories of physical and sexual abuse in Yarls Wood coming to the fore, it is essential now more than ever that we protect vulnerable members of our community. We must not forget the death of Jimmy Mubenga who died following restraint in the midst of a deportation flight.
We should not have an immigration system that devalues the lives of those facing oppression such as Kelechi. We have an urgent responsibility, as one of the world's richest nations, to ensure that those fleeing oppression and discrimination wherever they come from, get the same right to a quality of life in the UK as any UK citizen. Whilst in the UK, despite disability and difficulty, Kelechi has worked and volunteered to better the lives of others and it is shameful that the UK government refuses to protect her from the oppression she unfairly receives because of how and where she was born. It is not for us to condemn others to persecution, hate and death as part of our immigration process.
Kelechi could be deported any day, and we need to do everything we can to put pressure on the government and keep her story in the media and people's minds. A fundraising campaign has been launched to pay for living and legal costs so Kelechi can get support in fighting her case.
Whilst Theresa May is shamefully engaged in building a wall to stop refugees in Calais, 'Im proud of the NUS Black Students Campaign, rallying around this valued member of our community, and building a campaign to stand up for justice and humanity.