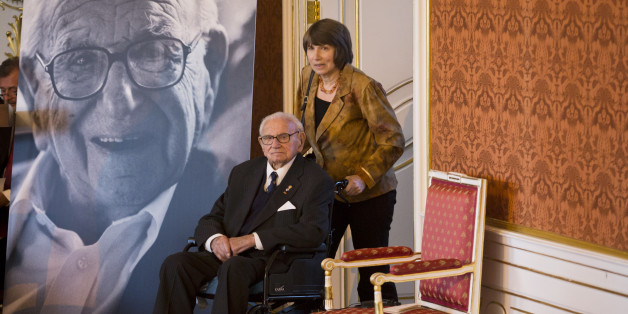 Matej Divizna via Getty Images
Barbara Winton, the daughter of Nicholas Winton who organised the rescue of hundreds of refugee children in WW2, has written a letter for Help Refugees together with kindertransport survivors asking the UK to show the same compassion now, as we did then.
In 1938/39 a large scale British humanitarian operation brought 10,000 children, endangered by Hitler's growing threat, from Germany, Austria and Czechoslovakia to safe homes in the UK. In Czechoslovakia many were refugees who had fled Germany or the Sudetenland, the borderlands handed over to Hitler in the Munich Agreement of September 1938 in return for "peace in our time". Despite some disgruntled voices, much like today, protesting the dangers of allowing into our country those from such foreign cultures, the overwhelming response was one of compassion and warmth. Many families volunteered to foster a child and others made donations to support the operation. Even at a time when city evacuations were being planned for British children, homes were found for these vulnerable young refugees.
Now, 77 years later, vulnerable young refugees again seek the kindness and welcome that British people previously offered. Those who have travelled across Europe to Calais, to escape the life-threatening dangers of their home country, are hoping desperately to find the sanctuary their parents dared to believe Britain would once again offer.
My father, Nicholas Winton, witnessed the appalling conditions children were enduring in the refugee camps in Czechoslovakia in 1939 and determined to give them the chance of a better, safer life by bringing them to Britain. Many of those children went back to Czechoslovakia after the war. Others, whose families had been murdered by the Nazis, remained in Britain and became valuable, integrated citizens, contributing to the well-being of the nation. It is estimated that there are 6000 people alive today all across the world due to that rescue.
In recent years since the story of what my father achieved became public, he has been honoured and praised for the stand he took and the lives he rescued. Though he appreciated the accolades for his earlier work, he remained focussed on the most pressing issues of the day. He continued to act and help others throughout his life and believed that actively assisting those in need was the most rewarding and ethical way to live. Therefore I believe that the most appropriate way of honouring his memory would be to show the same concern and compassion he did then, for those in danger and in need now.
This open letter first appeared on Help Refugees website.