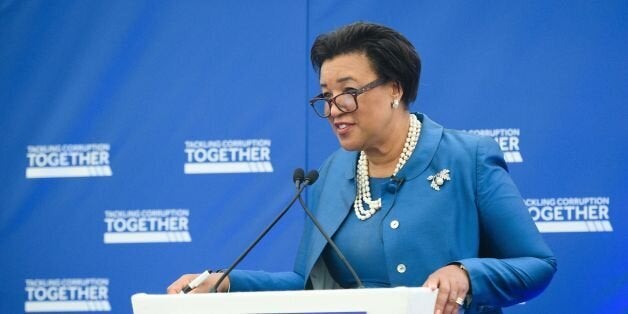 The Glasgow Commonwealth Games, like its predecessors, was a vivid reminder of the rich diversity of the Commonwealth family, bringing together people from nations and territories in every continent and ocean in a spirit of friendship and goodwill to celebrate the deep sense of affinity and kinship we share.
Together the Commonwealth is almost 2.5 billion people, a third of the world's population. Each one of us has something very special to offer, and as Commonwealth citizens we gain and draw benefit from vast interconnected networks of mutual support.
By interacting and cooperating across national boundaries, we build and sustain a more strongly connected Commonwealth that is mutually respectful, resilient, peaceful and prosperous, and that cherishes equality of opportunity and inclusiveness.
Sport is a great raiser of passions. It can also be a unifier, an educator and a change maker. The inaugural Commonwealth Sport Summit in Edmonton, Canada, today is a great opportunity to highlight the good sport can do to build peace, prosperity and development.
But we need to be alive to the peril as well as to promise of sport. Leaders of sport in the Commonwealth have a duty to enhance the positive contribution sport can make towards sustainable development, and must also work proactively to protect the integrity of sport.
Sports bodies and professionals need to be more proactive in responding to public concerns, from good governance and doping, to match-fixing and child protection.
It's why we're creating a new Commonwealth Sports Integrity Champions initiative to mobilise athletes and eminent individuals to advocate for action to protect the integrity of sport, and support Commonwealth leadership in using sport to achieve the United Nations Sustainable Development Goals.
The Commonwealth Games Federation is to be congratulated for positioning sport as a catalyst for sustainable development and I urge sporting organisations to fully embrace its 'Transformation 2022' agenda through which the federation will develop into a global sporting movement.
It's something the Commonwealth feels passionately about too, and through our combined efforts to advance Sport for Development and Peace we have been pioneers in this field.
It's why we're supporting governments in using sport as a tool to achieve the Sustainable Development Goals, and core principles for ensuring the integrity of sport.
And it's why we want to build even stronger bonds across the Commonwealth family to deliver these shared goals.
The newly-created Commonwealth Hub in London is designed to bring the Commonwealth Sports Movement and other expressions of the Commonwealth family closer together - both in terms of physical proximity and working relationship, and through mutual cooperation and support to build an even stronger shared identity and brand.
Together, we can make an immense contribution towards spreading knowledge and understanding of the values and principles of the Commonwealth Charter - particularly among young people.
Take one example: the fight for gender equality. I'm delighted that the Gold Coast 2018 Commonwealth Games will be the first major games to achieve gender equality in terms of medals awarded. It is a credit to the leadership of the Commonwealth Sports Movement.
Gender parity for athletes when competition begins on the Gold Coast in 2018 sends a powerful message to young people throughout the Commonwealth that in sport, as in other spheres of social and economic activity, it is time for all to be accorded equality of opportunity to participate and fulfil their potential.
The attainment at such a major international gathering as the Commonwealth Games of a level playing field for women speaks eloquently to the values of the Commonwealth Charter and the ambition of the Sustainable Development Goals that bring together our nations and territories.
As the Commonwealth family we can play a decisive role in delivering transformational practical action. By our vision of peace, sustainability and prosperity at the Games and Youth Games, the Commonwealth Sports Movement makes an immensely valuable contribution, positioning sport as a catalyst for sustainable development.
No other Commonwealth platform has comparable scope or ability for reaching audiences and promoting our shared values and aspirations.
However, the true value and impact of the Commonwealth Sports Movement must be judged beyond the few days of competition at successive Games. The Sustainable Development Goals provide a framework for moving beyond being simply an inspirational tool or metaphor, and towards making a broader positive contribution to sustainable development.
I'm really excited that in our new Hub relationship, the Commonwealth Sports Movement and Commonwealth Secretariat can be even more effective in mobilising and maximising this potential as we move to a new phase of deeper collaboration.
It will ensure that the beneficial effect of sport in the Commonwealth cascades far beyond elite competition, and reaches locations far, far wider than Commonwealth Games host cities.
A love of sport is among the greatest of our shared Commonwealth assets and together we can ensure it is the force for good we know it can be.
Related