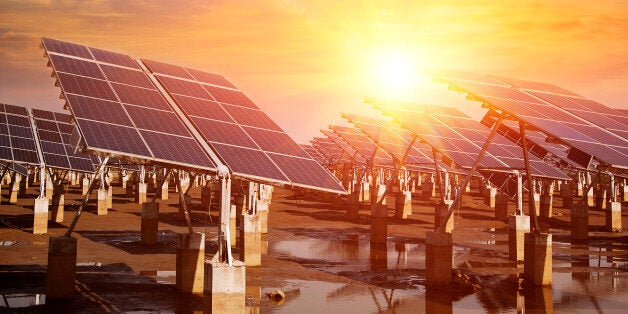 There's no denying that the election of Donald Trump presents a significant challenge to those trying to maintain strong climate action at a federal level in the US - but what does it mean for those of us across the pond who are trying to strengthen European action?
From his 2012 claims that climate change is a 'hoax', to his campaign pledge to 'cancel' the Paris Agreement, and the initial appointments of climate deniers and fossil fuel lobbyists to his transition team - none of this makes our job as environmental politicians any easier, wherever we live.
However it is not game over for the global shift to clean energy. Because this transition is no longer up for political debate.
"IT'S THE ECONOMY, STUPID"
It was the husband of his presidential opponent who first coined the phrase. And it is the economy that provides the best response to the climate deniers. As the cost of renewables plummets, the clean energy transition is increasingly driven by the business case. The future President Trump will not be able to reverse the mounting economic pressures from lower-carbon energy sources that have been driving down US coal consumption.
The cost of wind has dropped 66% percent in the last 6 years and, even without its Production Tax Credit, it's now the cheapest source of US energy. Solar made up nearly a third of all new power capacity installed last year, surpassing natural gas as the most installed power source in the US.
The costs of solar energy across the world have come down so fast that its growth as a cheap, clean energy source has been exponential. This success hasn't been confined to sunshine states, Abu Dhabi or Chile - even in the UK, not renowned for our sunshine, solar provided more of our electricity than coal for six months of this year.
While Trump has been accused of ushering in the era of 'post-truth' politics, he has shown he is acutely attentive to public mood. So while the economics will drive the business case for climate action, we should anticipate that Trump's calculations of public support will drive the political argument on this issue.
How committed is he to his promise to coal mining communities that he will provide a thousand-year future in 'clean coal'? Will it be enough to invest in carbon capture and storage technology? If not, it will be interesting to see how fiscally conservative Republicans in Congress justify support for a state subsidy package large enough to overcome the failing economics of coal.
And in his mission to "double [US] growth and have the strongest economy in the world", will Donald Trump ignore the business trend that momentum is with low-carbon technologies? Even in the rust belt, Indiana, Michigan and Georgia already have several solar and wind factories. It is a sign of how mainstream the clean energy economy has become that the clear message from business leaders to the President-elect is that sticking with climate goals would be the best thing for business.
There's a clear benefit to families and workers too: the clean energy industry brought $6.96 billion investment to North Carolina in 2015, creating 3,150 jobs last year to bring the total up to over 26,000 full time jobs in that marginal Republican-voting state.
Even in Texas, the ever-pumping heart of oil and gas, more than 100,000 people are now working in renewables.
On the international stage, it's unclear how Trump will proceed. He's said nothing yet about any intention to act on his threat to withdraw the US from the historic global climate deal, agreed in Paris last year.
Again, we must assume there is a straight business-like calculation to be made: is he prepared to sacrifice international goodwill at the start of his presidency in order to make what is essentially just a grand gesture? It would cause a diplomatic furore at a time when new presidents usually try to establish the strong relations with their international counterparts.
Since his election, world leaders have used initial overtures to his team to urge him to stay committed to climate action, including Angela Merkel, Francois Hollande and Ban Ki-moon. Even China's normally silent and inscrutable head of environmental protection Xie Zhenhua has spoken of it as a proposal "not in line with global development trends." That may not sound like much - but from Minister Xie it is a quite extraordinary outburst!
Rumours that the President Elect is considering withdrawing from the entire UN process to tackle climate change to fast-track US exit from the Paris Agreement would test the mettle of mainstream Republicans, whose climate scepticism has been dwindling in recent years - largely because, domestically, nearly two thirds of American adults worry about climate change 'a great deal' or 'fair amount'.
But Congress should be in little doubt that the international impact of such a move would be to isolate America in a potentially damaging way. She would be seen as flip-flopping on one of the most important diplomatic issues of the age. An unreliable partner who makes and breaks Treaties with impunity. An ally that does not keep her word.
Climate change is now a core foreign policy issue. Even if Trump leaves the Paris Agreement or the UN climate process entirely, the issue will be unavoidable at G7 and G20 level. These summits will be hosted by Italy and Germany respectively next year - remember it was Merkel's G7 meeting that led to that ground-breaking headline in the Financial Times: 'G7 leaders agree to phase out fossil fuels'.
Indeed, not a single country has said it would follow if Trump did choose to leave the Paris Agreement. Quite the opposite: at the UN climate summit in Marrakech last week, China, the EU, Brazil and Saudi Arabia all made clear that major economies remain committed to climate action. India and Japan also jointly stated their continued commitment to the Paris Agreement, while 47 of the world's poorest countries committed to generating 100% renewable energy as soon as possible. Since the election, the UK, France and Canada have all strengthened their resolve to phase out coal.
And in one of his final moves on climate as President, Obama joined Mexico and Canada in publishing 2050 low-carbon strategies. 22 countries, 15 cities and 196 businesses have already committed to follow suit.
CLIMATE ACTION & AN OPEN MIND
This was telling, because what's now clear is that climate action is taking place beyond federal level. It is being driven in cities, regions and businesses all across the world - and this makes progress towards a low-carbon future unstoppable.
In the US, 17 state governors, representing 40% of the US population, recently signed the Governors' Accord for a New Energy Future to co-operate on electricity grids and lowering the costs of clean transport.
33 mayors of US cities, in both Democrat and Republican states, have issued an open letter to the President-elect, asking for him to support action on "the greatest challenge of our time", the impacts of which "are a clear and present danger to American interests at home and abroad."
Mayors, governors and legislators are all taking action to protect the interests of their constituents. Ahead of Michael Bloomberg's Task Force on Climate-related Financial Disclosures publishing recommendations to the Financial Stability Board this winter, over 100 global legislators are gearing up to call on their stock exchange comptrollers to introduce greater disclosure of high-carbon assets. US Congressmen and women are determined to risk-manage a financial crisis that would make 2008 look like a minor blip.
So while Donald Trump makes up his "open mind" on climate change, the shift to a net zero global economy is accelerating on the ground. Although America's new President can hold back American progress, he cannot fundamentally derail the irreversible transition to a low carbon future.
But as always in politics time matters - last week new figures showed global temperatures at a new high for the third year running, and, with poignant timing, that Arctic sea ice is now smaller than the previous record low for this time of year - by how much you ask?
By an amount equal to the size of Texas.
Popular in the Community