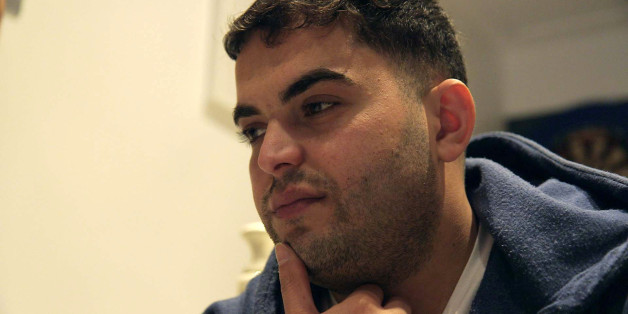 BBC Three
When I was a nine year old boy in Afghanistan, a group of people came to my family house and explained that the Taliban wanted my father to work for them. Because my father was in the Afghani army, he refused.
The next thing I remember is going to take food to my father working in a field. Then, in front of my eyes, he was shot by the Taliban. I will never forget that. It will stay with me forever.
After this my mother decided it was too dangerous for me to live in Afghanistan. She sold the family land, so she could pay traffickers to smuggle me, her only surviving child, to safety in Britain.
My journey over land and sea took close to a year, and I was passed through the hands of dozens of traffickers. I witnessed suffering I never want to see again.
I arrived in Britain as an unaccompanied asylum seeking 10-year-old. I was placed into foster care in Cardiff. In the early days, I remember my foster Mum, Dawn, sunbathing outside in a bikini. In Afghanistan women could never do this, so I told her to put her clothes on. I lived under Dawn's roof for close to seven years. She became my "Mum". I went to school and made friends. Cardiff became my home.
I was told by Social Services that I would get a passport after five years in the UK. But, when I was 15, I discovered this wasn't true. I only had a temporary right to stay in this country and the government expected me to leave when I was eighteen. I was made to sign in at the Home Office in Cardiff once a month so that they could keep track of me.
Suddenly, last October, I was arrested at one of these sign-ins, and found myself in an immigration detention centre.
When people like me who have arrived in the UK as unaccompanied asylum-seeking children turn seventeen and a half, the Home Office starts the process of removing us back to our countries of birth. The system requires us to prove why we should be allowed to stay and why we should not be sent back. The Home Office thought it safe for me to go back to Afghanistan, so under the system I was automatically detained and placed behind bars ready to be removed from the country.
At that moment I felt like I had no hope. I'd lost everything I had in my whole world. My family tried to keep me positive when they visited every day, filling me in on what was going on. But I couldn't see what was going on myself, so I was afraid.
My family and my girlfriend's family found me legal help, and I was released from detention. With the help of my new lawyer, I made a new case to stay. But in January this was rejected. The Home Office is still arguing it's safe for me to return to Afghanistan. They don't accept that my family life is now fixed here. But I have no contact with my mother in Afghanistan any more, and I am terrified of going back. Not only do my Dad's connections to the army make me a target for the Taliban, but people who go back after years living in the West are often the targets of kidnap and ransom.
I have appealed against the Home Office decision to send me back. As I wait for the results, I'm desperately anxious. When I try to sleep at night I start to think about the time they put me in the detention centre.
I don't want to go back to that place. I hadn't done anything wrong - why was I treated like this?
I think I'll wake up in there and that five guards are coming for me again, treating me like a criminal, pushing my face down on the floor, putting a belt around me so I can't move, trying to take me away from my family. This always scares me, even when I know I'm in my family's home.
As I wait for news from the Home Office, I'm always asked "Hiya Bash, how you feeling?" by my family, my friends and my teacher. I know they care about me. I tell them I'm okay and try to smile at them so they won't be worried about me. I'm going to college. This helps me when I'm there, because I feel I'm doing something with my life. I'm concentrating on my work, my mind is clear.
But when I have time to think the worry comes back to me. When I get a message or phone call from my solicitor, I'm most nervous. Is it good news or bad? My body gets hot, it's like I'm having a heart attack. I don't want to live in fear anymore.
You can hear more of Bashir's story on Don't Deport Me, I'm British, from 27th June on BBC Three. The programme follows the stories of three young men who came to Britain as children, including 22 year old Francois who was deported to Jamaica - he has a criminal record but feels the Home Office deported him unfairly - and 20 year old Bok who was deported back to Bangladesh in 2015.