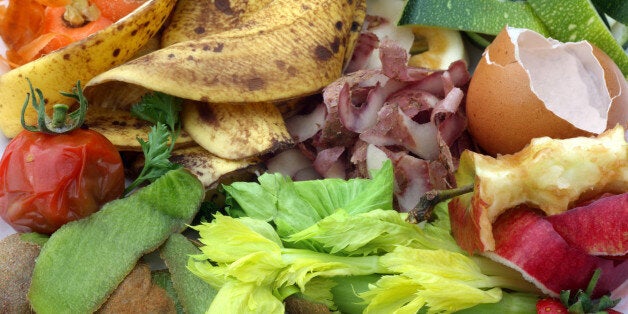 Can you imagine cooking ten times a week and then slinging the contents straight into the bin? Every year Britons chuck some seven tonnes of food away. And if that's not concerning enough, just ponder little over our attitudes toward such squandering.
A recent survey from supermarket giant Sainsbury's should make us bow our food weary heads in shame. Of the 5,000 adults asked, only 3% felt guilty about throwing food away. Even when it does cost us some £700 per household, per year.
When it comes to savings, there's a merry troupe of us who are happy to turn lights off when leaving a room (74%) or nudge the thermostat down a little (55%). Yet why doesn't this 3% of us feel any guilt over literally tossing salads and other things away? That's a town the size of Warrington, compared to the whole population of the UK, who actually feel something about wasting food. Now that should make anyone in their right mind, shudder - imagine that ... Warrington!
It is of little surprise then that a growing cohort of people is welcoming a backlash against food waste. This is mostly served to us by young, food-savvy, millennials. People who care about where their food comes from and how sustainability it's produced. However, it's a slow movement; working against the tide of waste we have already bloated landfills with all throughout the eighties and nineties. Now it's time for a detox.
We're already seeing supermarkets, albeit tentatively, welcoming 'ugly' fruits and vegetables into their basic ranges, meaning fewer are rejected over cosmetic reasons. And of course there's organisations like Fareshare, which redirect surplus foods from growers, manufacturers and sellers and passes them on to vulnerable people.
Though what is especially heartening is to see a new breed savvy social entrepreneurs, creating high quality foods in a sustainable way. Some are even creating craft foods quite literally, from rubbish.
An amble through the trendier streets of East London will lead you towards a sustainable food revolution. Today, the area once popular with hawkers and those with interesting social narratives, is now a haven to environmentally switched-on foodies.
Firms such as Urban Orchard use gluts of apples produced by farmers, which are rejected by supermarkets or would be left to rot in orchards or gardens, to make cider. Combining these apples with high-grade ones means their artisan cider, Hawkes, which is brewed under a Newham's viaducts, is doing well. In fact, if you bring in 10kg of apples, they will give you a litre of cider in return. A share of their profits is given to community projects such as those replanting trees and tackling waste.
Then there is Toast Ale, the brainchild of food activist Tristram Stuart, which uses surplus and discarded bread to brew its beer. In fact bread is the most wasted food in the UK by householders who throw away 350,000 tonnes of the stuff. The Hackney firm donates all of its profits to waste reduction charity, Feedback, and is planning to take things global.
Rubies in the Rubble, as its strapline suggests, 'fights food waste with relish'. Founder, 27-year-old Jenny Dawson said she saw fruit and vegetables being discarded from London markets and decided to use the surplus produce jams and chutneys.
Those clever bods at Growing Underground have made use of merge space London doesn't offer by locating thirty-three metres under the streets of Clapham in order to grow food. Here a subterranean food revolution uses a system of hydroponics to grow plants in water using LED technology (which uses 70 %less water than traditional open-field farming) and because it's underground, it isn't affected by weather so doesn't need pesticides. And the firm only delivers within the M25, so cuts down on food miles too.
Meanwhile GrowUp! grows salads vertically. Based in a 6,000 square feet warehouse in Beckton, it uses a system of hydroponics to grow 200,000 worth of salad bags and aquaponics to create 4,000 kg of fish each year. By growing food in vertically stacked layers in a controlled environment indoors, like Growing Underground, the use for pesticides is negated. Oh, and there's the added bonus of plenty of natural fertiliser thanks to the fish.
Clever US-import Olio, is an app that lets local restaurants, cafes or denizens post what surplus food they have. You just punch in your postcode and it tells you what you can pick up and from where. I managed a hoard of artisan sourdoughs, which would have otherwise ended in the proverbial poubelle.
For those looking to make a future meal of things, there's insects - adding a new dimension to the concept of 'grubs up'. There are around 2037 documented edible insect species - and counting. Chefs behind Grub Kitchen in Pembrokeshire, are enhancing the idea of sustainable food source by bringing in the UK's first insect restaurant, though this might take more convincing.
Overall, a more lasting plan has to be to change our thinking and to back this with better political will, as in Italy and France. Italy has just introduced a bill where businesses that sell food have to donate anything unsold to charities. In France, similar initiatives might involve fines, yet Italy hopes to give businesses a tax break on rubbish collection. With a little effort all round, we could eliminate so much of the food we waste if only more of us would take responsibility for it.