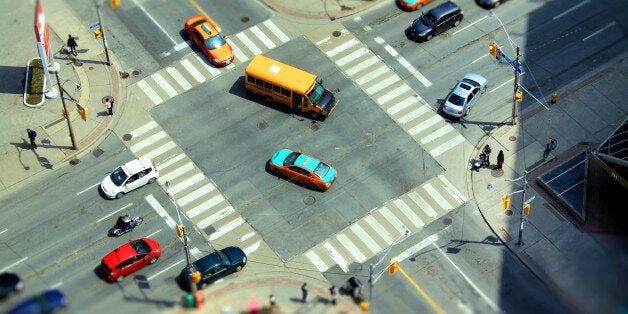 From car accidents to bridge collapses, 1.25 million road fatalities occur across the world annually. Another 20 to 50 million people suffer road injuries per year, some resulting in lifetime disabilities. Road incidents are also the source of economic damage to the victims, their families and nations themselves as they generate medical treatment expenses and repair costs as well as reduce productivity.
There's fear that without noticeable action, roads will become the seventh leading cause of death across the world by 2030.
However, there's hope that with the help of emerging technologies such as artificial intelligence and Internet of Things, we can make our roads and bridges much more safer, save hundreds of thousands of lives, and spare billions of dollars in maintenance and repairs costs.
Training better drivers
Humans factors such as DUI, speeding, reckless driving and distracted driving continue to account for the vast majority of road fatalities and injuries. Governments try to regulate driver behavior through incentives and punishments, but to date, it has only had limited success.
"Until autonomous vehicles are fully rolled out, we have to employ technology to help manage the human factor in driving," says Neil Cawse, CEO at telematics company Geotab. "Data collection is the first step. With telematics, you can know an infinite number of things about the vehicle and what the driver is doing."
Telematics, on-board diagnostics (OBD) and Internet of Things (IoT) sensors are helping companies and organisations collect a wealth of information to understand the vehicle environment and analyze driver behavior in order to assist in preventing crashes and improve driving habits.
"OBD based telematics platforms provide fleets and fleet management companies with direct, high-quality access to their vehicle and fleet data, enabling a host of actionable insights and innovation," says Dirk Schlimm, Geotab's Executive Vice President and Advisory Board Member.
Events such as speeding, seatbelt usage, sharp cornering or over-acceleration can now be measured thanks to OBD technology. This helps organisations promote and incentivise safe driving by using a number of measures such as scorecarding, which rates drivers based on their driving data.
The data can also be used in real-time to coach drivers and help them adopt safer driving habits, Cawse says. Geotab uses vehicle-in-reverse detection, collision avoidance systems, mobile cameras and video and spoken word notifications to detect risks and provide live feedback to drivers and passengers. Not only does the technology help keep people safe, "but it is also a major benefit to companies looking to manage risk and control costs related to accidents," adds Cawse.
"Cars and IoT have the capability to dynamically communicate with surrounding vehicles to reduce crashes, adjust the traffic lights to reduce congestion," adds Colin Sutherland, Executive Vice President, Sales and Marketing at Geotab.
Detecting and preventing road and bridge hazards
Environmental and natural hazards are another important cause of road incidents. A stark example was the 2007 collapse of the I-35W Mississippi Bridge in Minneapolis, which caused 13 casualties. In the U.S. alone there are 65,000 structurally deficient and 20,000 fracture critical bridges. Other elements such as icy surfaces and poor road conditions also lead to incidents if not detected and controlled in time.
IoT technology can now help transportation organisations to transition from reactive toward proactive measures.
One of the notable innovations in this field are smart cement and road sensors which help to remotely monitor and report the health status and conditions of roads to authorities and data analysis sensors.
The technology is being tested by the Center for Wireless Integrated MicroSensing and Systems (WIMS2) on several bridges to monitor and gauge the structures' response to high wind loads and earthquakes, enabling analysts to detect and carry out repairs before they culminate into real damage. This can help save millions of dollars in repair and prevent disasters like the I-35W tragedy.
French tech startup HIKOB is another company that is improving road safety with the installation of IoT sensors that detect road conditions.
"Road sensors can be easily embedded under roads so that they can effectively measure the changes in temperature, traffic volume and humidity, among other weather and traffic constraints," says Ludovic Broquereau, VP of marketing and business development at HIKOB.
Data gathered by HIKOB sensors is consolidated in servers, where it is analyzed to provide actionable insights about traffic and road conditions that can be used to optimise the use of limited maintenance resources and equipment, as well as predicting and alerting about possible hazards and accidents that may take place because of poor road and weather conditions.
The future of road safety
In a future where roads are dominated by self-driving cars and smart sensors, road accidents are likely to decrease to near-zero level. It is even possible that one day there will no longer be any need for traffic lights and accidents become a thing of the past. We still have a long way to go to get there. Until such time, artificial intelligence and IoT can help us close in one step at a time.
Ben Dickson is a software engineer and the founder of TechTalks
HuffPost UK Tech is running a two-week focus on our Tech For Good campaign, which aims to highlight the technology that is driving social change and making a positive, long-lasting difference to our world. If you'd like to blog on our platform around this topic, email ukblogteam@huffingtonpost.com with a summary of who you are and what you'd like to blog about.
Related